Dash (DASH) seems to be approaching the apex of its current pattern, making a majorly decisive move out of this pattern which is critical in determining the future trend. DASH price has been constantly decreasing alongside a descending resistance line after it reached $198.80 in May 2019. That slope of the line is not wholly clear due to the presence of many long upper wicks.
DASH Long-Term Outlook
In recent months, the price started an upward move between March and August 2021. Today, DASH is approaching the $61 support level that is the 0.618 Fib level of the aforementioned upside trend.
If that area is successful in initiating a spike and DASH starts to move up, the nearest resistance level is located at $86. That area coincides with the descending resistance line.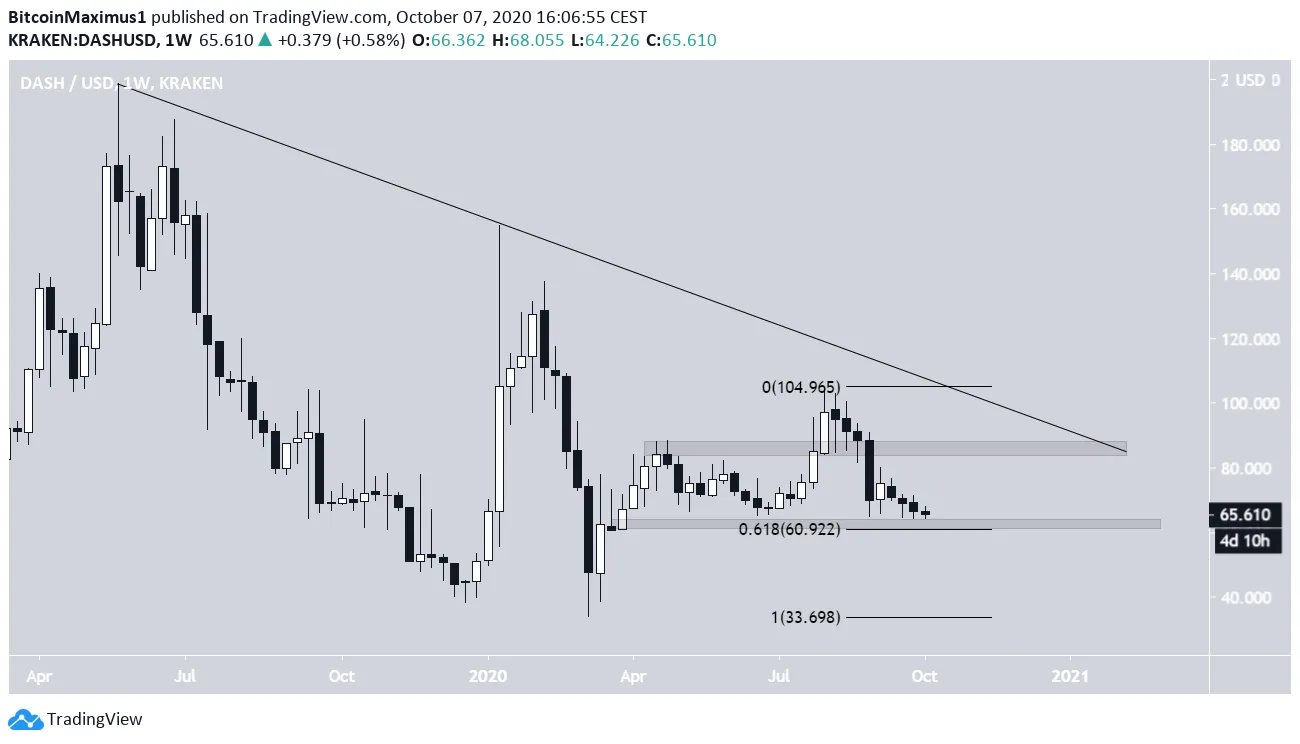 Absence Of Confirmation
The daily charts provide some signs of a probable bullish reversal, but there is no confirmation. The most significant signal is given by the growing bullish divergence in the RSI. Additionally, the MACD indicator has also generated some form of bullish divergence and it is somewhat increasing.
Nevertheless, the Stochastic Oscillator has made a bearish cross once more which has cast some doubts on a possible bullish scenario.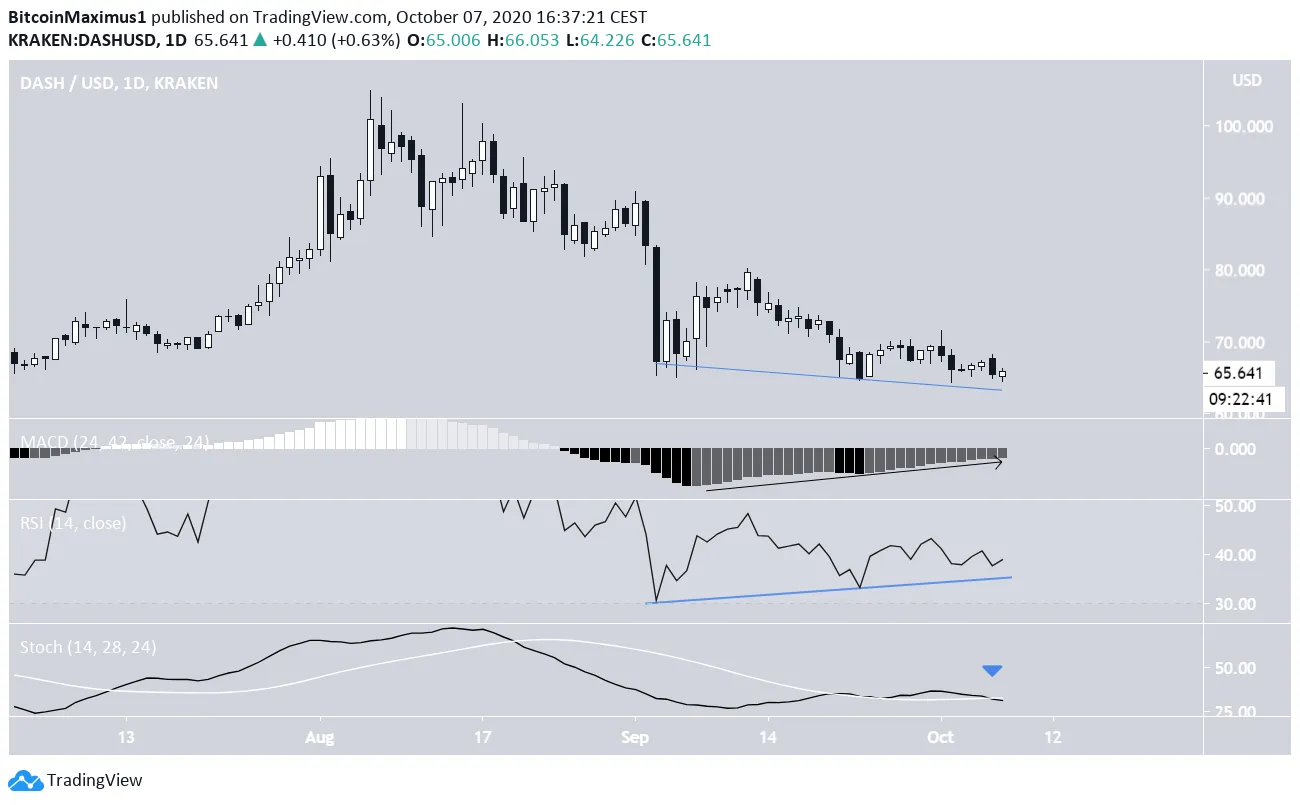 Based on the daily timeframe, there is a possible formation of a descending wedge which currently has a strange formation. This price is speedily approaching the convergence point between support and resistance. Thus, a decisive move may occur soon.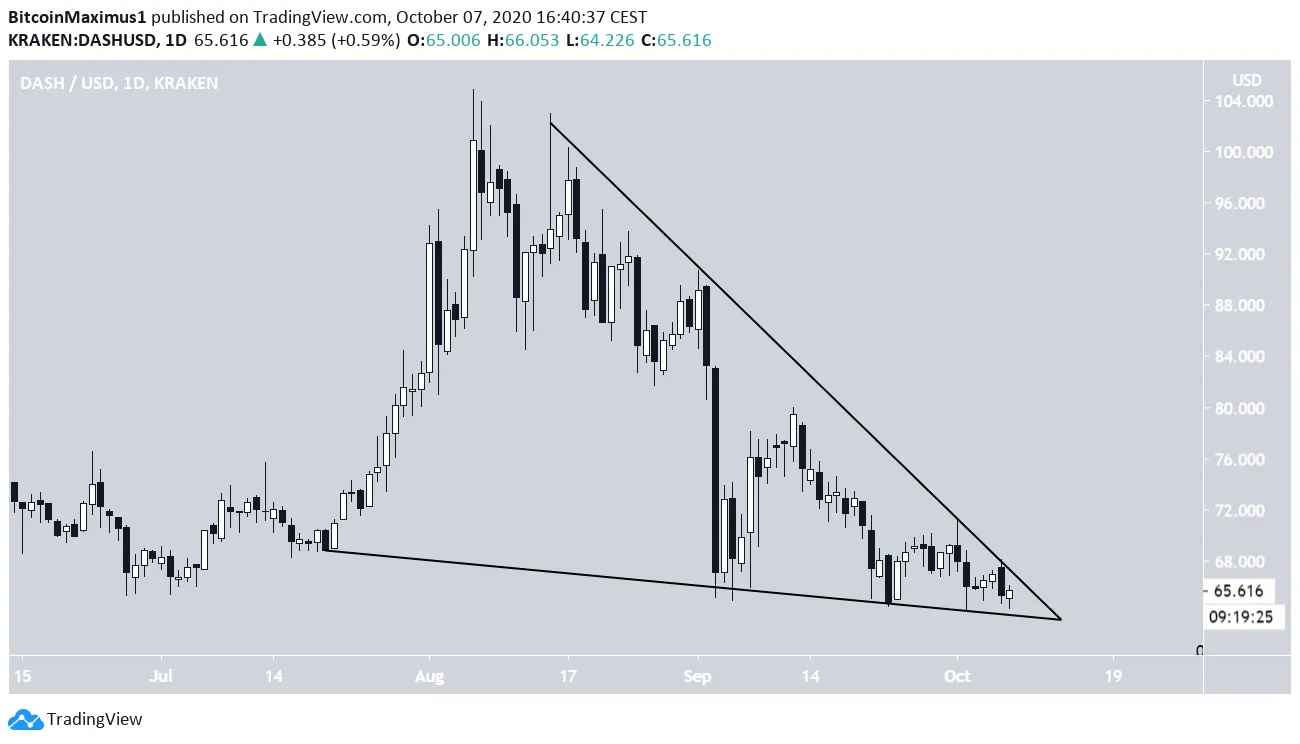 Nevertheless, the 6-hour chart indicates a possible descending triangle. That is normally considered a bearish pattern. Additionally, every bounce from the somewhat minor $65 zone has appeared weaker than the earlier one. That is a sign of dissipating buyer strength.
Hence, a movement outside of either the resistance or the support zones will be needed to determine the future trend.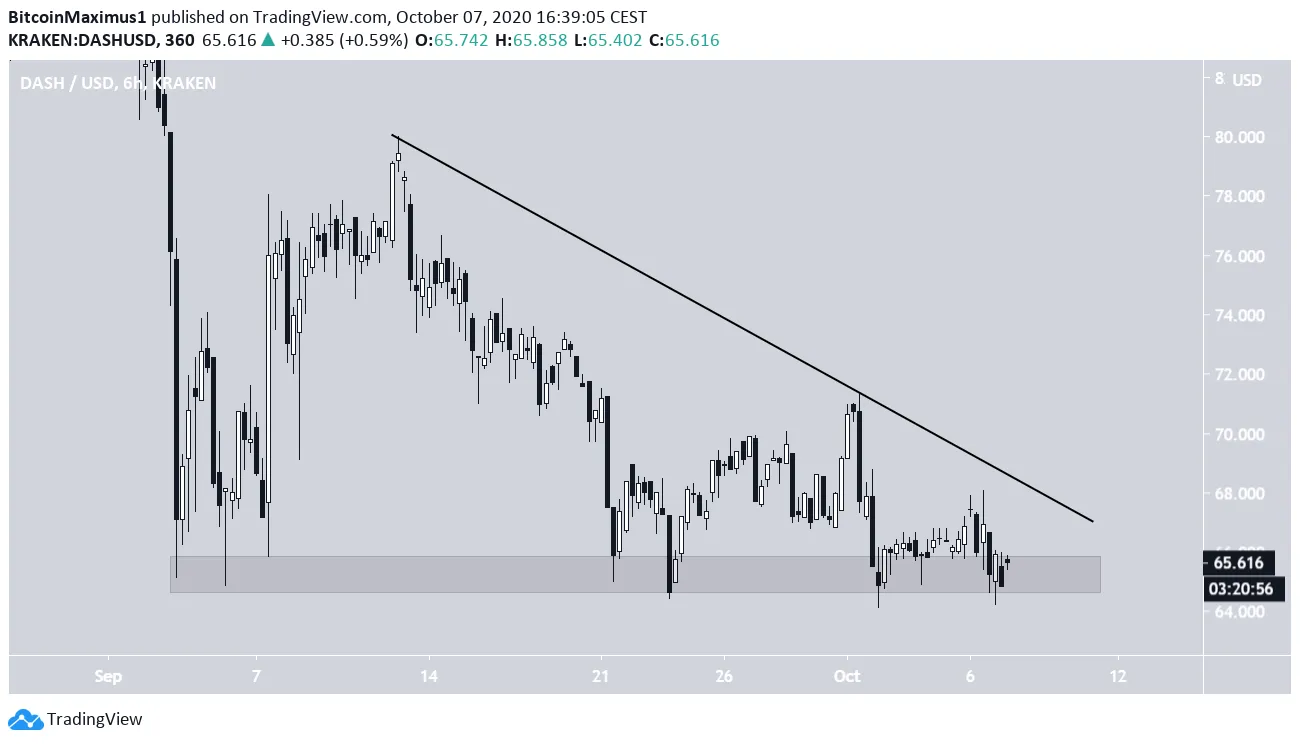 Wave Frequency
One crypto trader, @Tradingsurfers outlined a DASH chart. His chart reveals a long-term wave count that shows two options; a bearish trend towards new annual lows and a bullish scenario towards new yearly highs.
The most possible wave count scenario suggests that DASH could be completing a W-X-Y correction and might be in the final C wave. So far, the token's price has reached a wave low of $61.30.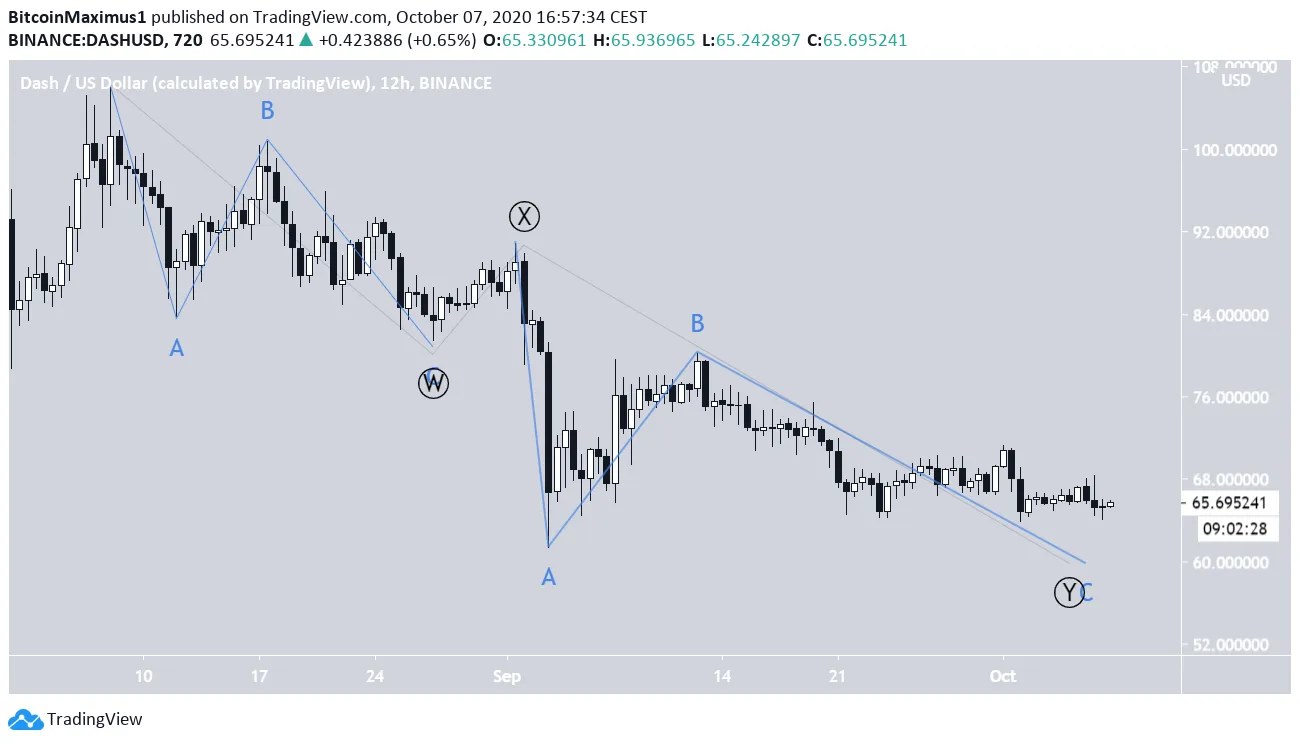 A keen look shows that the DASH price might be in the fifth and final sub-wave of Wave C and will, in the end, start to increase after finishing another lower low. A possible target for the bottom of this movement might be found between $55.20-$59 the 2.21-2.61 Fib levels of wave 1. This latter target somehow coincides with the long-term support level that is outlined in the first section.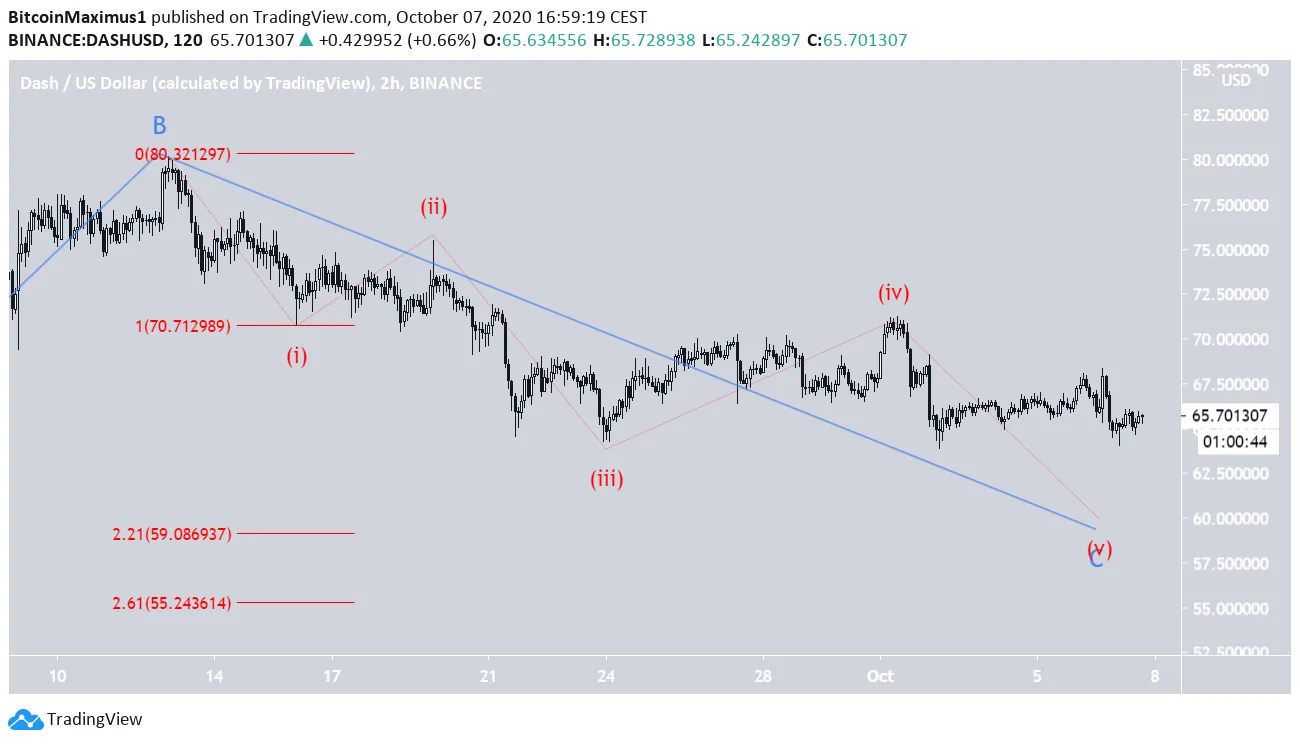 In conclusion, until the DASH price breaks out or even down from the current pattern, any direction of the future movement can never be accurately determined as a result of ambiguous signs.