The total crypto market cap is down from a high of around $393 billion on September 1 to a current $327 billion. That represents a loss of $66 billion. For comparison purposes, the crash on March 12 wiped almost $170 billion in market capitalization.
There is a wide array of on-chain metrics that are expected to help investors expect and predict the next market move. Exchange inflow represents the total number of cryptos that are getting deposited into the exchanges. The best assumption is that most of these coins that get deposited; will be sold or the investors are getting ready to sell them if a bigger drop happens.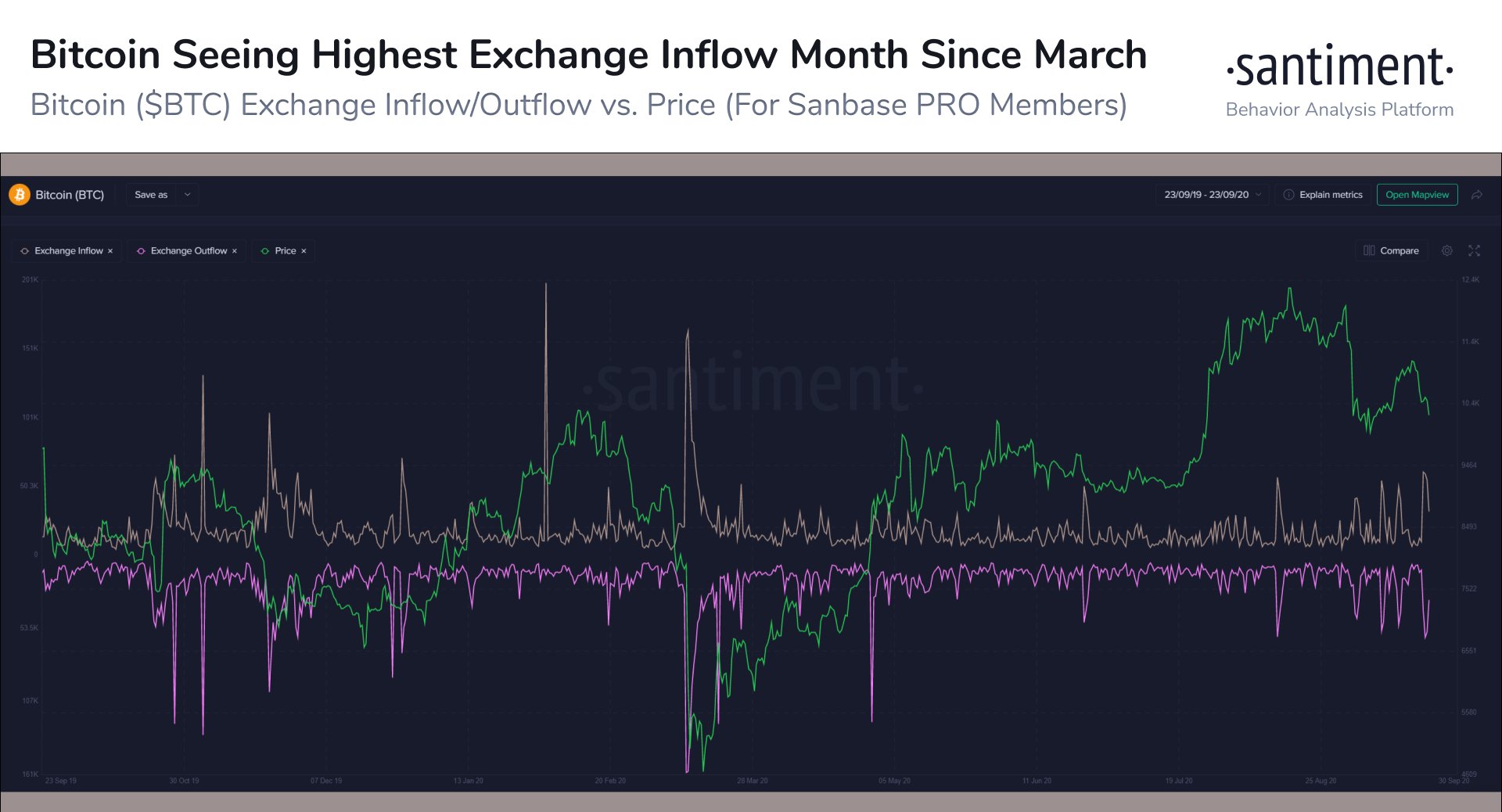 Either way, it is accurate to say that the number represents the weakness of the crypto market and selling pressure. Data acquired from Santiment indicates that there is a notable increase in exchange inflow during September; with multiple peaks right after the collapse that happened on September 2.
Although the peak that was recorded in March was higher; September is experiencing a continuous inflow of cryptos to the exchanges. The $10,000 level is a critical support level for the biggest crypto, Bitcoin. The bulls have managed to defend this level multiple times previously although the price pierced through it before recovering.
Looking at Bitcoin's daily confluence detector, if the downside continues, it will be capped at $9,700 where the most recent CME gap is standing.
Bitcoin Holders Distribution
Interestingly, despite the high exchange inflow, the total number of Bitcoin whales appears to be increasing considerably.

The investors who are currently holding between 10,000 and 100,000 BTC have risen from 104 on September 16 to 108 currently. This metric may appear to counteract the increase in selling pressure as it indicates whales want to continue buying bitcoin.
In the short-term, if the whales continue accumulating Bitcoin, the crypto may surge to retest $11,000 and the entire market cap might rise towards $355 billion.