Notice
: Undefined offset: 1 in
/var/www/html/cryptovibes.com/wp-content/themes/jnews/class/ContentTag.php
on line
86
Notice
: Undefined offset: 1 in
/var/www/html/cryptovibes.com/wp-content/themes/jnews/class/ContentTag.php
on line
86
Notice
: Undefined offset: 1 in
/var/www/html/cryptovibes.com/wp-content/themes/jnews/class/ContentTag.php
on line
86
Notice
: Undefined offset: 1 in
/var/www/html/cryptovibes.com/wp-content/themes/jnews/class/ContentTag.php
on line
86
Tron (TRX) Price Analysis – September 23
Tron price action is presently trading in a bear market and may possibly extend past the $0.024 price level as far as the TRX/USD pair is trading under $0.025.
TRX/USD Market
Key Levels:
Resistance levels: $0.030, $0.032, 0.034
Support levels: $0.020, $0.018, $0.016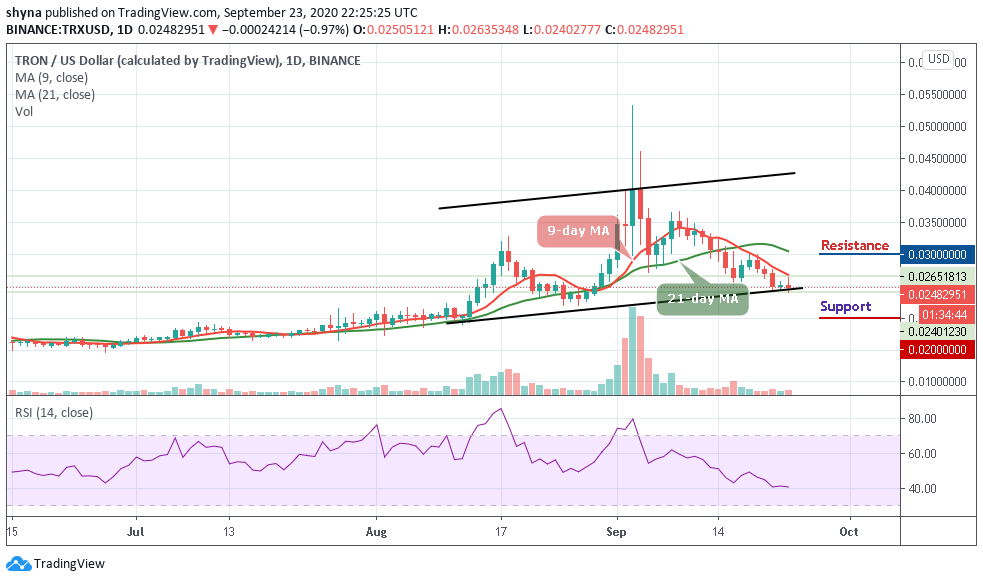 TRX/USD pair opened the day below the $0.025 critical level, reaching $0.0240 but has since moved to a higher level where it is currently trading at $0.0248. The pair has been trading near the $0.025 zone for the better part of today reaching a daily high of $0.0263 and it is down with 0.97% as of the time of writing.
What Could Be the Next Direction for Tron (TRX)?
A few days ago, TRX bulls attempted to clear past the $0.030 major resistance zone before being overpowered by the strong selling pressure triggering a bearish trend for the TRX/USD pair. Tron price sunk from a high of $0.0299 following the rejection clearing both $0.0300 and $0.0280 anchor levels. Today, the pair is sliding below the $0.0250 support to create a fresh monthly low near $0.0240. The coin is consolidating losses below the $0.025 price level as the RSI (14) keeps moving in the same direction above 40-level.
However, for the Tron price to initiate a good recovery run, it needs to clear the $0.0260 sell-off zone first. The next main rejection zone is near $0.0280. If TRX/USD fails to clear the rejections near $0.0285 and $0.0290, there is a possibility of further decline. The next critical support can be found below the lower boundary of the channel at $0.020, $0.018, and $0.016 levels. But if the bulls manage to push Tron price above the 9-day and 21-day moving averages, the crypto could likely hit $0.030, $0.032, and $0.034 resistance levels.
TRX/BTC Market: Consolidating Losses Below the Moving Averages
Against Bitcoin, Tron (TRX) follows the downtrend at the time of writing, although the price action has remained intact within the channel if the selling pressure persists, the Tron's price variation is likely to create a new low in the coming days. As of now, the technical indicator RSI (14) is moving around 44-level, which indicates that traders may see a positive move in the market soon.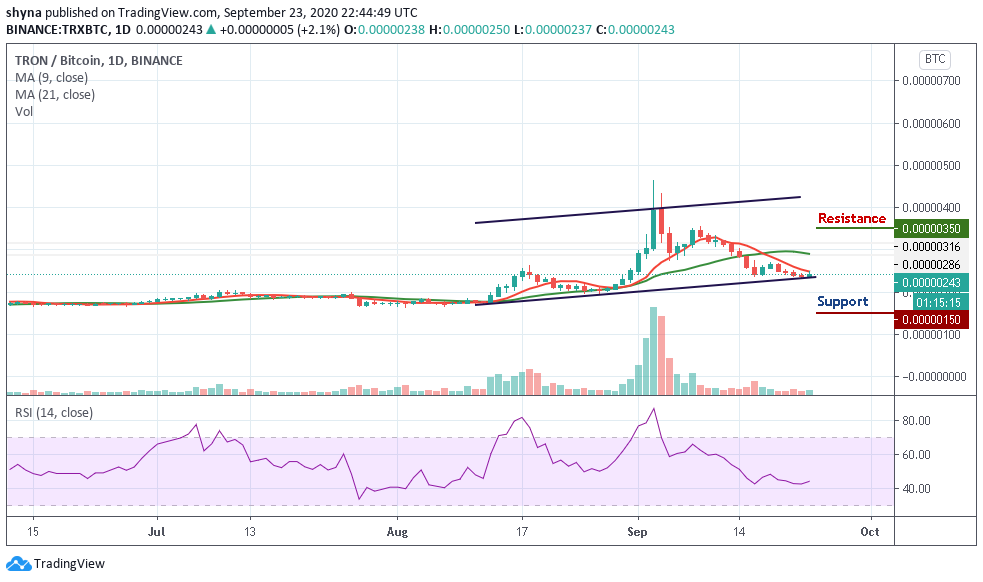 However, TRX/BTC is currently trading below the 9-day and 21-day moving averages at the 243 SAT. We can expect close support at the 150 SAT before and below. Moreover, if the bulls take the current market value to cross above the moving averages; traders can then confirm an upward movement for the market and the closest resistance levels lie at 350 SAT and above.
14.00
Normal
0
false
false
false
EN-GB
X-NONE
X-NONE
/* Style Definitions */
table.MsoNormalTable
{mso-style-name:"Table Normal";
mso-tstyle-rowband-size:0;
mso-tstyle-colband-size:0;
mso-style-noshow:yes;
mso-style-priority:99;
mso-style-parent:"";
mso-padding-alt:0cm 5.4pt 0cm 5.4pt;
mso-para-margin-top:0cm;
mso-para-margin-right:0cm;
mso-para-margin-bottom:10.0pt;
mso-para-margin-left:0cm;
line-height:115%;
mso-pagination:widow-orphan;
font-size:11.0pt;
font-family:"Calibri","sans-serif";
mso-ascii-font-family:Calibri;
mso-ascii-theme-font:minor-latin;
mso-hansi-font-family:Calibri;
mso-hansi-theme-font:minor-latin;
mso-bidi-font-family:"Times New Roman";
mso-bidi-theme-font:minor-bidi;
mso-fareast-language:EN-US;}