VeChain by description is a platform that was created using blockchain technology. It is well-designed to enhance existing supply chain management and oversight. The platform benefits from several elements of Distributed Ledger Technology (DLT) to support the process of origin confirmation and the quality mark of a specific product. VeChain comprises of two tokens that include:
The VeChain Token (VET)
VeChain Energy (VTHO)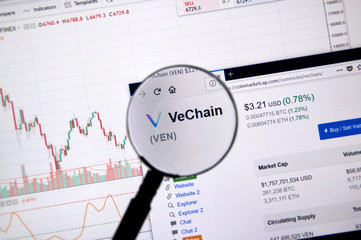 VET is the crypto that is used in the VeChain network. On the other hand, VTHO is the energy used to power the transactions.
VeChain Invention
Sunny Lu, the former Chinese CIO of the high-end fashion brand, Louis Vuitton, set up VeChain in 2015. He started the platform under the umbrella of the Bitse group and started attracting multiple major clients. Some of these clients include fashion brands and many other businesses.
At that time, VeChain operated within the Ethereum Blockchain and it operated with the VEN token. However, by 2018, it rebranded and then set up its local blockchain. Sunny Lu, as it is normal, published the main goals for the platform in the whitepaper. His key ambition was to revolutionize the supply chain industry that has not changed much for hundreds of years.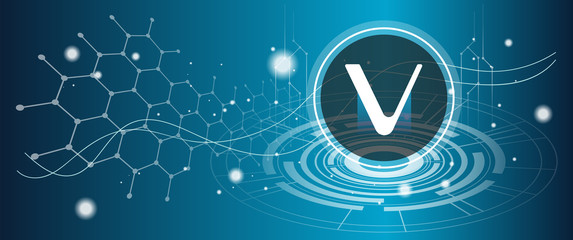 Adding to this primary goal, VeChain will finally morph into an Internet of Things (IoT) platform, support dApps, and ICOs. One of the platform's primary channels for success id strategic partnerships. PriceWaterhouseCoopers (PwC), the global accounting firm, was among the first entities to partner with the platform. It was also allowed to incubate within its offices.
Another major partnership is with Jiangsu Electronics, a Chinese company that developed the essential RFID chips used on the products tracked by the platform.
Why Was VeChain Created?
The supply chain sector has nowadays become quite efficient and most parts of it are automated. Nevertheless, it is generally unable to offer an indisputable assurance that a specific product is counterfeit or authentic. It is estimated that fake goods cost the luxury sector more than $30 billion in 2017.
VeChain's technology can assist in disrupting the status quo and offer transparency and source of origin information to the users and businesses alike. That goal is well described in the token's white paper, which says:
"To build a trust-free and distributed business ecosystem platform to enable transparent information flow, efficient collaboration, and high-speed value transfers"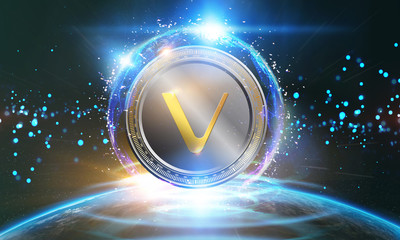 VET can democratize manufacturing data using blockchain technology providing all stakeholders access to the same authenticated information.
VeChain versus Traditional Currencies
Many factors distinguish VeChain from traditional currencies like USD and EUR. The token is immutable and entirely protected by the blockchain within which it exists. Additionally, VET is also anonymous, portable, decentralized, and highly divisible.
Anonymity
Just like cash is anonymous, VET never reveals who participated in the transaction. Nonetheless, unlike cash, VET transactions are shown on a DLT which makes it possible to see the entire history of the transactions. As a result, this crypto can offer anonymity whilst providing transparency and traceability.
Decentralization
VET is for the most part a decentralized currency since it is a crypto that operates on a blockchain. Thus, there is no single entity, for example, a central bank, which can manage to influence its value or suddenly eliminate its supply.
But, unlike the fully decentralized cryptos like Bitcoin, VeChain transactions are approved by validators. That limits the number of people who can determine whether to authenticate or cancel a transaction.
High Divisibility
When it comes to traditional currencies, they are mostly limited to dividing a whole coin into 100 parts. On the other hand, VET and most of the other cryptos can be divided by a considerably higher amount. This possibility offers several advantages particularly because the total supply is capped at 86,712,634,466 coins.
Thus, it is possible to maximize the use of these coins by dividing them over and over again.
Portability
VeChain is a digital currency that exists primarily on the blockchain. Thus, carrying it around is not necessary or even possible. You just need to have a wallet that can provide you with access to your coins. There exist many hot and cold storage devices that support the coin and enable the users to send and receive VET wherever they go.
VeChain And Blockchain
Even though VeChain may operate in a different manner compared to Bitcoin or Litecoin, it still exists on a blockchain platform and it must follow the set rules. Many users must ensure that a new block is correct and genuine before its creation is approved. For most cryptos, the process, or consensus protocol is known as Proof of Work (PoW).
But, PoW has its shortcomings and criticism which include the fact that just the first computer to crack the puzzle gets any rewards. For that and several other reasons, Vechain was designed to adopt an alternative protocol called Proof of Authority (PoA).
With PoA involved, there is no code-cracking. Instead, computers from an approved group are used to validate new blocks. That process is simpler and makes transactions faster, not only when compared to the Proof-of-Work alternatives, but also when compared to Ethereum's Proof of Stake (PoS) improvement. Some critics say that the process decreases the crypto's decentralization and independence notwithstanding the benefits of PoA.
Whilst it might be true, it is arguable necessary to support faster transactions while maintaining a definite balance between decentralization and centralization.
Is VeChain Legal?
VeChain is one among the many thousands of different cryptos existing today. Just like most of the other notable coins, it has its white paper and specific purpose. VET can be traded online and it is available for purchase through several means. VeChain is 100% legal and it can be used throughout the world.
The main exception relates to the countries and jurisdictions where cryptos are illegal. Apart from guaranteeing that using digital tokens is legal in your country, always ensure that it is also legal in all the countries that you plan to visit to ensure that you do not encounter any complications.
Where Can You Buy VeChain?
Several ways of buying VeChain exist. The coin currently ranks 25th on the market cap list and have a trading price of $0.01597. Although it is not quite as popular as the major cryptos, over $139 million in VET is traded on average daily.  That makes the coin attractive to users and to speculators seeking to benefit from the continuous price fluctuations.
Buying VeChain Online
You can acquire VeChain conveniently online using a credit or debit card. Two of the biggest crypto exchanges, Coinbase and Binance, support trading of VTHO and VET. Opening an account with any of these platforms is simple and fast. Both provide you with an in-built wallet that stores your crypto.
Binance lets you purchase VeChain using over 450 different tokens and coins in addition to using fiat currencies. On the other hand, Coinbase offers several payment options besides cards which include bank transfers and PayPal in case of withdrawals.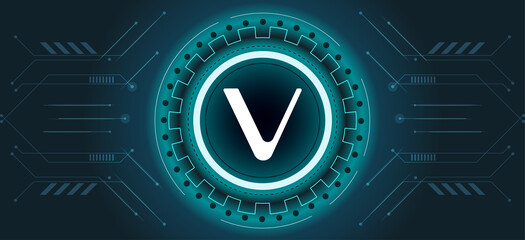 Changelly offers an alternative and more anonymous option to purchase VeChain online. The global trading platform only needs basic information and it does not collect any form of user documentation. It is possible to use various payment options like cards although the platform does not offer an in-built wallet.
Buying VeChain With Cash
Since VeChain does not rank among the most popular cryptos, there is a limited probability of purchasing this token with cash. Whereas Litecoin and Bitcoin have their dedicated ATMs that let you use cash, your only option when using VeChain is to get a seller who is willing to accept cash.
You will have to visit a peer to peer site or crypto forum and look for a suitable seller within your area. When buying VET with cash, you have to be on the lookout for scammers. Apart from taking the general precautions, always ensure that you get your coins as you hand out the cash.
What Can You Buy Using VeChain?
As a person, you are unlikely to have any use for Vechain apart from a speculative asset. The crypto and its underlying platform are mostly used by bigger businesses to enable them to manage their supply chains better. Over time, the coin has been used to track the manufacturing of several higher-end products, including wine and vehicles.
Moreover, due to its strong relationship with the Chinese government, VeChain is being used to store bank account details and business certificates for a whole region. If you want to purchase crypto to use it to buy goods and services, it is better to go for Litecoin and Bitcoin.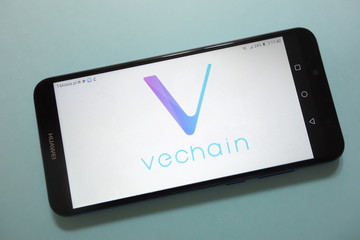 The coins have been particularly created with the purpose of commerce, and are now accepted by hundreds of different online retailers, casinos, and travel agents. Paying using these and several other cryptos is easy and fast. It usually offers you more benefits than using traditional currencies.
Selling VeChain
As it is the case with buying VeChain, there are many options available for selling or trading crypto, Coinbase, Binance, and Changelly all offer you with this option. However, ensure that you calculate the final sale price before choosing. At times, although you may get a marginally better sale price from one exchange, transaction fees and other charges may eliminate extra profits.
Although VET does not rank amongst the top ten biggest cryptos it still carries a market cap close to $1 billion. That fact together with its average daily trading volume makes it attractive crypto to speculate on.
Is VeChain Available Globally?
As a decentralized crypto, VeChain is available globally and it is accessible everywhere. However, some countries restrict or even ban the use of cryptos although they cannot block their use. That reality is due to the way the digital tokens are created and exist within a DLT. No single or centralized entity can create influence on the blockchain. Hence, there is no entity to coerce into not being available throughout the world.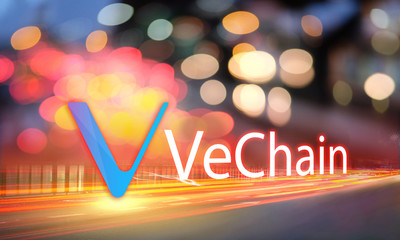 How Safe Is VeChain?
VeChain has remained below the radar of hackers as a blockchain because it is not as popular as Ethereum or Bitcoin. Nevertheless, the firm behind the development of the platform has fallen victim to a successful hack that cost it about $6.53 million. Since that time, it has taken the fundamental and necessary measures to enhance security and boost internal protocols.
The whole VeChain ecosystem features several key parts that include the wallets where the coin is stored and the exchanges where it is traded. At every stage, security is important. Any weakness in any area may affect the functionality of others. To a certain degree, it is up to the individual user to make sure that all essential safety measures are used, implemented, and updated.
How To Store VeChain
Before you buy VeChain tokens, you need to know where you will store them. Cryptos can normally be kept in hot or cold wallets. Selecting between the two types of wallets depends on your short or long-term plans.
Cold Wallets
Cold wallets are also known as hardware wallets. They are considered to be the safest type of crypto storage. The physical devices can only be connected to the Internet during transactions and are hence almost impossible to hack remotely. There are many cold wallet devices available in the market today. Although the best is not free, they support many coins and features several security tools.
Hot Wallets
The hot or software wallets are less safe compared to the hardware wallets since they are continuously connected to the internet. Due to that, a successful phishing attack may easily result in the loss of funds. Fortunately, certain tools like the two-factor authentication (2FA) reduce the risks posed by such events. Hot wallets can be mobile, desktop, or web wallets. They can be free or come at a cost.
Ways To Protect Your VeChain
As it is the case with many digital currencies and cryptos, the protection of funds depends on the ability to secure sensitive credentials. In the case of VeChain, the primary avenue of accessibility is the private keys that you should never share with any third parties.
If you have a considerable amount of VeChain, you can consider splitting funds into two or more wallets. Industry experts say that you should only store small amounts of coins in a hot wallet and store most funds in a cold storage device.
Advantages of VeChain
The use of VeChan by any corporations or firms seeking to prove the validity of their products is obviously the crypto's biggest advantage. For the individual users, the coin provides an alternative to traditional currencies which is cheaper and faster to transfer and offers a bigger degree of anonymity. VET is immutable and decentralized as a crypto and it derives its value from the open market.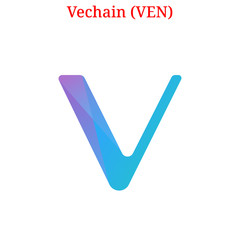 Using VeChain over other cryptos like Litecoin and Bitcoin also has various advantages. Since VET uses PoA to add new blocks on its network, transactions are faster and they are normally cheaper. This characteristic makes its use for commerce more appealing.
Disadvantages
Vechain is not well-known and it is sparely supported. Thus, it can be quite challenging to find online stores or exchanges that accept it as a form of payment. It is normally simpler to just sell the coin or trade it for another crypto if you wish to make a purchase from a specific website.
Additionally, the currency has a volatile price history that may make you think twice about storing the coin in the long term.
The Takeaway
VeChain is one of the many ways in which blockchain technology is expected to disrupt most traditional industries in a positive way. The trust that is brought about by this platform has already enhanced the supply chains of corporations throughout the world. The future plans promise to help introduce IoT into mainstream use.
VET's growth has been steady but it is yet to experience the same explosion that has been seen by many coins led by bitcoin. Nonetheless, it has a feature that only a few other coins have. It is already being successfully used in a commercial environment. That characteristic goes beyond speculative trading.