The Decentralized Finance space is growing rapidly. With this growth, the demand for Wrapped Bitcoin (WBTC) has increased considerably. Binance, the biggest crypto exchange globally in terms of market capitalization, has announced that it is listing another token to support the continuing growth of the decentralized finance (DeFi) space.
A new ERC-20 token pegged to the price of Bitcoin (BTC), Wrapped Bitcoin (WBTC), is now available for trading on Binance. The announcement was published in an August blog post by the exchange. Based on the official announcement, Binance users can now start depositing WBTC and trade the token against Ether and Bitcoin.
Wrapped Bitcoin was introduced in 2019. It is an Ethereum-based token that represents Bitcoin with one WBTC equal to one BTC. WBTC is a joint venture by major DeFi players like Dharma, MakerDAO, BitGo, Compound, Ren, Kyber Network, and the Set Protocol. The token is well designed to introduce more liquidity into the Ethereum network with BTC and implement it in the DeFi sector.
As part of WBTC's functionality in decentralized finance, the token enables bitcoin holders to hang onto their BTC while also using DeFi apps like Compound to borrow or lend money. As opposed to the traditional finance, decentralized finance envisions a brand new monetary system that is built on top public blockchains.
How DeFi Functions
DeFi platforms connect borrowers and lenders directly eliminating credit checks and simultaneously enabling digital assets to be collateralized. DeFi also offers decentralized lending as its primary benefit. The decentralized finance space has been growing at a staggering rate in 2020. The total value locked in the market hit $9 billion on August 30.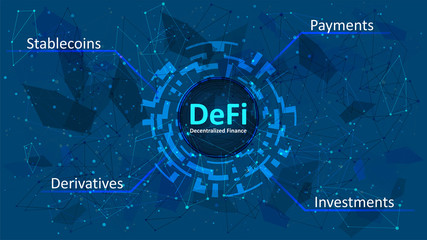 The most widely-used decentralized exchange on Ethereum; Uniswap, surpassed some of the major crypto exchanges like Coinbase in daily volume on August 30. As DeFi continues to rise meteorically, the demand for WBTC is also rising. It hit $274 million in circulation by mid-August.
Binance has been rapidly embracing the DeFi market in 2020. This month, Binance launched DeFi staking in partnership with major industry players like Kava Labs and Compound Finance. In April 2020, Binance issued a new DeFi token that is backed by the Ontology (ONT) crypto asset.