In the last several months as the DeFi revolution gained momentum, Chainlink (LINK) became a major beneficiary. The cryptocurrency has surged to record highs and created a price exploration momentum that has left many critics defining it as a bubble. However, with more use cases coming in, proponents believe that the coin is gaining towards its real worth.
But, market data indicates that whales seem to be the main reason why LINK's massive rally has hit a pause button even losing almost 20% of its value on August 17. Based on crypto analytics firm Santiment's data, the number of LINK addresses that hold between 100,000 and 10 million tokens has been on a continuous decline since August 6.
Chainlink, headline-grabbing crypto, recently went on a massive correction of 26.92% after it hit its all-time high of $20.10 on Aug. 16.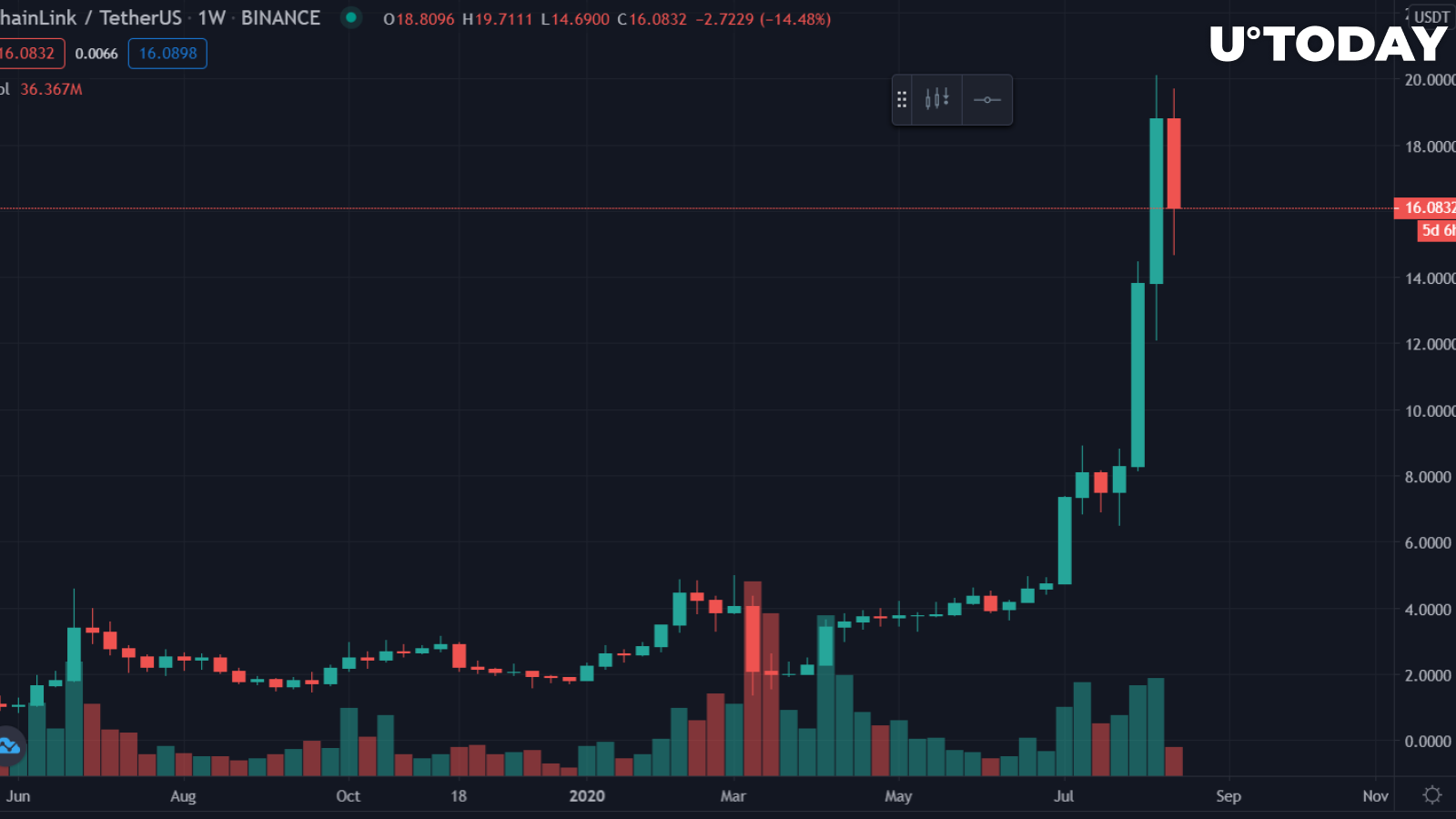 Dave Portnoy, Barstool Sports founder, declared himself the captain of "LINK Marines". Mainstream media has covered the LINK market to reach the local top of the token's 1,018% rally in 2020.
Retail investors also bought into the market for fear of missing out (FOMO). But, their FOMO in en masse was not adequate to sustain the momentum when the whales started making massive moves.
LINK sent colossal shock waves in its entire community on August 17 when it lost 20$ in one minute. Although it did not long for the token to partially recover from that steep decline, it is still trading quite far from its recent high. Currently, the token is trading just above the $16.15 mark on the Binance exchange.
Ali Martinez, an on-chain analyst said that around 64 whales have now left the Chainlink network.
LINK-XRP Connections
Previous reports stated that LINK's incredible rally was primarily fueled by a lengthy string of partnerships that comprises of almost 200 projects. Chainlink is yet to launch staking that is anticipated to enable the token holders to earn some amount of passive income.
A similar aggressive marketing approach was also used by the San Francisco-based blockchain giant Ripple. Last month, Messari founder Ryan Selkis said that the token was 'nuts' back when it was valued at a now modest $8, comparing it to XRP:
I love what the team there is working on. But the token is nuts. Do not understand any of it. It's like XRP without the long institutional con."
Will LINK rise again and set new record highs? Time will tell.