On August 11, 2020, spot gold recorded its biggest single-day loss since 2013 as the investors divert their cash to the risk assets. XAU/USD crashed and lost as much as 4.7%, to $1,932.28 per ounce. The gold futures for December delivery lost 3.9%, to reach $1,946 per ounce, at intraday lows.
Gold is hot off a multi-week rally that saw its prices surge over $2,000 per ounce to record highs. The risk appetites rebounded as US COVID hospitalization plunged. Investors maintained hopes for the second round of fiscal stimulus. Moreover, the traders cheered President Trump's announcement that he is seriously considering a capital gains tax.
The stocks exploded at the open on the collection of several bullish drivers. Treasury yields also gained ahead of a record US debt offering. Notably, treasury market weakness normally boosts the value of non-yielding assets like gold.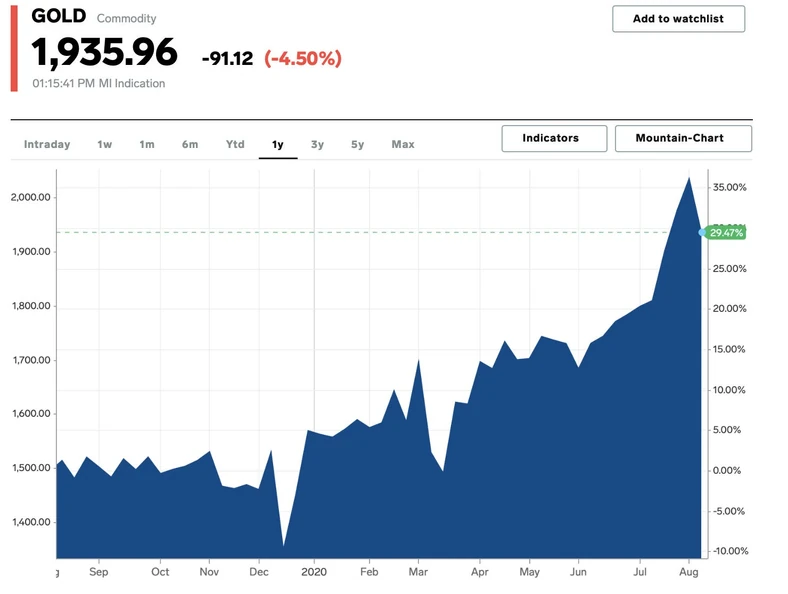 Investors who rode gold to new highs in recent weeks wanted to lock-in profits. One such reason came early Tuesday when Russian President Vladimir Putin announced the country approved a coronavirus vaccine.
That news boosted the stock futures before the markets opened. However, the global experts majorly took the announcement with a grain of salt. Russia approved its drug before the start of their final trials, a step deemed essential by many authorities to warrant approval.
However, many gold traders rode all over the new vaccine which prompted widespread selling. One analyst said:
"It didn't matter that this was somewhat telegraphed or that the Russians have only begun the Phase 3 trials. gold was ready for a selloff."
Spot gold traded at $1,935.96 as of 1:15 p.m. ET August.