On July 27, silver managed to remain above the resistance at $23.25 and it rallied up to $24.60. This surge has come amid a weakening US dollar and a strong gold which provided support to the industrial metal.
Silver was seen to continue its upward momentum and it rallied above $24.00 as gold managed to record its all-time highs. Also, the US dollar lost ground against the wider basket of currencies as new reports of another stimulus package appear on the horizon.
The major news on Monday is undoubtedly the new record that gold has set. During the Asian and European sessions, gold managed to surge to record highs of $1,945 per ounce on a spot basis. The US Democrats and Republicans are expected to negotiate a new round of economic stimulus package that is expected to be valued at about $1 trillion.
This massive and rampant money-printing continues to offer major support to the entire precious metal space. Thus, gold's rally is not in any way surprising. In the meantime, the upside move in gold has helped most of the other precious metals since it attracts new investors into the sector.
Additionally, the gold/silver ratio managed to settle below the 80 level which enabled silver to gain more ground. About a month ago, the gold/silver ratio was close to the 100 mark. The major downside move of the ratio was a key contributor to the recent surge in the silver prices.
The US dollar is also weakening which is a considerable positive catalyst for silver. Notably, the US Dollar Index has plunged below the 94 level as the dollar lost its haven attributes due to growing US-China tensions. Also, problems on the COVID-19 front in the US are affecting the space.
Technical Analysis
Silver managed to remain above the resistance at $23.25 and it rallied up to $24.60. As expected, the RSI is in the extremely overbought zone, but the industrial metal is supported by many positive catalysts that made the rally possible.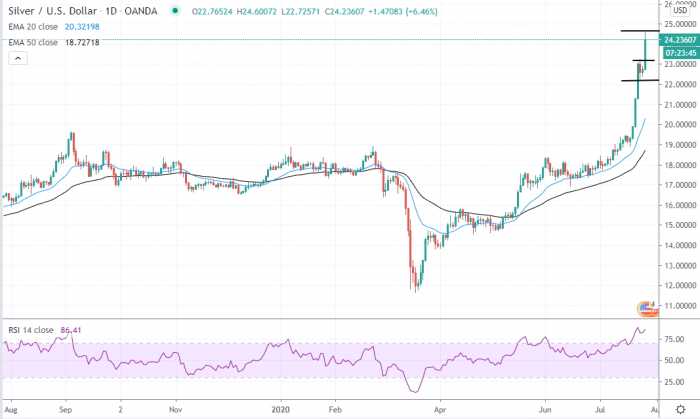 Old resistance zones have minimal relevance in this scenario which has made traders to watch silver's dynamics closely; and adapt majorly to the current situation. For now, the recent high set at $24.60 will serve as the first major resistance level for silver. If silver manages to rise above that level, it will go towards the $25.00 zone.
On the other hand, the nearest support zone is located around the previous resistance at $23.25. A move below that zone will pave the way to the next support level located at $22.25.