Various bullish factors that are coming up in the gold market are expected to propel prices higher. Citigroup Inc believes that the next surge will push prices higher than the record set in 2011.
The metal is benefiting from low real yields, loose monetary policy, increased asset allocations, and high inflows into exchange-traded funds (ETFs). That is the opinion of the bank's analysts including Ed Morse. Gold is now expected to surge to an all-time high in the coming six to nine months and there is a likelihood that it will surpass $2,000 per ounce in the next three to five months.
The analysts stated:
"Nominal gold prices have already posted fresh records in every other G-10 and major emerging market currency this year. It is only a matter of time for fresh highs in U.S. dollars."
Demand for a store of value and wealth should also lift silver that touched a 3-year high in New York on July 20.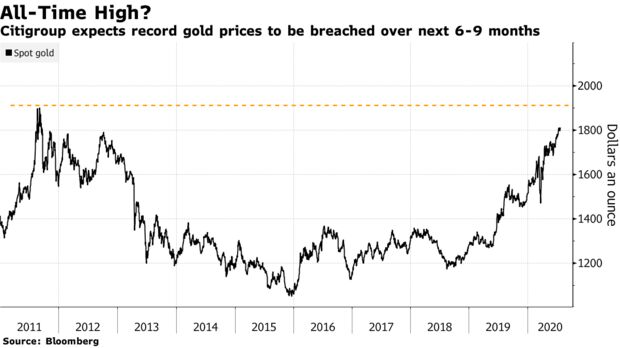 Citigroup joins a growing list of commentators and analysts who say that gold will set record highs soon. They are convinced that bullion will surge to record highs since there is a resurgence of COVID-19 cases in several parts of the world. This resurgence of the health crisis point to a prolonged and uneven recovery of the global economy.
Spot gold has gained 19% in 2021 to its highest level since 2011 as the pandemic drove most investors to haven assets. On the flip side, easier monetary policy and many other measures aiming to shore up economies have supported the rising demand for gold.
The Future
Spot bullion prices appeared a little unchanged on July 20 trading; at about $1,811.04 an ounce at 11:18 a.m. in London. Also, spot silver rose by 0.6% while the most active Comex futures surged as high as $19.875 an ounce; which is the highest level since September 2016.
Citi believes that silver will rise to $25 in the next six to twelve months. That sets up a potential for $30 according to the bank's bull case. That prediction is supported by a recovery in global economic activities. Data shows that spot silver last traded at these levels in 2013. On the other hand, the gold prices are not far away from the record set at $1,921.17 set in 2011.
Both of these precious metals are following a consistent six straight weeks of gains; as the investors weigh talks on more stimulus in critical economies. The main four European Union governments that have been holding up several negotiations about a major rescue package seem close to reaching a milestone agreement.
In the United States, talks on a new stimulus program are scheduled to resume on July 20 while the Federal Reserve announced that it will meet next week amid pressure for probable more action as the health crisis resurgence plagues the general economic outlook.
The net-bullish bets in silver futures and options soared to a 20-week high. On the other hand, wagers on gold moved slightly lower according to the July 17 Commodity Futures Trading Commission data.