Silver is trying to develop a strong upside momentum hovering near the $17.50 resistance zone. The industrial metal is trying to rise as the United States dollar loses some notable ground against the wider basket of currencies. On the other hand, the equity market continues with its rally as risk appetite returned in the market.
The US Dollar Index did not get anywhere above the 97.5 resistance level. It pulled back but managed to stay above the 97 levels. A slightly weaker US dollar is bullish for the silver market since it makes it more affordable for the buyers who have other currencies.
On the other hand, gold is gaining some value although it remains below the critical $1,750 level. Essentially, it managed to close slightly above the 20 EMA for several trading sessions. Based on the near term sentiments and data, gold seems like it has an opportunity of testing the $1,750 level.
Any successful test of this critical zone will boost the entire precious metals market. Therefore, the silver traders should watch this gold level closely. The Gold/silver ratio did not surpass 100 and it currently remains below the 20 EMA at $99.20. That factor increases the potential for additional downside movement.
Before the COVID-19 pandemic, the gold/silver ratio was hovering below 90. Any return to such levels will prove to be quite bullish for silver.
Technical Analysis
Silver is once more striving to settle above the resistance level at $17.50. Analysts believe that silver has a great opportunity to rise higher as it spent some amount of time near the $17.50 zone without a pullback while the support located at the 20 EMA has surged to $17.40.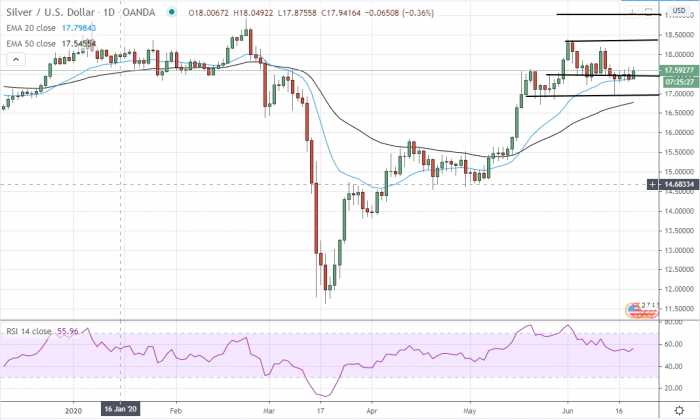 If silver manages to settle above the $17.50 resistance, it will gain some significant upward momentum and rise towards the next resistance zone that is located at the recent highs below $18.50. Based on the bigger picture point of view, an upside movement from a strong base may create adequate momentum to go ahead and test the major resistance level located at $19.00.
Looking on the support side, silver will have to plunge below the 20 EMA at $17.40 to create any significant downside momentum. In that scenario, silver will head to test the major support level located at $17.00. That level has already been tested several times which means that silver can count on strong support near the $17.00 level.