Silver is mainly flat as the global market sell-off happens. The industrial metal held its ground as demand for precious metals stays strong. Silver is trying to remain above $18.00 even as the US dollar strengthens. For now, XAGUSD is hovering around $17.75.
The global markets remain tensed about the new economic forecast by the US Federal Reserve that forecasted that the US GDP will shrink by about 6.5% in 2021. The Fed Reserve also said that the unemployment rate will be at 9.3% at the end of this year.
Most of these economic worries resulted in a major sell-off in most asset classes but the precious metal market sector appears strong. Gold is rising toward $1,750 per ounce as the demand for the haven asset increases. The Gold/silver ratio is mostly flat at 96.5 as both metals show some considerable strength amid the global market sell-off.
The US dollar is steadily gaining ground against a wide basket of currencies. On the other hand, the U.S. Dollar Index has returned above 96. For now, it remains to be seen whether the US dollar can gain more momentum as the Fed promised to keep the interest rates near zero up to 2022. The Fed also maintained its current asset purchase program.
A stronger US dollar is quite bearish for silver as it makes it a bit expensive for the buyers who have other currencies. Nevertheless, if the upside trend in the US dollar is due to a global rush into haven assets, precious metals now have the opportunity to reach higher levels despite the strength of the American currency.
Technical Analysis
Today, silver is trying to settle above $18.00. If this attempt turns successful, silver will rise towards the next resistance level that is located right below $18.50. Some minor resistance has formed near $18.15 but it should not be a challenge if silver gains enough upside momentum.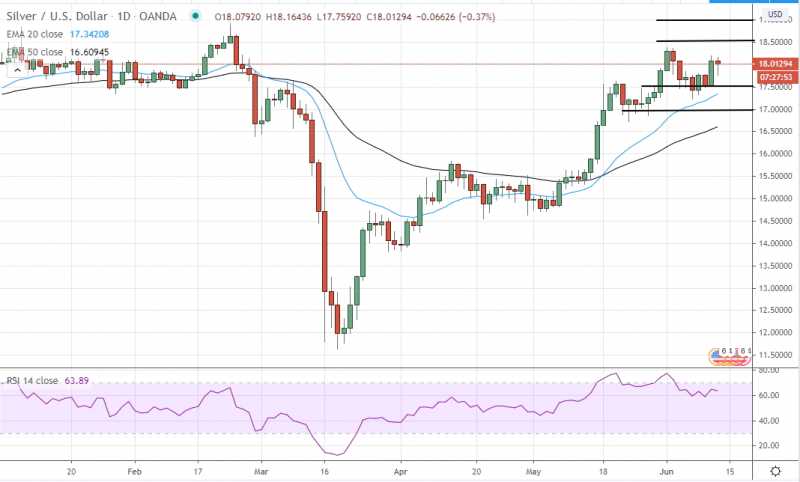 If silver manages to settle above the $18.50 level, it might gain more upside momentum and move towards the test of the major resistance level at $19.00. If the global market sell-off continues and the demand for precious metals remains quite strong; silver has a great chance of rising above $19.00.
Looking at the downside, the nearest support for the metal has formed at $17.50. If silver sinks below that level, it might develop additional downside momentum and head towards the next crucial support level at $17.00.