An attempt by silver, to settle below the $17.50 support failed. The industrial metal got an extra support boost after the European Central Bank decided to revise its asset-buying program upwards by a staggering 600 billion Euros.
Gold and silver are continually gaining stable ground amid increasing signs that the major world central banks will not stop printing more money any time soon. Gold, tried to settle below the $1,700 level, but the exciting news about the increased ECB asset-buying program provided significant support for gold.
Furthermore, the disappointing US Continuing Jobless Claims report has some significant potential to increase the demand for haven assets, including precious metals. The United States dollar had a highly volatile session, although the US Dollar Index remains barely unchanged against the broad basket of currencies.
The gold/silver ratio is still hovering around 96.5 and has the potential to return to the pre-crisis levels below 90. Generally, the situation seems to remain favourable for silver as the never-ending monetary stimulus strongly supports the precious metals. In the current market conditions, gold looks poised to stay above the critical $1,700 level.
Technical Analysis
Silver tried to settle below the nearest support that has formed at $17.50, but it was unsuccessful. The support level has been tested twice, and it has managed to hold its ground on both occasions.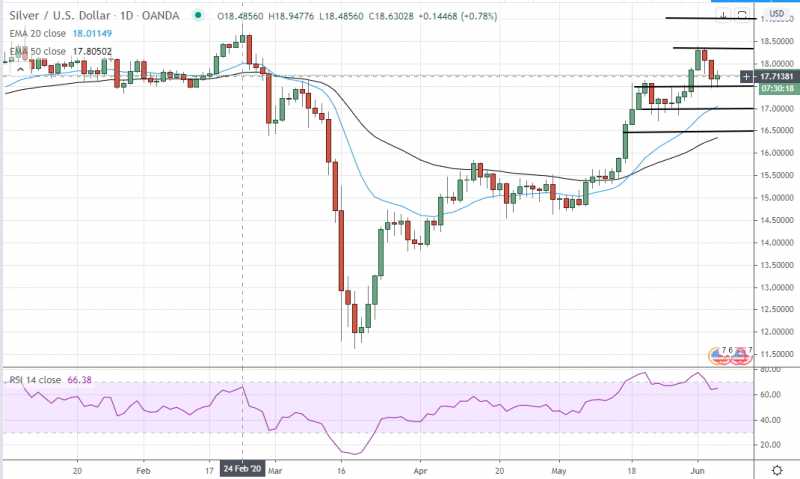 Today, silver is trying to rebound to the $18.00 level. The RSI seems to be leaving the overbought region; which means that silver has the potential to enjoy further upside momentum if the market offers the ideal catalysts.
In such a scenario, the first significant resistance level has formed at the recent highs, just below $18.50. Silver can rise above that resistance, soar towards the test of the significant resistance level pegged at $19.00.
On the flip side, any move below the nearest support at $17.50 may lead to an increased downside momentum; and push silver towards the strong support level, which is located at $17.00. That level has already been tested on multiple occasions; which means silver will probably get some significant support in that area.
If the industrial/precious metal breaks below $17.00, it will continue with its downside trend and slip towards the pre-crisis levels located at around $16.50. For now, silver's bullish momentum is still intact. Silver must sink below $17.00 for the legitimacy of the upside momentum to come into question.