Gold has been surging in recent weeks as the coronavirus pandemic continues to cause uncertainties in the global markets. But, gold prices eased on April 23 during the Asian session with several investors booking profits on the last two sessions' gains.
But, despite a slight increase in risk appetite and a surge in crude oil prices, gold price managed to remain above $1,700 per ounce. The United States House of Representatives is expected to clear a fourth coronavirus economic countermeasure on April 23, raising the cumulative federal fiscal response to almost $3 trillion.
This huge deficit spending might underpin gold just like the miserable Purchasing Managers Index (PMI) figures that came out of both Australia and Japan. More PMI releases are coming up from both Europe and the US and they will determine whether the current risk appetite survives what is expected to be an increasing virus-related gloom.
Crude Oil Rises From Negatives
On its part, crude oil extending gains amid signs that the major producers are cutting back production heavily in the wake of the current health crisis that has taken a major toll on demand.
Regulators in Oklahoma have announced that well owners can now shut operations without losing leases. Also, loadings of Russian 'Urals grade' oil located in the Baltic are allegedly expected to be steeply lower this April. That indicates that the country has decided to comply with the large production cuts that were agreed upon earlier this month by the Organization of Petroleum Exporting Countries and allies, dubbed the 'OPEC Plus' group.
Nonetheless, challenges are coming up over the storage capacity for a glut of crude oil without any ready end user. The United States crude oil stockpiles reached around 518.6 million barrels in the week that led to April 17; according to official reports. That amount is not too far away from the record of 535 million that was set in 2017.
Gold Price Technical Analysis
At the moment, gold prices remain below their previously daily chart uptrend channel that was dominant after breaking below it on April 17. Nevertheless, the appetite has been decreasing to sell the precious metal down to any significant extent. Notably, tight range-trading has become the norm since then.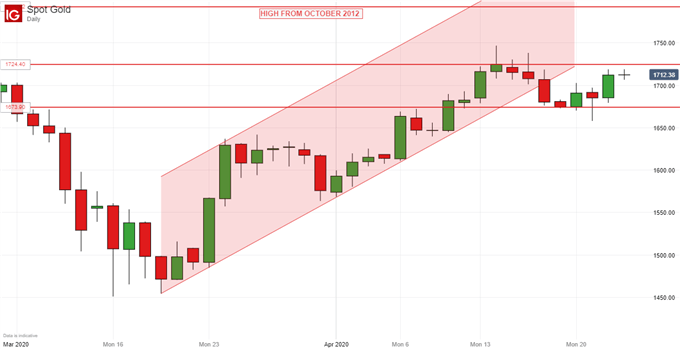 Near-term support comes in at $1673.90/ounce, April 19's closing low. Looking up, the nearest resistance is located at $1724.40 and it may soon face another test even though there is not any urgency to try and take it out.
Crude Oil Technical Analysis
In the past two days, oil has seemed to recover from dropping further into the negative region. But, these gains are not enough since the US crude oil prices are still under the influence of the downtrend that started on February 19.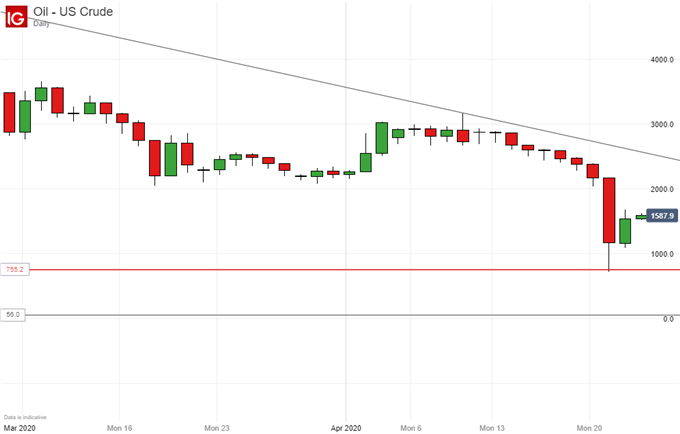 The market will stay that way unless the bulls force the price to rise above $24.89 per barrel; and maintain it there. However, there is no sign that they have the needed momentum to do that just yet.
Any rise above April 21's opening price of $21.60 may indicate that such a resolution from the bulls was growing; mostly if the market manages to sustain these levels. If it fails, psychological support is located in the $10 region and it may be back in focus. Nonetheless, if the fundamental news continues to focus on output reductions, gains might be more likely.
For now, most investors are on a wait-and-see mode; to determine where the current developments in the health sector might take the global markets.