The entire crypto market has recently become a roller coaster. The undisputed leader of this market is still Bitcoin. But, as commentators continue scrambling to explain Bitcoin's rise and fall, LINK has quietly but constantly outperformed all digital assets in the top 25.
LINK, the native token of Chainlink has surged more than 500% year-to-date. Even though LINK's upward trend is somewhat parabolic, it is surely not a pump-and-dump scheme. Many essential fundamentals exist behind the price. Chainlink has so far partnered with various players to make networks co-exist and function effectively.
In just this year alone, Chainlink already secured deals with Oracle and Google. Moreover, it has secured a listing on Coinbase and gone further to launch its mainnet on Ethereum. Chainlink together with Stellar is among the few tokens that are still flying the bull flag pattern. Most of the other cryptocurrencies are striving to try to avoid plunging below the key support areas.
Analysis
Currently, the token is trading at $2.74. With the general cryptocurrency market continuing to languish in the bearish and choppy trends, LINK's price for the past few days has been rising. On September 27, LINK was valued at $1.61. On October 6, the token broke the upward trend when it first declined by 2.23%.
Immediate support formed around $1.97 and the prices continued with the upward trend. When the weekly chart is taken into context, the coin gained over 50% within October 2019.
In the past 24 hours, LINK has gained over 4% and the two-hour chart reveals that Chainlink is trading above the trendline support. In the past week, the ascending trendline has been helpful in the recovery of the token.
LINK tested the $3.20 levels but fell short forming a high at $3.17. Then, a correction from the monthly high was significantly thwarted by the 61.8% Fib level that was taken between the last swing high of $3.17 down to a swing low of $1.52.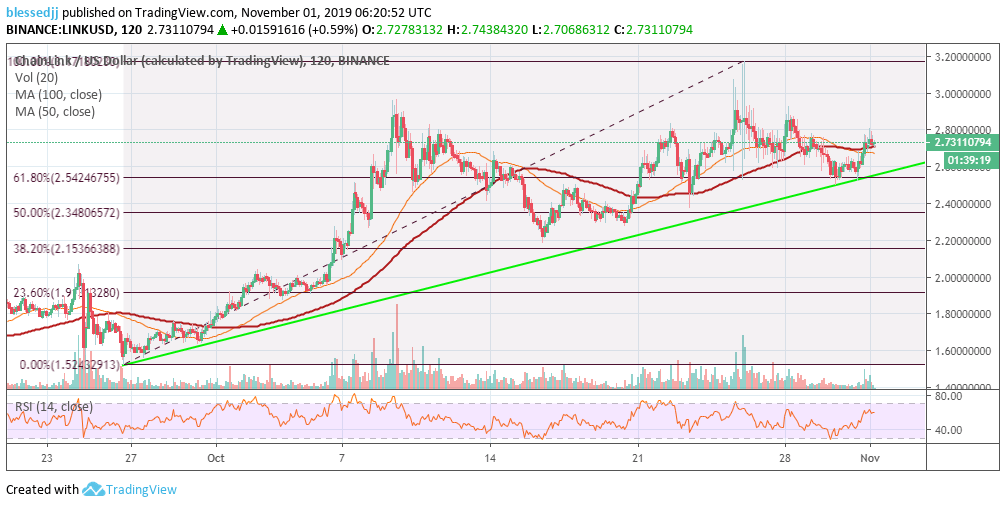 The mild recovery ended at $2.8. Nonetheless, there is immediate support that is provided by 100 Moving Average (MA) currently at $2.7. At this moment, the Relative Strength Index (RSI) is retreating even before it has reached the overbought levels. This shows that there is rising selling pressure. Moreover, the 50 MA has crossed below the long-term 100 MA.
Will the LINK bulls manage to maintain the price above the $2.7 threshold? Is a bull run coming along for this token?