Bitcoin price could change significantly after another Satoshi came up aiming to copyright BTC whitepaper. The controversial crypto proponent Craig Steve Wright has got copyright registrations for the original Bitcoin Whitepaper.  It is not news anymore that he claims to be the real Satoshi.
Craig might now sue his new rival who filed a copyright registration on Bitcoin whitepaper. The US Copyright Office granted him these copyrights. Some members of the crypto community now get the value of Craig's idea with the Bitcoin copyright registration and the US Copyright Office. The latest Satoshi is a Chinese citizen who filed an application purporting that she is the original author of the BTC whitepaper.
Is this another 'fake Satoshi'?
Wei Liu, a Chinese citizen, filed an application on May 24 to the US Copyright Office. She applied to officially inform the world that she is the one who allegedly invented the largest cryptocurrency currently. Wei claimed that she used the name Satoshi Nakamoto in 2008 to write 'Bitcoin'. She called it a Peer-to-Peer Electronic Cash System which she published on the web as a text file.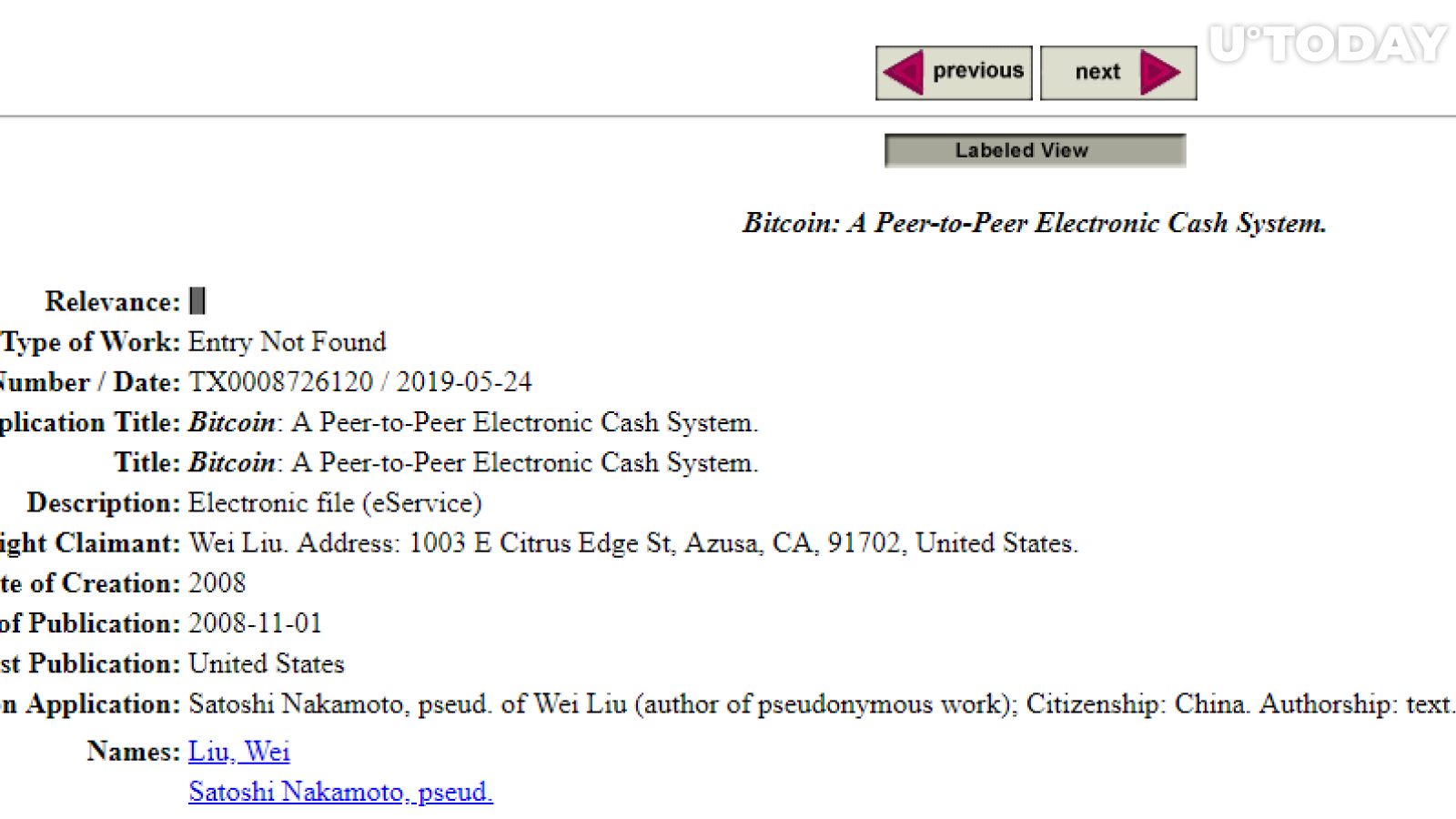 Craig should now maybe prepare to initiate a lawsuit to fight off the new competitor. He was the first to file a copyright application for bitcoin. On May 21, successfully acquired US copyright registrations for the Bitcoin Whitepaper. However, his assumed authorship of the whitepaper can be challenged in court after the new contender came up.
Since 2015, Craig Wright has always purported to be the BTC mysterious creator, Satoshi Nakamoto.  Even though it would be an easy task for him to cryptographically prove himself as Satoshi, he never did so until now. The controversial figure was forced to take legal action against the critics who doubted his claim of being the author of the Bitcoin whitepaper.
Who is Wei Liu?
Up to now, there is scanty information about the identity of the person. Nonetheless, a woman going by the same name was the 'right hand' of the Bitbox cryptocurrency exchange co-founder in 2018.
Wei Liu was sued last year by Wanlin Wang, the co-founder. Wang said that Liu had claimed herself as the company's only shareholder trying to steal about $3 million. Whether she or Craig is the real Satoshi Nakamoto or not, only time will tell. For now, all there is to do is wait and see how the story unfolds.