Many theories about the origin of money have come up over the years. However, the problem with all these theories is the assumption that money always served the purposes it serves currently since its inception. In today's world, money is a medium of exchange, store of value, and unit of account. All these are functions, not things.
According to the vantage point of 1491 America, 'Origins of Money', it was a display of status. Back then, money units came in the form of beads and feathers and eventually became wearable jewelery.
Credit has the greatest moneyness characteristics in 2019. Therefore, all modern histories of 'money' comprise of the origins of violence and debt. For this study, the US dollar takes the mantle as the epitome of money. Note that it is not a store of value. The FED has designed the dollar specifically to NOT be a store of value.
ZIRP renders the USD a depreciating asset to encourage and enhance consumption and investment. On the other hand, credit serves as the main medium of exchange. Today, the government mostly uses the US dollar to advance foreign policy objectives. It sanctions all those that fall out of political favour. Hence, in this case, money can be seen as an instrument of persuasion.
Financial Imperialism
Another interesting instrument of persuasion is the gun. If a barrel is pointed to your head, you can easily hand over everything that the gun holder wants hoping that they will let you walk free.
Traditionally, the owner and definer of the state is anybody who has a monopoly on violence; whether the military, mafia, or the mob. Nonetheless, an entity with an entire monopoly on money can acquire the same persuasive capacity. Yap stones are mostly used to fiatsplain how a thing with no fundamental value can be employed to tabulate debt.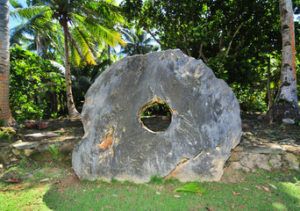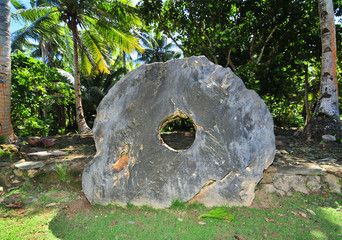 Also, these stones that weigh four tons apiece remained in circulation after the islanders sunk to the ocean's bottom. It reveals how easily a population assigns value to arbitrary tokens.
The less known story is that these traditional Yap stones were mainly small limestone discs. No limestone deposits are available in Yap. Therefore, stones had to be transported 400 miles away by canoe. The size of the stone determined its value with value increasing with size. At that time, a man-high stone was very rare and valuable that it could purchase a plantation or an entire village.
David O'Keefe, an Irish-American showed up in the 19th century with a Chinese cargo ship and steel tools. He fetched thousands of these massive Yap stones and turned the whole island into his debtors. What followed was massive inflation that made the Yapese turn to ginormous boulders for money.
Anybody with the ability to loan out infinite amounts of money can enslave an entire population without using any violence. In 2019, the banking industry seems to have enslaved the masses. That explains why they have become uneasy with the emergence of cryptocurrencies that are threatening to dilute their powers.