The global economy is currently in a quagmire. Many factors keep rising up causing all pointers to indicate that a recession may be on the horizon. A recent downbeat tone that came in minutes from April's RBA meeting resulted in a broadly risk-off response from the financial markets. The Australian Dollar slid alongside its correspondingly sentiment-sensitive New Zealand and Canadian counterparts.
On the other hand, the anti-risk Japanese Yen and the US Dollar gained. Crude of evocatively plunged with Treasury bond yields. The main issue that the central bank reportedly discussed were scenarios wherein it might require cutting rates. That discussion reinforced the recent dovish shift in official rhetoric.
Separately, the governor of RBNZ, Adrian Orr, acknowledged that he and his colleagues are operating majorly with an easing bias. Their stand is yet to be challenged by any incoming economic data. The current economic conditions thus raise worries of a downshift in the global business cycle.
The Future
Looking into the future, the US industrial production figures and Germany's ZEW survey of analysts' sentiment may intensify global slowdown fears. Most of the macro economic data coming out of both countries keeps under-performing with regards to baseline forecasts recently. According to the Bank of America, the first-quarter earnings report may increase pressure if it repeats yesterday's results from Citigroup and Goldman Sachs.
The current slowdown in global economic growth may bring the first negative quarter with regards to corporate earnings growth in the last three years. According to JPMorgan Global PMI data, the expansion pace in nonfarm activity has been receding since the start of 2018.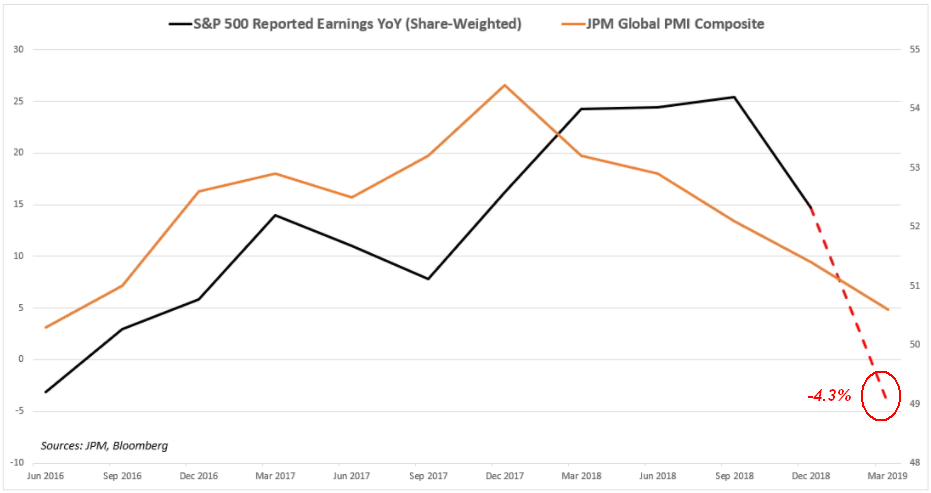 Bloomberg data shows that the decline started coming up in the performance companies featuring the bellwether S&P 500 stock index. The stock index felt these effects in the fourth quarter of 2018. Recent reports show that the drop in earnings seems to be accelerating. Furthermore, the first-quarter results published so far suggest that these earnings are on course to fall 4.3% on-year.
However, it is essential to avoid overstating losses since less than 7% of the index's companies have reported so far. Hence, a better outcome may yet be possible although a more malignant one is also possible.