Blockchain Usability Report by Foundation for Interwallet Operability (FIO) shows a majority of users are still scared of making Bitcoin payments. While the crypto industry is trying to move towards wider acceptability and adoption of digital coins, the people who have entered the ecosystem are still wary of using it.
Crypto should become easier for people
Cryptocurrency exchange XCOEX recently took to Twitter to share stats from the Blockchain Usability report by FIO. It wrote,
"According to @joinFIO recent research, 60% of crypto users are still scared to make a bitcoin payment, and only 11% of people who used crypto in 2018 did so more than once a week It is time for crypto to become easier!"
FIO noted that it targeted the users between December 2018 and February 2019 and targeted a general crypto user population regardless of age, gender and job title. Of the 231 responses FIO collected, 217 people actively held some crypto throughout 2018. The study also took figures by Bitcoin Market Journal and Bloomberg, which estimates the population of crypto holders to 25 million.
What does the survey reveal?
The research report suggests that at last 55% of crypto users, who actually made a transaction last year, had multiple problems or concerns with their transaction. The most common issue, reported by about 35% of the respondents, included the use of public addresses, especially about the accuracy of these addresses.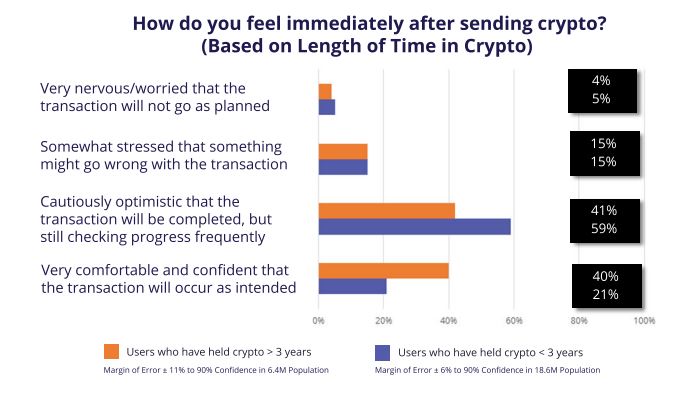 About 24% of the users thought that the public address of their transaction had been manipulated. About 18% of the users reported a loss of funds or failed transactions owing to user-error. Another 6% reported that they lost funds via man-in-the-middle attacks or phishing attacks.
The research also shows a lack of confidence among users. About 25% of respondents who sent money to someone else felt "very comfortable" about the transactions immediately after sending. 58% of users were cautiously optimistic while 17% felt anxious about a transaction.
The report also suggests that a whopping 27% of users haven't sent crypto to anyone in 2018. About 30% of users sent crypto monthly while 43% have sent crypto only a few times. This shows that the market is currently full of traders and HODLers, but there aren't many spenders yet.
More details are available on the FIO website and their published report.