Diar's latest weekly report noted a small rise in the mining gross margins of Bitcoin, the world's largest digital currency.
In February, the miners' revenues fell to their lowest since August 2017. Miners who were running optimal equipment and had wholesale electricity prices were also witnessed a shrink in their gross margins. These miners were forced to keep the hash power high to make ends meet.
Miners Suffer Issues Because of Price Drops
This month, Bitcoins fortunes turned slightly, helping it get a little uptick since the December 2017 price boom. At the time, fees alone helped miners earn over $295 million but as prices started to drop and a larger community of Bitcoin users adopted SegWit (43% in February 2019 as against 12% In January 2018), revenues from fees have become more alien to the miners. Last month, the miner revenues dropped to their 19-month lows, bringing just $195 million. The figure is a 10% drop from the beginning of the year.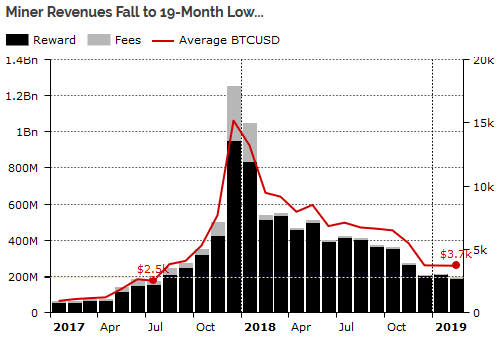 Because of the price drops, most smaller miners have said goodbye to Bitcoin mining, leaving the majority of the network to run on the most recent equipment by larger miners or pools. These miners have to either use the latest hardware or run at a loss. This doesn't mean that competition had died in the space. The gross margins of the miners have gone down from 94% at the beginning of 2018 to 32% at the beginning of 2019. In February however, the gross margins went up to 39%.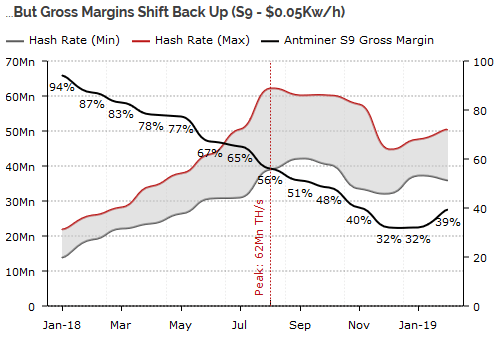 What's Happening in the Market Now?
The Bitcoin hash rate has sustained growth after a December reversal. The miners may not be able to continue reaping the rewards with the current equipment, especially since the block rewards are halving next year. However, it appears that Bitcoin has a strong support by miners.
Note that the hash rate has already increased by a massive 17005 since early 2017. Miners will have to put in more capital expenditure to maintain their share of block rewards or lose out to other miners who have more efficient mining equipment.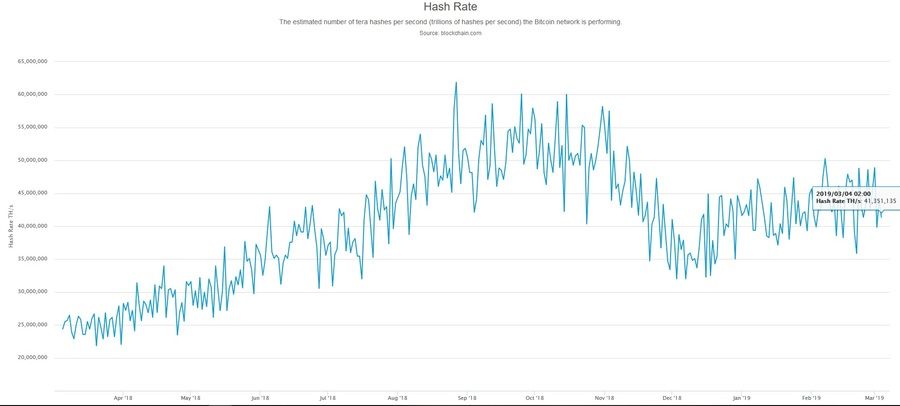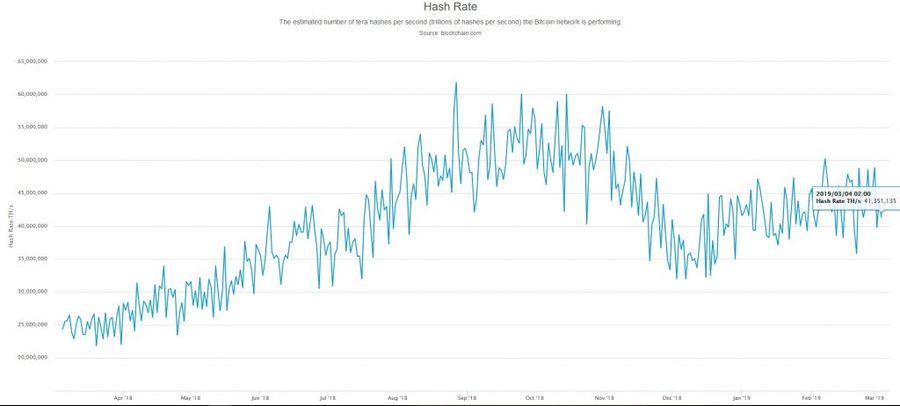 Gross margins have some breathing room for now, and Bitmain's latest flagship miner has already started shipping. The S15 has already sold out twice, and its next batch will be ready for shipment in April. The S15 is expected to bring 84% more return over its predecessor.
More on top, Bitmain has recently introduced the next generation 7nm ASIC Chip for SHA256 mining which is expected to be 28.6% more efficient thus meaning that the miner will use 28.6% less electricity to mine the same amount of cryptocurrency. The chip will be used in the manufacture of the new Antminer models the S17 and T17 which the company will unveil at a later date.