Highlights
Having lost 13% in the last 24 hours, Cardano's market cap is about $1.1 billion with trading volume of $47 million plus; CoinMarketCap statistics. It's currently trading at $0.043. Similarly, ADAUSD and ADABTC had witnessed a low break.
ADA-USD Market
Key levels:
Resistance levels: $0.051, $0.055, $0.060;
Support levels: $0.040, $0.036, $0.032;
With the high volatility and liquidity experienced on the Market Cap which has virtually boosted the performance of all the most top 20 crypto-assets positively in the past weeks. Cardano is however not left out. But today, it seems following Bitcoin's drop; now heading low as other cryptocurrencies bleed.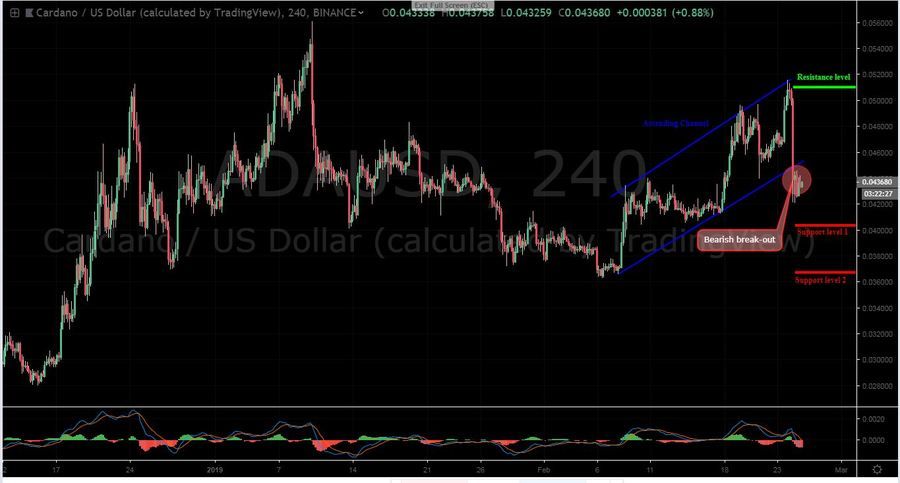 Due to the current market condition, ADA has remained in a bearish trailing yesterday's sudden heavy short; resulting in a channel break-down as appeared on the chart. Now consolidating at the break-point (circled red), before bottoming at $0.040 support level 1. Further low might send price to strong support (2) at $0.036. Nevertheless, the closest resistance level is at $0.051.
The 4 hours MACD, however, revealed the last two weeks incline at the positive zone. Crossing to the negative zone confirms a sell trade.
ADA-BTC Market
Pairing Bitcoin, the market direction is synonymous to the Dollar market as ADA followed a broke-down which was shown on the ascending triangle. Though, the price is still stable; trading at 1100 SAT price level. Waiting for the next move, a swing low might reach 1050 SAT support level, where the price rose from early this month.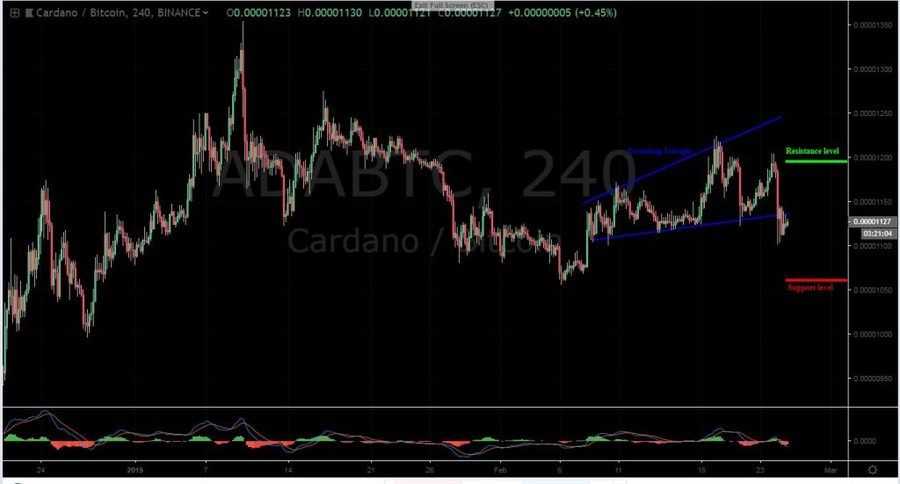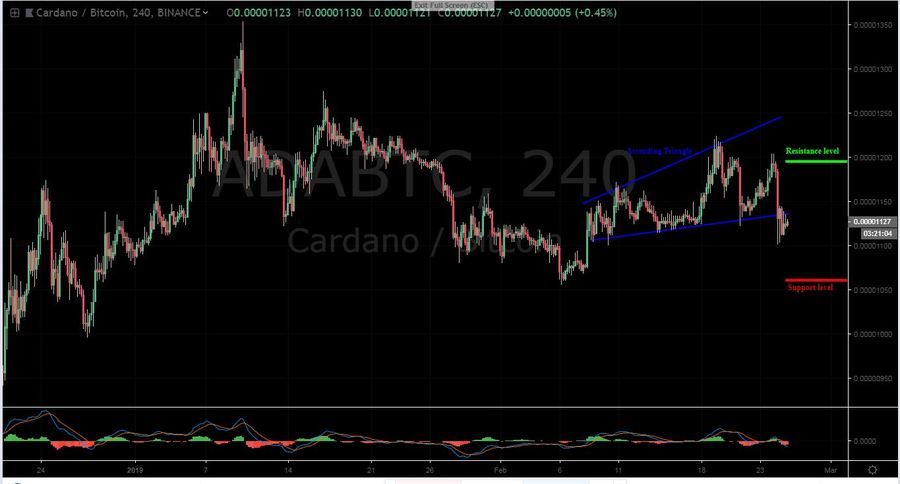 Once Cardano crosses down the 1050 support, another bottom would be made at the tough 1000 SAT support. Here, a bounce up is likely to happen as the bull sides defend the level strongly. Whichever way, the bears seem to be gaining momentum as they positioned trade in a decline owing to Sunday's sell-off; now slowly in action.
A look at the MACD suggests a clear short signal as the oscillator swings to the negative zone. Selling pressure is around the corner.
---
Please note: Cryptovibes.com is not a financial advisor. Do your own research before investing in any financial asset. We are not responsible for your investing results.