After moving in a narrow range in January, Bitcoin has finally started to go up. However, this time it is moving with very less volume. In this article, we will look at what happens to the price of Bitcoin when it starts to move on lower volumes and whether the up move can be sustained.
Let's look at a few instances when Bitcoin went up or went down after a series of narrow range days. In June 2018, Bitcoin broke out on the upside after trading in a narrow range and went up till $9000 before falling down again till $6000 and then again in November'18 it broke down and went down all the way till $3000.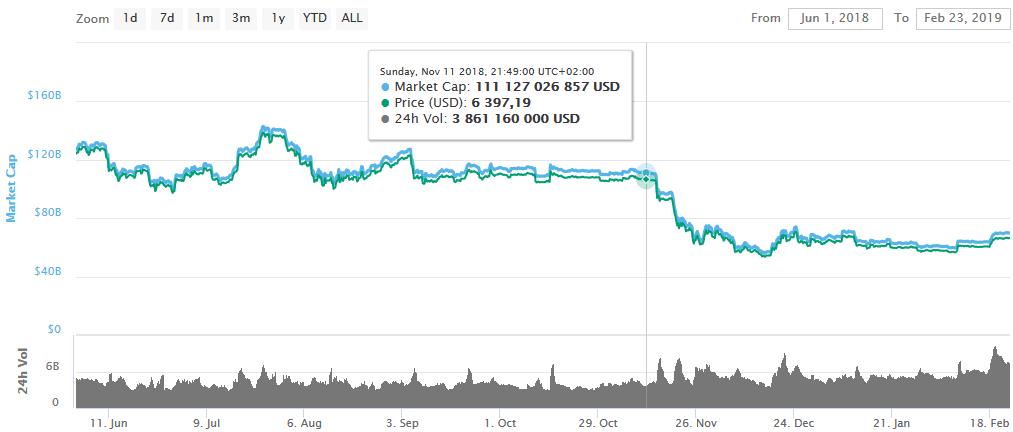 If we see historically also, the data is not conclusive on whether Bitcoin will go only up or only down. One needs to take into consideration sentiment for crypto coins along with regulatory news among other things.
According to data from Bitcoin Enthusiast, @AlecZiupsnys Bitcoin volatility is at an all-time low of 4% from an all-time high of 16%. Fall in the volatility of Bitcoin does indicate that the market is maturing along with the fall in madness for the crypto.
Bitcoin peak volatility has been trending down.

2011: 16%
2012: 10%
2013: 14%
2014: 12%
2015: 8%
2016: 5%
2017: 5%
2018: 7%
2019: 4%

Judging bitcoin on its high volatility is like judging an eight year old's future NBA career because of how short he is.

Give it time.

— Alec Ziupsnys (@AlecZiupsnys) February 22, 2019
Apart from this, a recent paper from Yaya, OlaOluwa S., Ephraim A. Ogbonna, and Robert Mudida titled "Market Efficiency and Volatility Persistence of Cryptocurrency during Pre-and Post-Crash Periods of Bitcoin: Evidence based on Fractional Integration." (2019), say that returns from Bitcoin are unpredictable and traders should not boast of abnormal profits. Also, it is found that volatility is usually higher after a crash.
BTC Weekly Chart
Based on weekly chart, Bitcoin looks to be on strong footing and does look like moving up. Going forward the weekly support of $3070-$3090 will be key on a closing basis. However, the cryptocurrency is expected to face supply pressure around weekly levels of $4200-$4250.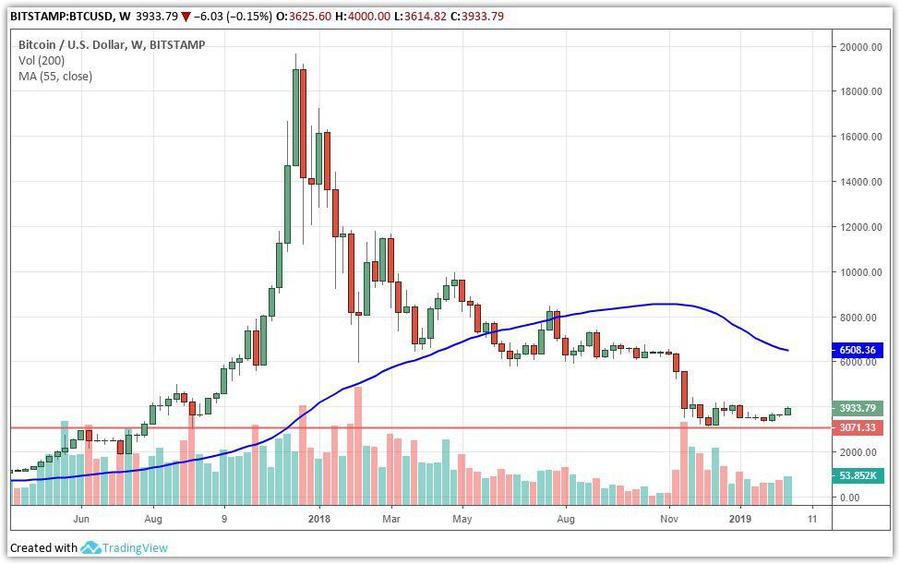 As per daily charts, Bitcoin is trading above all critical 55-Day EMA of $3644 which is expected to provide support. Do watch out for rise in volume over coming days which can provide indications about underlying strength of the current up move.
---
Please note: Cryptovibes.com is not a financial advisor. Do your own research before investing in any financial asset. We are not responsible for your investing results.