Highlight:
The bullish move is signaled as Bitcoin stays above the 50 days moving average line. Can bulls hold price ahead $4k?
BTC/USD Long-term Trend: Bullish (1D chart)
Key Levels:
Resistance levels: $4400, $4800, $5200;
Support levels: $3600, $3350, $3150;
Looking back at Bitcoin's fall from $6500 price level in late 2018; the boring market now seems to be interesting as price touched $4000 at 0.236 Fib. level. It appears we are leaving the red zone. Another thing to consider is the strong daily 50 moving average (yellow band), now trending below price action – a bullish sign.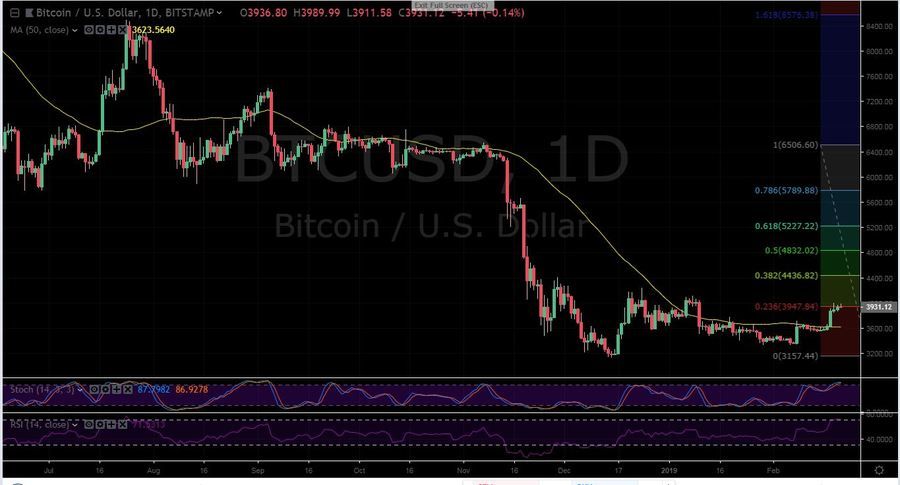 Considering the past two days doji candles, a possible Fibonacci retracement is more likely to floor at $3600 on the yellow band before bouncing up. Otherwise, a new swing high would reach $4400, 0.382 Fib. level. That would happen if the volume size is increased.
Though the daily RSI has signaled the bullish move; but currently sitting at the overbought. This could be a pullback sign. Aside RSI, the Stochastic also hovers around the overbought territory – a double check for short.
BTC/USD Medium -term Trend: Bullish (4H Chart)
In spite of the 12 days positive move, Bitcoin still finds it hard to escape the negative area of the Fibonacci. The 0.236 Fib level remains very tough for the buyers to surpass. For over three days, the mentioned level has been on consolidation; signaling a new wave coming. It could probably retrace to $3700 or surge to $4200. Either direction is expected.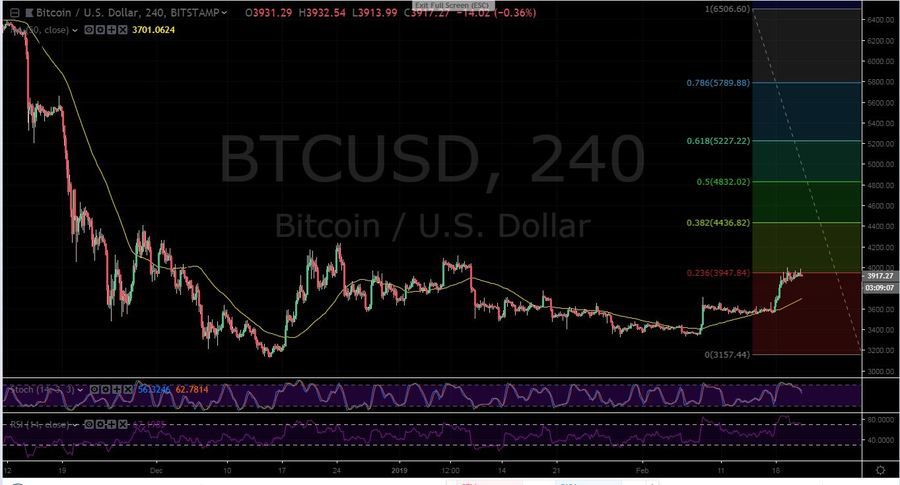 But as it stands now, there's a higher chance for drop than rising. Showing on the Stochastic; a slow declining market. The sellers are dominating. Another check is the four hours RSI: lying atop overbought line. Once it falls, BTC would quickly react low.
More importantly, the 50 days moving average line is now up following the recent incline. As said earlier, the price might flag to $3700. Breaking down the yellow line might send trade to $3350. For now, the bears are defending $4000 supply strongly.
Analyst's Insights
eToro's senior market analyst has also indicated that Google searches for Bitcoin have ticked up during the current rally and the volumes across exchanges has increased to 2018 April levels:
Here we can see the volumes across exchanges during the same time frame (last 3 months).

This figure (appox $30bln) is the highest it's been since last April. pic.twitter.com/Na3uRcm0Hf

— Mati Greenspan (@MatiGreenspan) February 21, 2019
Banks Laundering Money Might Have Positive Impact to Bitcoin Price

This week has started with huge scandals in banking world:
1. Estonia Expels Danske Bank in response to historic money laundering scandal ($226 billion). The Bank must return all deposits to its customers in full and cease its activities in Estonia within eight months.
Estonia Expels Danske Bank in Response to Historic Money Laundering Scandal. https://t.co/ARtl6q7l14 #Bank #Banking #DanskeBank #Money #Laundering #Estonia #Lithuania #Latvia #Finance

— Crypto_Vibes (@Crypto_Vibes) February 20, 2019
2. Swedbank suspected of $5.8 Billion money laundering after the Swedish television SVT has had exhaustive access in the last five months to a huge pile of classified documents detailing Danske Bank's transactions with Swedbank.
Swedbank Suspected of $5.8 Billion Money Laundering. https://t.co/2yemGwyzGk #Monay #Finance #AML #Swedbank #Bank #Banking #Blockchain

— Crypto_Vibes (@Crypto_Vibes) February 20, 2019
3. UBS was just found criminally responsible by a French court for money laundering and has been fined ~$4.2 billion.
"Long #Bitcoin, Short The Banks!" @APompliano pic.twitter.com/nP5sglVqV2

— Thomas Bertani 🌓 (@ThomasBertani) February 21, 2019
Blockchain Benefits
These scandals and criminal activities prove that the traditional global financial system needs to implement blockchain in all operations. Since nothing can be hidden on the blockchain, the perpetrators of such heinous acts can get caught easily. This would discourage individuals from engaging in criminal activities while transacting through financial institutions around the world.
---
Please note: Cryptovibes.com is not a financial advisor. Do your own research before investing in any financial asset. We are not responsible for your investing results.