VeChain is the world's largest enterprise-friendly public blockchain platform. The company announced that it is launching an integrated one-click solution into AWS Cloud. The solution will let many enterprises deploy quick, secure, and compliant blockchain applications. Blockchain-as-a-Service (BaaS) on AWS integrated with compliance certification services developed by DNV GL is well-designed to support business activities and processes.
VeChain's BaaS solution was launched in 2016. It combines the Internet of Things (IoT), blockchain encryption, cloud computing, NFC+RFID chips, traditional enterprise IT services, and identity verification technology. The technology offers an extensive IT solution that utilizes the blockchain technology. The customers cover many industries ranging from manufacturers in the automobile to producers of consumer goods, food, transportation, and agriculture sectors.
Existing VeChain Users
Some of the notable users of the pre-existing services include BrightFood, BMW, D.I.G, and DB Schenker. Also, in a bid for expansion, VeChain partnered with BYD Auto. Notably, 4 out of China's top 10 best selling new energy car models are produced by BYD. Therefore, VeChain has chosen the high-end partner in the industry.
Positive Indicator for VeChain – BYD NEV Sales in 2018 Exceed 240k Units. https://t.co/npDYPWBlgX @vechainofficial @BYDCompany @DNVGL #VeChain #VET #China #Car #NEV #Electric #Crypto #Cryptocurrency #Blockchain

— Crypto_Vibes (@Crypto_Vibes) January 14, 2019
According to Gasgoo, the automaker BYD Company Limited (BYD) is reported to have sold 520,687 vehicles in 2018, achieving a year-on-year jump of 25%. That is a positive indicator of the VeChain platform as it seeks to expand into many other sectors in 2019. The one-click solution will use AWS CloudFormation to let their users deploy in one click. Eventually, it will eliminate the complex manual deployment associated with the emerging industry.
Adoptions
VeChain is also adopting Amazon Elastic Compute Cloud (Amazon EC2) that it will primarily use to deploy the VeChainThor mainnet to enable data uploading and smart contract operation. It will also integrate with Amazon Relational Database Service (Amazon RDS) to reduce costs and for data persistence purposes.
The deployment of the Amazon Redshift will enhance data analysis efficiency for all enterprise customers. It will connect the enterprise ERP system excellently with the blockchain system to expediently call smart contracts, and simultaneously upload data through standardized APIs.
With more and more governments gradually adopting the blockchain technology, VeChain is on the forefront trying to connect the different worlds. VeChain is among the experts chosen to reinforce blockchain in Italy.
VeChain – Among the Experts Selected to Bolster Blockchain in Italy. https://t.co/I9dCsvpzm9 @vechainofficial @vechainitalia @rgrottola #VeChain #VET #Crypto #Cryptocurrency #Blockchain #Italy #AI

— Crypto_Vibes (@Crypto_Vibes) December 28, 2018
The selections were made based on proven competence and experience within related space in both, European and international levels. The experts will elaborate on the national policy on artificial intelligence and blockchain technology.
VeChain will also adopt Amazon CloudFront, Elastic Load Balancing, and Amazon EC2 to collect data from different systems like ERPs on the application front. On the other end, Amazon RDS will store and simultaneously upload data to the blockchain via the interface. VeChain, like all other AWS technology partners, has joined the AWS Partner Network (APN) and will enjoy technology development, business operations, and marketing support services.
The AWS Partnership
AWS agreed with the partnership after reviewing and evaluating the value of Enterprises applications on VeChain. The strategy that the platform uses to impact many other industries is what made AWS to desire to be part of the Ecosystem as a major infrastructure service provider. The AWS Blockchain Templates were introduced to the market in 2018 and enables customers to easily and quickly create and deploy multiple secure blockchain networks using popular Superbook and Ethereum open source frameworks concurrently minimizing human error.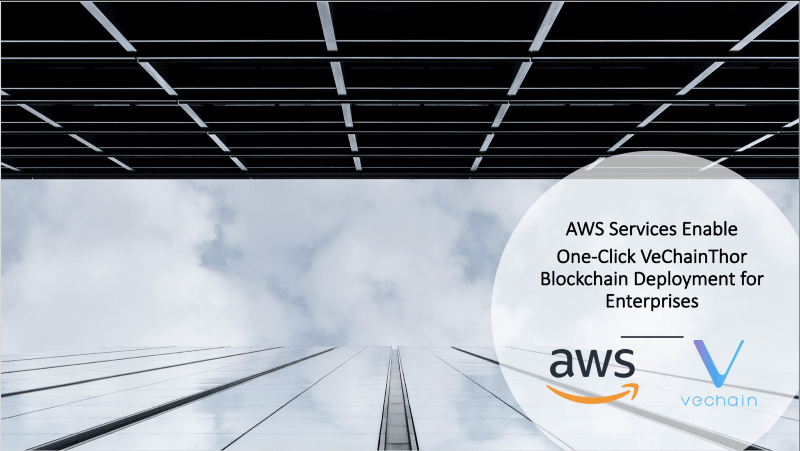 The CEO of VeChain said that "VeChain paid nothing not even a single penny on this. Not on setup a node nor AWS announcement," then added:
"AWS is looking at the value about Enterprises applications on VeChain and would like to be part of the Ecosystem as key infrastructure service provider."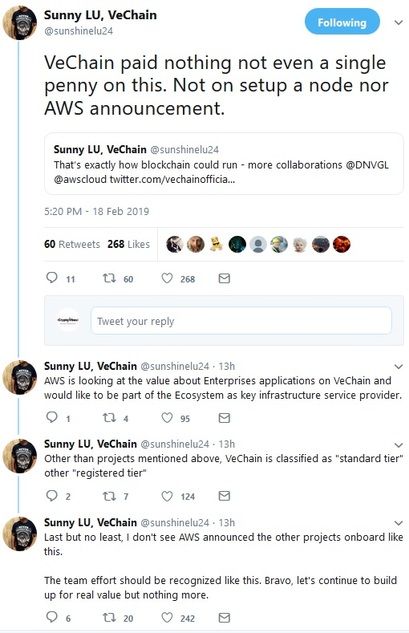 The corporate vice-president and managing director of AWS in the Greater China region, Alex Yung, said that they hope VeChain will accelerate innovations while sharpening their competitive advantage with the one-click features.
VeChain's BaaS solution has acquired more competitive advantages while enhancing compliance and security through DNV GL's compliance process enhanced by the system architecture. It will also gain an advantage over competitors in the enhancement of digital verification and information security services.
DNV GL is a worldwide quality assurance and risk Management Company that was founded in 1864 renowned for the provision of the best third-party certification services worldwide.
VeChain is renowned for cooperating with several world-leading network security companies together with third-party service organizations to offer extensive security testing services. VeChain refers to multiple global security standards including China's network security law, GDPR in the European Union, and ISO27001 for all its product and internal control processes.