Barry Silbert, the CEO of Digital Currency Group, believes that the persistent bear market is just a beginning of the pain that a majority of the cryptocurrencies are going to experience in the near future.
Silbert was speaking to CNBC in a phone interview where he expressed his sentiments about the general crypto market. The rise in ICOs helped the whole industry's market capitalization to reach over $800 billion at the start of last year. Bitcoin made approximately half of the total when the price climbed to almost $20,000 in December 2017.
Regulations
In the buying mania, ICOs became a preferred method of raising money from eager retail investors. However, they channelled their money to projects that were not yet live while others turned out to be absolute frauds.
Almost all these projects were just an attempt to raise money while the underlying token had no significant use. Hence, most will become extinct with time.
Recently, the Securities and Exchange Commission (SEC) cracked down on the fundraising method. The SEC Chairman Jay Clayton continually urged crypto founders to register with the agency. Silbert praised the regulator's actions and added that most ICOs were illegal offerings. Thus, elimination has already started.
In the course of 2018, Bitcoin's price along with almost all the other major cryptos plunged extensively. Currently, BTC is down by over 80% since its December 2017 peak and was trading around $3,630 on February 14. Still, Silbert remains bullish about the largest crypto by market capitalization. As an early investor, he has lived through multiple plunges that have been followed later by full recoveries.
The Persistent Token
Despite the crypto's relatively short 10-year existence, it is now experiencing its third bear market plunge that has exceeded 80% with the most recent yet to bounce back. Although the charts are currently ugly, Silbert confirmed that there is an elevated degree of interest from institutional investors.
Digital Currency Group has made more than three times the amount of seed investments made by Andreessen Horowitz in the industry as revealed by Pitchbook. The company owns and operates Genesis Trading, a bitcoin brokerage firm, and Grayscale Investments, the biggest digital currency asset management firm. Grayscale launched the Grayscale Bitcoin Trust that trades fully under the symbol GBTC on most over the counter markets.
Silbert believes BTC has the potential to replace gold as a safe haven asset and believes the currency has won the race to become the digital gold. Younger investors are turning away from gold and they do not consider it a safe haven like their parents.
"As far as I'm concerned bitcoin has won the race to be digital gold,"
Silbert said.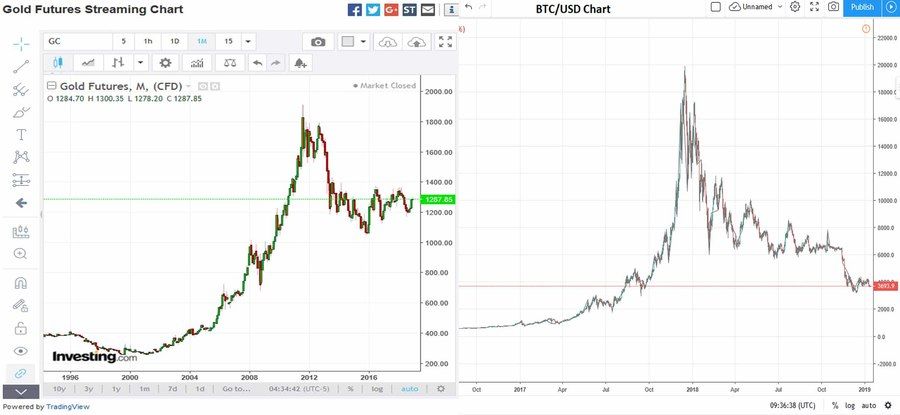 The Shift by Younger Generation

An Accenture statistic shows that around $30 trillion of baby boomer wealth will be handed down within the next 20 years. Some of that wealth is in gold but Silbert is adamant that the younger generation will eventually convert bitcoin into a hedge fund. He said that the 'buy and hold strategy' strategy has proven the speculation use case for bitcoin.
However, the question of when the institutional investors will largely join this market still remains. According to Silbert, the infrastructure for that to happen safely is now in place heading through 2019. Fidelity's custody solution together with other investment opportunities like a futures market originating from the Intercontinental Exchange, the parent company of the NYSE, are all set to go live later in 2019.
When the market sentiments change, bitcoin prices will surge back hard and to new highs. The institutional investors are taking their time to enter this market to make sure that they are now jumping to catch a falling knife.
Bitcoin Price in 2019
Most influencers and experts have shared their opinion and price predictions for bitcoin in 2019. If you are wondering what are their bets on bitcoin price in 2019 – here's the summary of twelve of these forecasts.
---
Please note: Cryptovibes.com is not a financial advisor. Do your own research before investing in any financial asset. We are not responsible for your investing results.