Delta Exchange, a fast growing exchange in the crypto derivative space, recently took over the headlines with launch of Stablecoin (USDC) settled crypto futures. These are called USDC Quanto Futures. These futures are traded like normal futures contract and are priced in USD. However, the key difference is that the margining and settlement of these contracts happens in a stablecoin, i.e. USDC.
Traditional crypto futures which are settled in BTC expose a trader's profit-loss and margin deployed to bitcoin price risk. USDC Quanto futures remove that risk and could be the next big thing in the crypto market, which has started to show signs of recovery.
Delta Exchange Brief
Delta Exchange was launched in mid of 2018, and has been steadily adding volumes. You can trade BTC, ETH, XRP and XLM futures on Delta Exchange with upto 100x leverage. Delta Exchange calls itself a #TradersFirst exchange. Thus far, they have certainly lived up to this claim by consistently adding features that simplify crypto futures trading.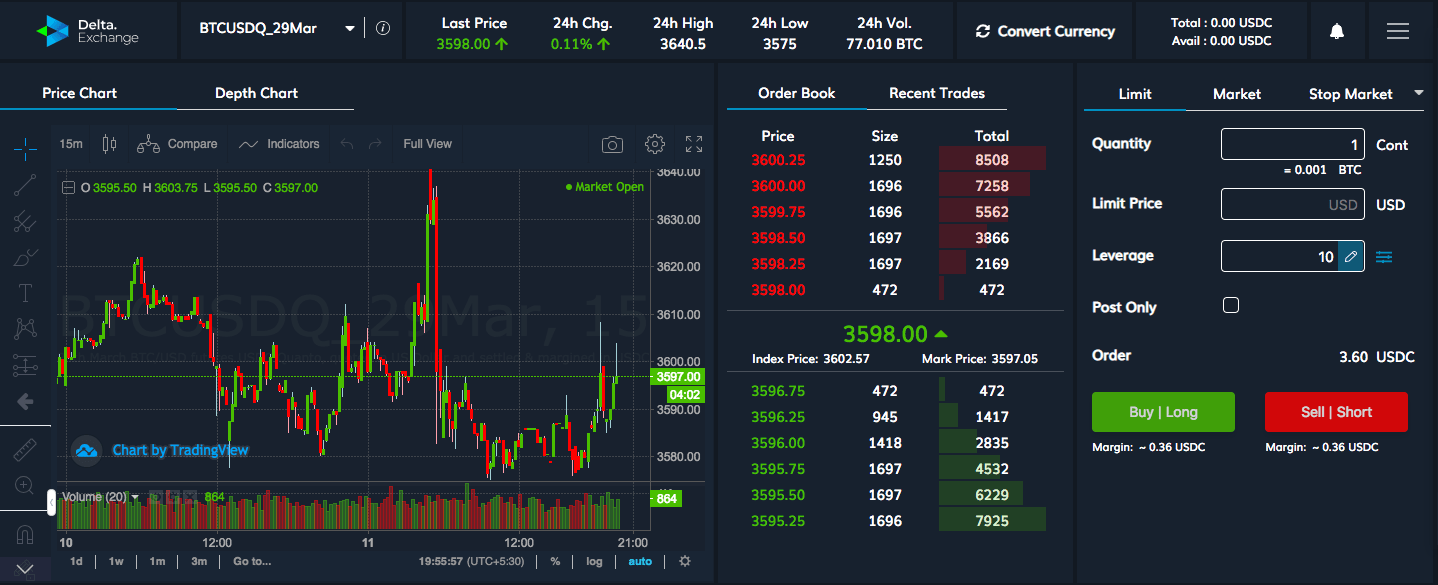 Traders can keep their non-trading balances in bitcoin or convert them to USDC on the platform itself. Thus benefiting from price rise when bitcoin is bullish and protecting funds from declining in value when bitcoin price is falling.
The exchange has a very intuitive, easy to use and clutter-free trading terminal. This stands them apart from other crypto derivative exchanges which are very information heavy and can seem intimidating to some traders.
Attacking this central theme of ease-of-use, the company has now launched stablecoin settled futures that give profit and loss in USDC terms.
Stablecoin Settled Futures (Quanto Futures)
Currently, Delta Exchange offers stablecoin settled futures on BTC, XRP & ETH. All these contracts are quoted in USD and margined and settled in USDC. The profit and loss on these products is also credited in USDC.
Quanto Futures On Delta:
BTC Quanto: 100x leverage; Quoted in USD ; Settled & Margined USDC
ETH Quanto: 50x leverage; Quoted in USD ; Settled & Margined USDC
XRP Quanto: 20x leverage; Quoted in USD ; Settled & Margined USDC
The team at Delta Exchange believes that the crypto derivative space is still in nascent stages and will evolve with time. Stablecoins by the virtue of being pegged against major fiat currencies have extremely low volatility. Due to this, products like stablecoin settled futures enable trader to better manage their risk and improve returns from their trading.
Delta Exchange Founding Team
The founding team of Delta exchange looks solid and brings experience from both trading and technology to the table. Founding members comprise of ex-traders from bulge bracket banks such as UBS & Citibank and of successful tech entrepreneurs, who have in the past raised capital from marquee VCs such as Softbank and Sequoia capital.
Advisors to the team include Prof. Bhagwan Chowdhry, who is also an advisor to the Stellar Foundation and Mr. Stani Kulechov, CEO of ETHLend, market leader in cryptocurrency based lending.
Offers On Delta Exchange
Delta exchange is currently giving deposit bonus of 0.01 BTC to attract new traders to try out their platform. You can find more details about this offer on the website.
The idea of pricing futures in USD, while keeping the margining and settlement in USDC is a clever one. Most traders track crypto prices in USD and keeping profit/ loss in USDC will certainly make the life of a crypto derivatives trader easier. It will be interesting to see how the market and traders respond to this new product.
Important Links:
Delta Exchange Website: https://www.delta.exchange/
Twitter
Telegram: Updates & Community
---
Please note: This article was submitted as a press release and prepared by the third party. Cryptovibes.com does not endorse any decisions. Readers should do their own research before investing funds in any financial asset or attending any presented event. We are not responsible for any profit/loss your decisions might lead to.