Notice
: Trying to get property 'child' of non-object in
/var/www/html/cryptovibes.com/wp-content/themes/jnews/class/ContentTag.php
on line
45
Since its inception in 2009, Bitcoin has remained relatively volatile making it viable speculation and short term investment for most traders. However, the market has receded over 80% from the December 2017 highs with the bearish trend threatening to dominate the early stages of 2019. Amidst all these sentiments, the transaction counts are rising while the BTC fees recently reached a 4-year low.
Transaction Count Hit a 1-Year High
According to market analysis, the transaction count hit a 1-year high near the bull peak. Since the market highs of over 11 million monthly transactions in December 2017, the count dropped rapidly to reach lows of just over 5 million in February 2018. The transaction count took a turn and has been rising gradually despite the overwhelming bearish trend that wiped significant gains from the entire cryptocurrency market.
The transaction count hovered around 6 million until June 2018 when they started rising steadily to the January 2019 levels of around 9 million transactions. The total bitcoins moved on-chain fell below 4 million on a monthly basis from March 2018 until October 2018. However, they rose to around 5 million in November when the crypto markets plummeted.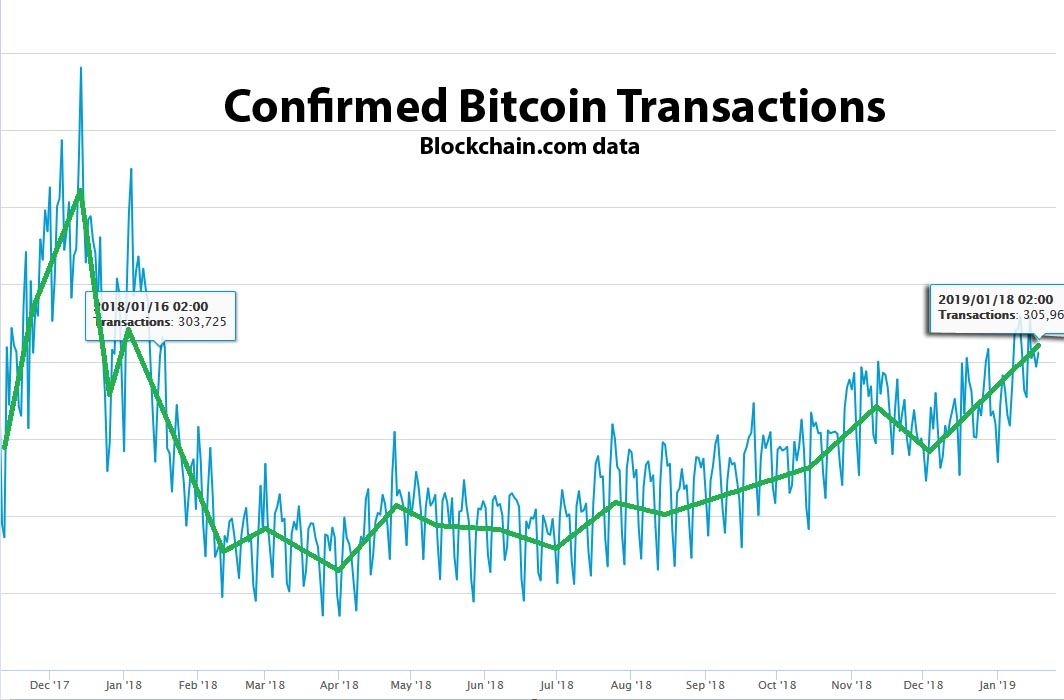 The mid-November plunge made BTC more volatile resulting in the increased on-chain movements. For January 2019, the figure remained above four million bitcoins moved while the markets wait for regulators and watchdogs to set up rules and regulations to bring in some stability to the unpredictably volatile market.
Bitcoin Fees Reaches a 4-Year Low
All this while, the Median Bitcoins Transaction Value has dwindled with January 2019 recording among the lowest values ever. The Bitcoin Median Fees Dropped to around the 2014 Levels. Also, the equivalent total USD Volume last month fell below May 2017 levels.
Last month, reports show that crypto exchanges ended 2018 with record transacting volumes. The cumulative trade volume of the USD markets on major US crypto exchange company Coinbase reportedly rose by 21% in 2018 compared to 2017. During the same period, Bitfinex and Kraken saw increases of 50% and 192% respectively.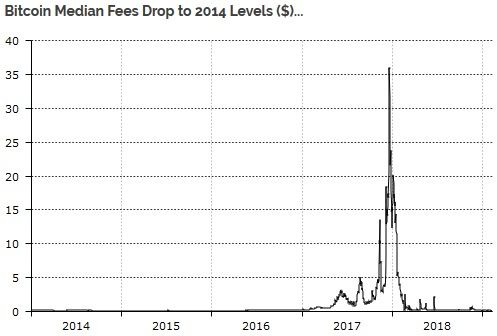 However, since the beginning of 2019 data shows that trading volume on crypto exchanges plunged to new lows to levels not witnessed since 2017. That period was recorded as the worst for all the major crypto exchanges worldwide with Binance losing at least 40% compared to December 2018.
This data shows that most investors still consider Bitcoin a speculative investment rather than a store of value. Also, the persistent crypto winter seems to be scaring off some investors who prefer to abandon the market prompting the exchanges to lower the fees. These strategic moves are attracting new short-term speculative investors accounting for the increase in transaction count.