Customers of the 13th largest bank worldwide, Wells Fargo, have been unable to use various services including ATMs, online banking, and even credit cards since February 7. With most of the affected clients unable to access their accounts due to a 'power shutdown,' advocates of the digital currencies quickly started to mock the bank.
The breakdown shows the merit of various digital assets like Bitcoin and Ethereum. The crypto fans took to Twitter amidst the protracted bank outage to endorse crypto assets and technology behind it. They argued that the coins' decentralized networks are better positioned to withstand such challenges. Wells Fargo's Hilary O'Byrne confirmed to NBC the bank was aware of these outages while vehemently apologizing to their clients.
Wells Fargo's system is shut down right now.

Bitcoin never shuts down. pic.twitter.com/bJss6667MC

— Pomp 🌪 (@APompliano) February 7, 2019
The problems are said to have started early U.S. morning and the bank is striving relentlessly to restore these services back to normalcy nationwide. Although they responded promptly to the complaints of their clients, the affected services as not yet back to full operations. A Fox Business report stated that some clients were experiencing challenges in accessing the bank's system as early as Wednesday.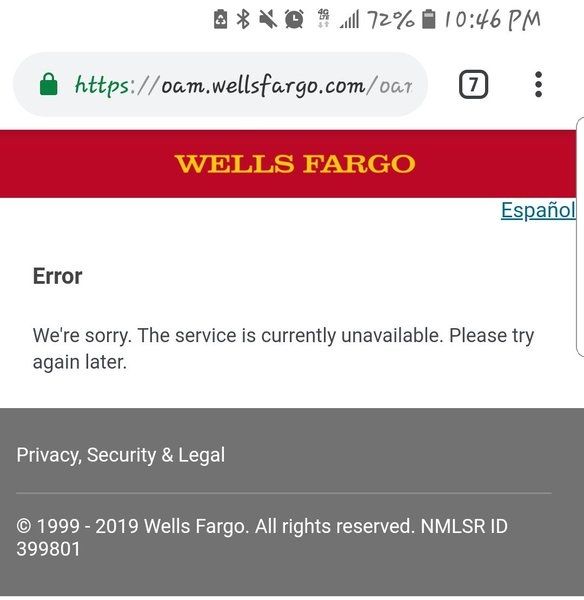 A rising number of disgruntled clients have started to demand reimbursement for the entire duration in which they could not utilize the Wells Fargo mobile app and online banking platforms and endorsed cryptocurrencies. The bank has identified the exact number of affected customers. They said that the outage was caused by a systems issue that developed from its core infrastructure.
I'll accept your apology but please be aware that I charge a banking fee for this type of inconvenience. So Wells Fargo now owes me $150

— Fred (@gratefulfrred) February 7, 2019
I mean, people can't access their money. That's beyond the realm of completely unacceptable. Y'all need to get that fixed yesterday. How does this even happen???

— Kyle Aaron Reese (@KyleAaronReese1) February 7, 2019
@WellsFargo is on team crypto and did this just to highlight the value of Bitcoin $BTC. So thoughtful of them! #Bitcoin #Stratis #ethereum #Crypto

Outage leaves Wells Fargo customers unable to access their financial accounts https://t.co/cBKQjJhqoY

— Preston Miller (@SouthernBlock) February 8, 2019
Hey! Come to #crypto! We are used to this, but at least it is our private keys! Not a paper printed out of thin air.
🤠😎

— Trade2fund (@AdayFive) February 7, 2019
"Do not have a Bank Fetish!!" This situation with Wells Fargo System being shut down should wake up the American public. Guess what!! #Litecoin network does not close!! Wells blamed this system shutdown on smoke in one of their offices lol!! pic.twitter.com/5E1FGm5Wku

— Jon Moore (@jonnylitecoin) February 8, 2019
Anthony Pompliano, a partner at Morgan Creek Digital, was among the crypto fans that reaffirmed the advantages Bitcoin has compared to the existing banking infrastructure. Any platform, server, or even application that is connected to the internet and is wholly hosted from a centralized infrastructure is susceptible to outage, downtime, and security breaches.
The Bitcoin Network 
The Bitcoin blockchain network has been up for at least 99.983 percent since it went live more than ten years ago as revealed by BitcoinUptime.com. Although exchanges and third-party service providers that are involved in supporting the Bitcoin blockchain network may be faced with downtime, the network itself does not easily experience any downtime.

However, the crypto world has not been without its own issues and challenges like exchanges abruptly shutting down and leaving customer funds inaccessible. Recently, QuadrigaCX said its founder died with the sole credentials to access some $190 million in funds.
Most crypto users store a majority of their digital assets in offline wallets rather than in accounts at exchanges. Nonetheless, it does not mean that they offer the convenience of a traditional bank for regular paycheck deposits and spending. Wells Fargo urged customers to reach out in case of any questions but also warned that the wait times could be longer than normal.
We sincerely apologize for any inconvenience. We know this has created difficulty for our customers, and we are sorry to have let you down. Please reach out if you have concerns or need help today, and ask for your understanding as our phone wait times may be longer than usual.

— Wells Fargo (@WellsFargo) February 8, 2019
OR

Follow

us: