Notice
: Undefined index: sfsi_plus_round_counts in
/var/www/html/cryptovibes.com/wp-content/plugins/ultimate-social-media-plus/libs/sfsi_widget.php
on line
708
Notice
: Undefined index: sfsi_plus_round_counts in
/var/www/html/cryptovibes.com/wp-content/plugins/ultimate-social-media-plus/libs/sfsi_widget.php
on line
797
Notice
: Undefined index: sfsi_plus_round_counts in
/var/www/html/cryptovibes.com/wp-content/plugins/ultimate-social-media-plus/libs/sfsi_widget.php
on line
1018
Although cryptocurrencies are in constant declining graph, analysts still find a potential reason for firms to believe in. According to CNBC's future now, Nikolaos Panigirtzoglou said on Tuesday that crypto fading is likely temporary and bets on a crypto comeback.
It comes into sight as a response to his previous latest forecast report wherein he claims that firms are losing over the interest in digital assets. In contrast to his previous opinion, Panigirtzoglou now foresees firms to renew interest in virtual currencies.
He stated that;
"The stability that we are seeing right now in the cryptocurrency market is setting the stage for more participation by institutional investors in the future," he said. "The cryptocurrency market was a new market. It went through a bubble phase [and] the burst."
According to him, firms will likely make a comeback in crypto industry, finding the significance of blockchain, an underlying technology for the cryptocurrency. On top of all, he believes regulations on crypto industry are still uncertain – as such, he notes the big obstacle is 'regulators.
To note, the present value of Bitcoin is $3,411.03 which is not even half its value which was in late 2017. At present, BTC is declining with 1.51 percent, counting the average trading volume $59,771,908,947.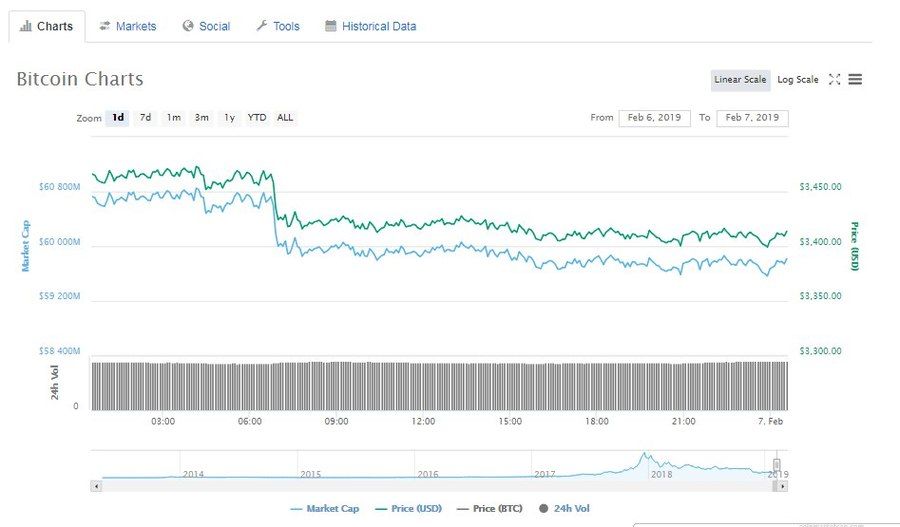 In similar regards, Ned Davis Research's Ed Clissold points that the sell-off and falling market prices are just common. He adds that;
"We've been gradually getting more positive as the markets improved over the past month," "Retests are common, though, after major lows."
What's your prediction on the upcoming move on Bitcoin's price? Share your opinion with us.


OR

Follow

us: