The countless media headlines of Bitcoins death over the years have read everything from "Bitcoin is close to becoming worthless – MarketWatch"(2018) to "The Rise And Fall Of Bitcoin (And The New Kid On The Blockchain)" – Forbes/2017 all the way back to matching headlines that precluded the aforementioned Forbes headline in 2017 but was published in 6 years earlier in 2011 entitled "The Rise and Fall of Bitcoin" – Wired…It didn't happen in 2010, 2013, 2015, 2017, last year and we're pretty confident it's not happening in 2019 either, let alone ever.
According to the many published media reports found from a simple Google search, Bitcoin alone has died some 90+ times in 2018 alone. And here's the funny thing, that Bitcoin death figure is down by about 125 compared to 2017. Despite detractors' eagerness to bury it once and for all, bitcoin's media profile has never been higher. Even as its price continues to plummet, Google searches for Bitcoin continue to soar year over year.
To dispel the FUD and put of the many rumors of Bitcoins death, the team behind Niffler.co a simulated cryptocurrency exchange designed to help people learn how to trade cryptocurrencies and a previous viral project Quitting Smoking Vs Acquiring Bitcoin Calculator is once again at it with their interactive Bitcoin Graveyard w/ Lightning Network Integration!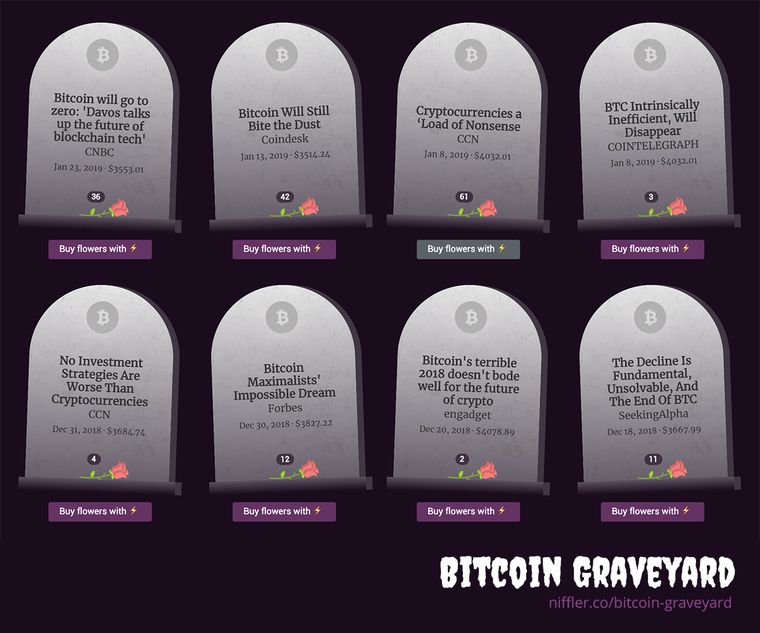 As told by the team behind it, the Bitcoin Graveyard was created for two reasons:
1. Dispel FUD on the notion that Bitcoin is dead.
2. Show the world the power of the Lightning Network ⚡️ by allowing people to buy flowers to lay next to any tombstone and also leave a note of condolence.
We tried it out and had a lot of fun browsing through the many articles on the tombstones calling Bitcoins demise, laying a few flowers and leaving some notes, we think you will too, so go on give it a try!
OR

Follow

us: