Notice
: Undefined offset: 1 in
/var/www/html/cryptovibes.com/wp-content/themes/jnews/class/ContentTag.php
on line
86
The Zilliqa mainnet is now LIVE. Proceed to the bottom of the article for the latest updates!
---
Ahead of Zilliqa's mainnet launch on January 31, the company has announced an update to its project. For nearly one and half years, it has been working on to create not only a secure but also scalable distributed ledger technology (DLT) platform.
The upcoming launch comes amidst tough unforeseen challenges leading to refining the protocol designs as and when needed. There are some exciting features with protection to safeguard the promising network.
Real Value
Zilliqa has made it clear that its objective is to develop a platform bringing in real value to the end user apart from fueling DLT adoption meaningfully. For this purpose, it has been engaged in creating a network that will drive decentralized products and applications in the emerging ecosystem.
The company placed utmost importance on the security for decision-making besides providing enough attention to offer the platform robust and scalable for any application to be more viable.
Keeping these in mind, the upcoming mainnet comes up with bundles of novel features. For instance, the network helps transaction sharding for not only smart contracts but also normal payment transactions. Similarly, Zilliqa is one of the few PBFT-style DLT that is available currently.
This is a consensus mechanism that is both efficient and offers finality to transactions, which means there is no need for confirmations. Another key feature is about a safe, smart contract, which comes with a new name known as Scilla. This is meant to remove several vulnerabilities from the current smart contracts thus becoming open to official verification.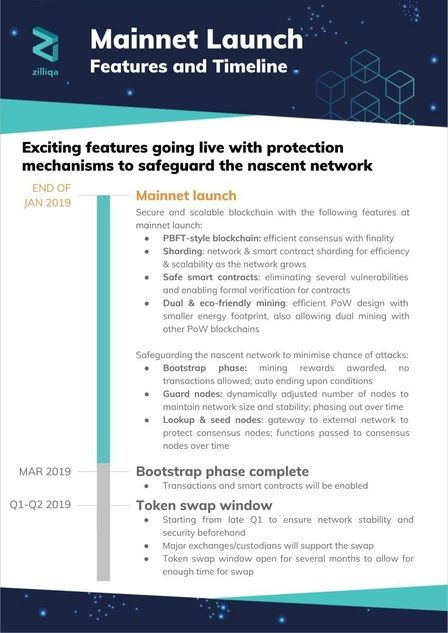 Dual Mine
Zilliqa's blog post indicated the possibility of dual mining an Ethash-powered PoW blockchain like Ethereum. This is due to the usage of PBFT and PoW where the former is used for consensus and the later for Sybil resistance. The blog added,
"Since the PoW period on Zilliqa will last for roughly 1 min every 2–3 hours, we believe that the energy footprint of mining on Zilliqa will be much smaller compared to the blockchains that use PoW to reach consensus on every block."
The company indicated that there will be low variance since thousands of miners might be rewarded for just one block. This is mainly because the protocol adopts an incentive mechanism to reward miners with the help of calculating the contributions in the consensus protocol.
The company expressed confidence that its network could process transactions much like bitcoin and Ethereum apart from maintaining the DLT at international state. As a first step, it will introduce in a bootstrap phase.
The Zilliqa Mainnet is now LIVE!
Today, the Zilliqa team shared the news about the successful launch of the Zilliqa mainnet. You may visit the block explorer at https://explorer.zilliqa.com. For mining on the Zilliqa mainnet, please refer to https://github.com/Zilliqa/Zilliqa/wiki/Mining.
The Zilliqa mainnet is quite an accomplishment with innovative technologies being made live. With this launch, Zilliqa is now the first public blockchain platform to successfully implement sharding. It has made years of research, testing and trials into a public and live platform, that will lay a solid foundation for the not just new generation blockchains, but also a new generation of decentralised applications.
Token Swap
Currently, Zilliqa is now working with the following exchanges to support the token swap from ERC20 to native ZIL tokens, which is expected to commence from late Q1 2019. The exact timelines will differ for exchanges. Please note that there is no action required from ZIL token holders at the moment.

Binance

Upbit

Huobi

Coinbase and Coinbase Custody

Korbit

Coinone

Gate.io

Bittrex

Gopax

Koinex

Coinhako

List of wallets supporting native ZIL tokens:
(some are still work-in-progress)
Please DO NOT send ERC20 ZIL tokens to the wallets.
Moonlet (audit done)

Trust Wallet

ZHIP

Light-wallet

Midas Protocol

xZil

Ledger Companion
The Road Forward
Post mainnet we will continue to be working on research and development in areas such as zkSNARKs and high-level language integrations with Scilla.
You can also check out the official announcement and blogpost regarding the mainned launch for more details.
---
Please note: Cryptovibes.com is not a financial advisor. Do your own research before investing in any financial asset. We are not responsible for your investing results.
Follow us on 

Facebook

 , 

Twitter

 and 

Telegram