The next-level technologies has infiltrated into the cryptocurrency industry since its inception. Over the last few years we have tested many various crypto wallets, exchanges, and almost everything that supports the digital currency industry. However, none of it is as strange and hi-tech as a recent case where a cryptocurrency enthusiast in an unknown location in Eastern Europe who paid with btc (via lightning network) to broadcast messages from blockstream satellite high up in the sky.
The guy took the opportunity to broadcast a rambling series of messages that he wrote in a post-apocalyptic style. Twitter user 'Grubles' shared his discovery while reviewing 'Satellite API.' He termed the data as interesting and thought that someone had broadcasted a little journal via satellite.
Some interesting data I've received from the #SatelliteAPI broadcast. Seems like someone broadcasted a little journal. 😃🛰️⚡️ pic.twitter.com/gCYOkNrYK2

— grubles (@notgrubles) January 24, 2019
The Message
On the first day of his journal account, he says that he discovered bitcoin during the Silk Road era. However, he did not buy any since he found the purchasing process too complex for him. He kept some interest on the crypto for several years only to take it more seriously between 2016 and 2017 when the prices started rising. He took to playing on testnet in 2017 where he learned more about digital currencies.
By early 2018, he was able to send his first lightning testnet payment and got excited about the possibilities of sending fast, cheap bitcoin micropayment. He quit his job to focus on building a raspberry pi lightning node and broadcasting messages via satellite. He broadcasted that he aims to accumulate at least 1 bitcoin and thinks that it is more than enough investment for the future.
On the second day, he was quite excited about his ability to broadcast via satellite and wondered whether anyone had received his message. He also thought of the possibility that some photons were missing the earth and could be travelling in space for billions of years.
Day three comes where he reveals that he was broadcasting himself to the world for testnet coins and he loved every bit of the experience. He also wondered how long the trial time would last but he loved it anyway even on the fourth day. On the fifth day he talked about how he would tell tales for generations to come and went ahead to talk about how he thinks bitcoin, Lightning, IPFS and other technologies are the future on the sixth day.
Part #1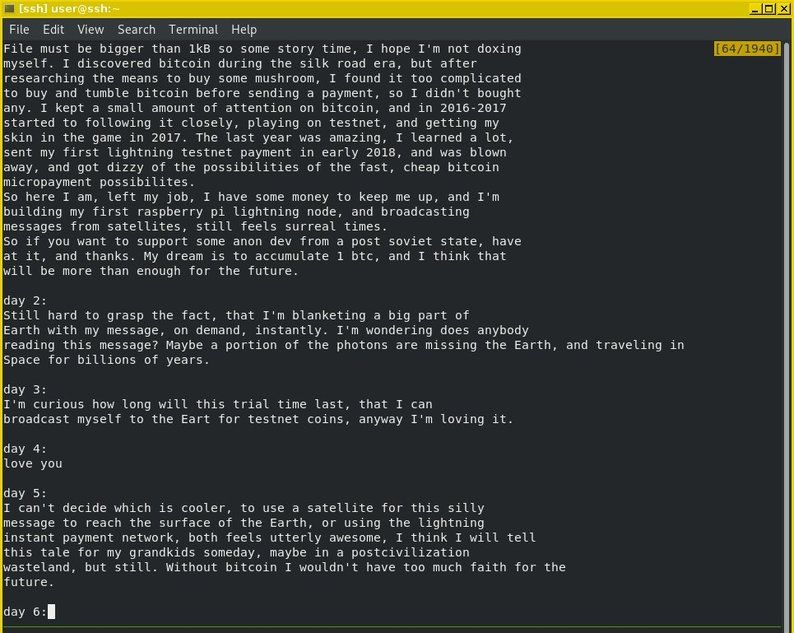 Part #2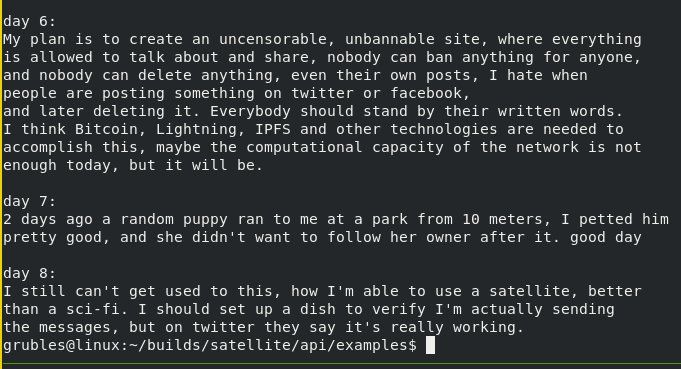 The Takeaway
'Grubles' in his publication stated:
"What my node received was what appears to be a journal broadcasted by an anonymous software developer in a "post soviet state" in eastern Europe, who is fascinated by Bitcoin, the Lightning Network, and Blockstream Satellite."
The cryptocurrency market continues to thrive and currently its volatility favors speculative and day traders.
Follow us on 

Facebook

 , 

Twitter

 and 

Telegram