Want to join cryptocurrency mining? Check out the list of the Best GPUs for Mining Cryptocurrency in 2019!
---
SAPPHIRE Technology, a prominent manufacturer and global supplier of various components and commercial solutions launched their SAPPHIRE RX 570 16GB HDMI Blockchain Graphics Card on January 22, 2019. That card is a first in their new series of GPU Blockchain products that they are developing to facilitate GRIN Coin and other cryptocurrencies mining activities.
The 16GB HDMI Card is designed to support the mining activities of the GRIN Coin that was launched recently. The card can also support the mining of other cryptos and it will be soon available to order from here. The early miners of the GRIN Coin are set to enjoy the highest rewards.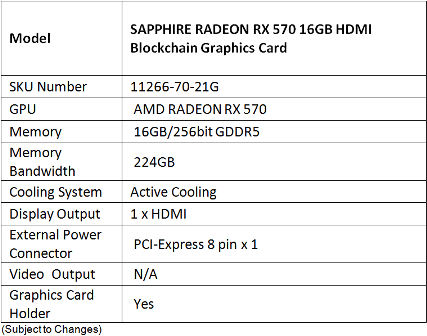 Taken the Market by Storm
The GRIN coin seems to be already taken the market by storm with Bitcointalk offering it as an official payment method. It is the first time that the Bitcointalk is accepting any other form of payment other than bitcoin. Cobra, who is the co-owner of bitcoin.org and bitcointalk.org, endorsed the coin too describing it as a testament to the extremely interesting technology behind Grin. These are truly exciting times in the cryptocurrency world.
Grin offered as an official payment method on bitcointalk, the first time anything other than bitcoin has ever been accepted. https://t.co/8LT0nOA8ae #mimblewimble #bitcointalk

— 😶 (@grinMW) January 17, 2019
What is GRIN?
GRIN is a private and lightweight mimblewimble blockchain (Mimblewimble is a ridiculously-named technology that stops blockchains from blabbing personal information. It's named after a Harry Potter spell that stops people from spilling secrets) that was launched on January 15, 2019. It is currently quite young and experimental.
The network will aim to support electronic transactions for all without any restrictions or censorship. It empowers everyone to transact and save modern money without worrying about oppression or external control.
The GRIN blockchain is designed for many years to come not just for short-term purposes and it aims to acquire mainstream acceptance irrespective of culture, borders, access, or skills.
More About The SAPPHIRE GPU Cards
SAPPHIRE has used its over 15 years of manufacturing excellent graphics cards and components for the commercial, consumer, and embedded markets. Their SAPPHIRE RX 570 16GB HDMI Blockchain Card is affordable and available for ordering as a standalone card perfect for users who prefer to self-install. The equipment also features a Dual Ball Bearing Fan that is developed using SAPPHIRE Quick Connect Fan technology.
The 16GB RX 570 is excellently positioned for early Grin coin miners unlike the other 12GB and 16GB cards available on the market that are designed for professional and industrial applications carrying heavy premiums. The benefits that come with the new card are available on condition that users move fast and take advantage of SAPPHIRE's hardware.
GRIN Coin In-Team with SAPPHIRE

The GRIN coin is a community-based token that has been in development since 2016 and it aims to address various deficiencies associated with most of the other cryptocurrencies including scalability and privacy. The coin is also designed to be entirely democratized and truly decentralized. The coin was openly developed by developers and distributed worldwide without any control by foundations, companies, or individuals.
The Global VP of Marketing at SAPPHIRE Technology, Adrian Thompson, said that the launch of the card offers an ideal opportunity for SAPPHIRE and early Grin Coin miners to make significant profits. The developments, according to the company, provide the present and future of the blockchain products markets.
SAPPHIRE's RX 570 16GB HDMI Card is a viable solution that can mine Cuckatoo 31+ resulting in fewer users on the network. The small number of users is responsible for the higher rewards expected to be enjoyed by the early miners.
Wondering how to mine GRIN? Here you go:
Already Mining GRIN? Share you Hashrate with the GRIN Community:
share your hashrate! (my rx580 and gtx 1070 hashrate inside) from r/grincoin
---
Want to join cryptocurrency mining? Check out the list of the Best GPUs for Mining Cryptocurrency in 2019!
---
Please note: Cryptovibes.com is not a financial advisor. Do your own research before investing in any financial asset. We are not responsible for your investing results.
Follow us on 

Facebook

 , 

Twitter

 and 

Telegram