Where will Bitcoin be by the end of 2019? That is a question that many investors and traders are asking themselves amidst all the uncertainties in the cryptocurrency markets today. Is there a bull run coming up or will the BTC prices stabilize and hover within a limited range? Will the bears maul the bulls for another year running?
Most influencers and experts have shared their opinion and price predictions for Bitcoin in 2019 and here's the summary of these forecasts.
#1 Jeff Schumacher – $0
The founder of BCG Digital Ventures is the latest intellectual to comment on the price of Bitcoin by the end of 2019. He was speaking to a CNBC-hosted panel at the Sanctuary in Davos at the World Economic Forum 2019 where he said that the price of the largest cryptocurrency could nosedive to zero by the end of 2019.
Jeff said that he thinks BTC is a great technology but he does not consider it a currency. He said that the value may drop to zero since the crypto is not based on anything which makes it a viable profit-making investment only on a speculative basis.
#2 Glenn Hutchins – Will Lose Its Value
He thinks that bitcoin will lose its value since it has no underlying real-life user cases. However, he said that before it drops it may play the role of bringing the value of the crypto space back up and holding it there while other tokens with real use cases come up. This mirrors the opinion of Kryptoszene Editor Guido Lange, who also points that the fall of bitcoin will mean the end of bitcoin scams such as the Bitcoin Code.
Glenn, Edith Yeung (500 Startups Partner), and Ripple CEO Brad Garlinghouse were in the same panel with Jeff Schumacher in Davos discussing the future of blockchain technology. They all agreed that the value of all tokens and digital assets will be derived from how essential and useful their underlying protocol is.
#3 Sonny Singh – $20 000
The CEO of BitPay which is a Bitcoin payment processing company thinks that the crypto will hit the $20,000 mark by the end of 2019. He said that BTC will climb above the $20,000 and will never ever again drop below $15,000 anymore after that.
He thinks that the new Bull Run will thrive on the launch of several products by institutional companies like Square, Fidelity, BlackRock, and Bakkt. Singh told Bloomberg in a November 2018 interview that 2019 will see new players and miners get into the industry. Moreover, there will be no quick shift in prices but by the end of Q2; Bitcoin will emerge as a practical commodity.
#4 Fran Strajnar – $200 000 by January 1, 2020
The CEO of Brave New Coin expects bitcoin to hover past $200,000 by January 1, 2020. He said that the adoption rates are rising steadily and the rate of adoption heavily correlates with the price. Thus, unless people stop adopting bitcoin, its price will experience a meteoric rise in 2019.
#5 Arthur Hayes – $50,000 to $5,000

BitMEX's CEO earlier expected Bitcoin to rise to $50,000 in 2018. However, the persistent bear market made him change his mind considerably. Currently, Hayes thinks that the bears will also rule in 2019 and the downward trend may even extend into the spring of 2020.
He revised his target from $50,000 to $5,000 and the new prediction was reached in mid-November 2018. He also said that the bottom could be even around $2,000. Hayes believes that there will be no tangible bull run in 2019 at all.
#6 Michael Novogratz – $10,000 in Q1, 2019

Galaxy Digital's CEO Michael Novogratz expects Bitcoin to break $10,000 by the end of the first quarter of 2019. After that, the coin will set its eyes on new highs rising above $20,000. He was speaking to the Financial Times during an interview in November 2018. He believes that the entrance of more institutional investors in the space will fuel the price spike in 2019.
#7 Anthony Pompliano – Uptrend in Q3, 2019

The founder of Morgan Creek Digital Assets previously predicted that bitcoin would hit $50,000 by the end of 2018. He later admitted that he was wrong on that prediction. He now thinks that Bitcoin will drop to around $3,000, which it did in recent weeks, before a positive trend comes up in the third quarter of 2019.
He stated in a post that the bear markets will last a little bit longer with each bear dominated market being measured from peak to trough in a prolonged drawdown era. Bitcoin's first bear market in 2011 lasted for 160 days while the second one lasted for almost 400 days between 2013 and 2014.
The current bear market, based on the historic trend, may continue for up to 650 days. It that is the case, there will be no price improvements until Q3 of 2019 according to Pompliano.
#8 Sam Doctor – $36,000 by the end of 2019

This Quant Strategist of Fundstrat predicted Bitcoin to reach around $36,000 by the end of 2019. He made his forecast based on the growth of the mining infrastructure in the cryptocurrency space. He said that based on the expected breakeven cost growth and computing hashpower of miners, the price would have a lower end of $20,000 and an upper end of $64,000 in 2019.
We believe breakeven mining costs provide a support level for $BTC, as #miners – main natural #Crypto sellers – reduce selling at low $BTCUSD price. Based on expected computing hashpower and breakeven cost growth, that could imply #Bitcoin price of $36,000 by 2019 year end. pic.twitter.com/CVwIWNz8Lr

— Sam Doctor (@fundstratQuant) May 10, 2018
#9 Tom Lee – Supports Sam Doctor (#8)
The CEO of Fundstrat seemed to be in agreement with Sam Doctor since he retweeted Sam's prediction. Lee, a notable Bitcoin bull, had predicted that Bitcoin would end 2018 at $25,000 but later slashed his price to $15,000 due to the persistent bear markets. However, he still thinks that Bitcoin is pegged 75% below its 'Fair Value' Tom Lee Says
#10 John McAfee – $1 Million by the End of 2020

McAfee has been in the limelight in the past promising to do certain things on national televising if Bitcoin does not hit $1 million by the end of 2020. Although he did not give a prediction for 2019, his 2020 prediction puts BTC at around $170,000 by the end of 2019.
According to the McAfee Prediction Tracker Bircoin.top, the cryptocurrency needs to register daily growth rates of at least 0.484095526% to reach these targets. Here's the illustration by Arzdigital.com which show that McAffe is the most optimistic.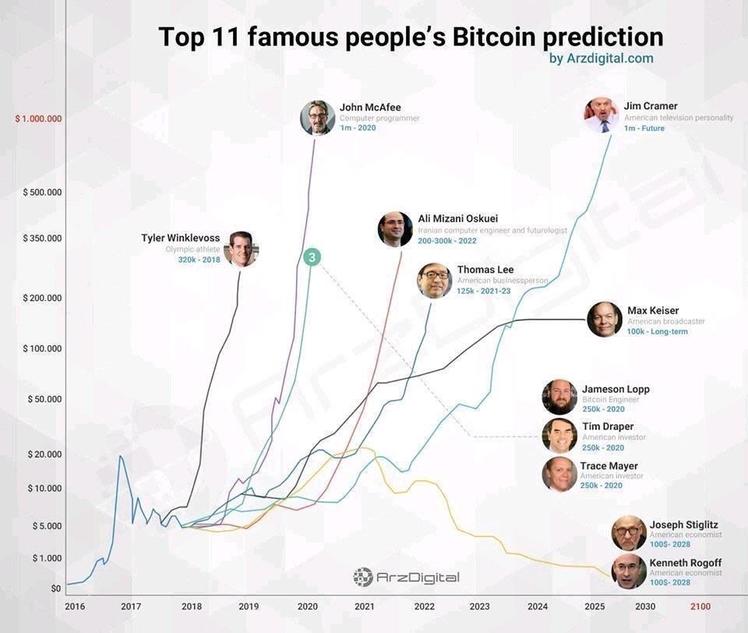 #11 Ronnie Moas
The cryptocurrency analyst predicted that Bitcoin would breach the $28,000 mark in 2019. According to him, institutions and the top 1% are buying as they had done during the 2008 stock market crash. In September, he had said that most small traders and investors who caught the ascent from $600 to $6,000 will likely miss out on the move from $6,000 to $60,000.
Moas expects the price to move upwards in 2019 due to an increasing demand for BTC and a decreasing supply of the bitcoin tokens.
Sad to watch the top 1% scare the crap out of you | separating you from your $BTC #bitcoin & keeping the gap between rich & poor | Reiterating $28,000 target for end-2019 | Do Not take a bet you can't afford to lose | I surround myself w/ #brightest minds & they all agree w/ me

— Ronnie Moas (@RonnieMoas) September 9, 2018
#12 Vinny Lingham – Less than $28 000 in 2019

The CEO of CivicKey disagreed with Moas (#11) prediction in a November 2018 conference hosted in Las Vegas. The two placed a $20,000 bet on the price of BTC by the end of 2019. Lingham believes that the price will not hit the $28,000 mark in 2019. However, he is more optimistic for the long term.
Fun fact : More wealth will be created in crypto over the next 10 years, than over the prior 10 years… but remember, like any success story, it's not going to be a straight line up. Keep believing and just be patient…

— Vinny Lingham (@VinnyLingham) November 8, 2018
Please note: Cryptovibes.com is not a financial advisor. Do your own research before investing in any financial asset. We are not responsible for your investing results.
Follow us on 

Facebook

 , 

Twitter

 and 

Telegram