Today, the New Zealand Police have released the official statement regarding the cryptocurrency exchange Cryptopia hack on 13-17 January 2019. The thieves took ether and ERC20 tokens valued at about $16 million USD.
According to the document a good progress is being made and positive lines of enquiry are being developed to identify the source of the transfer, and to identify where the crypto-currencies have been sent. The assistance of the crypto currency community is being sought as the investigation progresses.
The Police names an investigation as very complex, involving expert digital forensic investigators from within New Zealand and in various overseas jurisdictions, as well as overseas authorities.
Members of the investigation team met with Cryptopia management and staff yesterday and today and outlined progress in the investigation. Cryptopia management and staff have been co-operating with Police and providing considerable assistance in the investigation.
The investigation is expected to take some to time complete, and the digital forensic team will be on-site at Cryptopia's premises for some days to come.
Elementus.io has brought some overdue transparency into the Cryptopia exchange hack and provided the in-depth information about the event:
The Beginning (Eastern Time GMT-5):
Sunday 13-Jan, 8:28am: Funds begin moving out of Cryptopia's two core hot wallets, one holding ether and the other holding tokens.
Sunday 13-Jan, 11:58pm: With the core wallets empty, residual quantities of funds begin leaving Cryptopia's 76k+ secondary wallets, a process that would continue for several days.
Monday 14-Jan, 6:00am: Cryptopia suspends trading, announcing they are undergoing unscheduled maintenance.
Tuesday 15-Jan, 3:00am: Cryptopia discloses the security breach and New Zealand law enforcement steps in.
Thursday 17-Jan, 5:58am: The last of Cryptopia's funds are drained.
The thieves took ether and ERC20 tokens valued at about $16 million USD.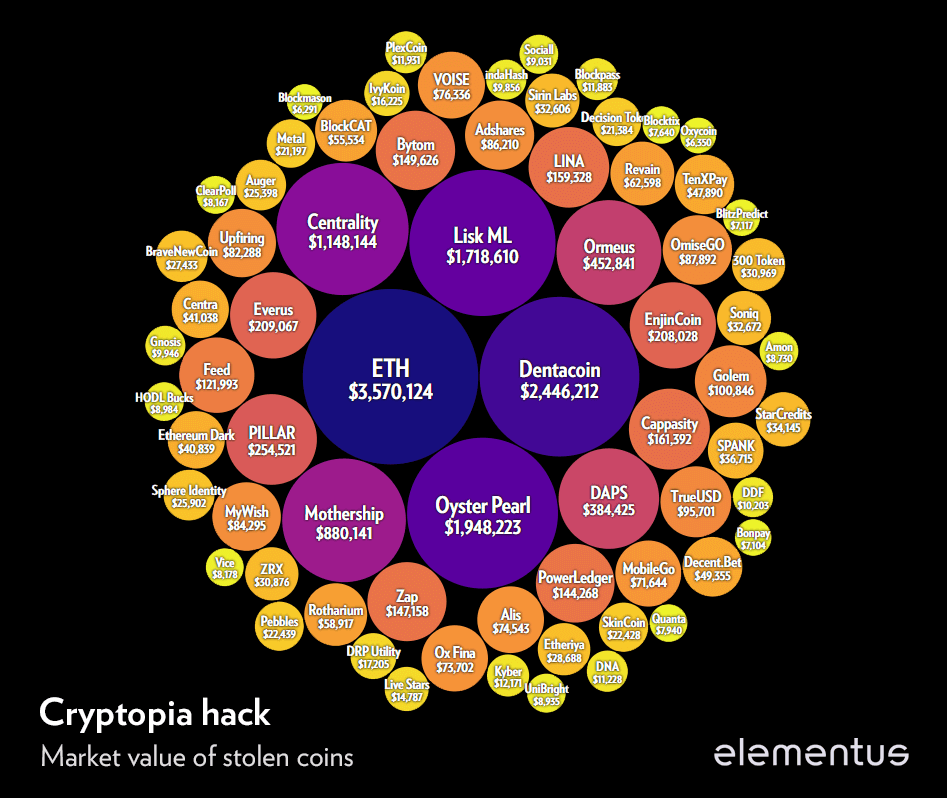 The List of Stolen Assets (Elementus.io data)
| Asset | Value (USD) |
| --- | --- |
| ETH | $3,570,124 |
| Dentacoin | $2,446,212 |
| Oyster Pearl | $1,948,223 |
| Lisk ML | $1,718,610 |
| Centrality | $1,148,144 |
| Mothership | $880,141 |
| Ormeus | $452,841 |
| DAPS | $384,425 |
| Zap | $147,158 |
| Pillar | $254,521 |
| Other tokens | $3,051,709 |
| Total | $16,002,108 |
According to Elementus.io, the vast majority (~$15m USD) remains in two wallets controlled by the thieves, one for Ethereum, the second one – for stolen ERC20 tokens: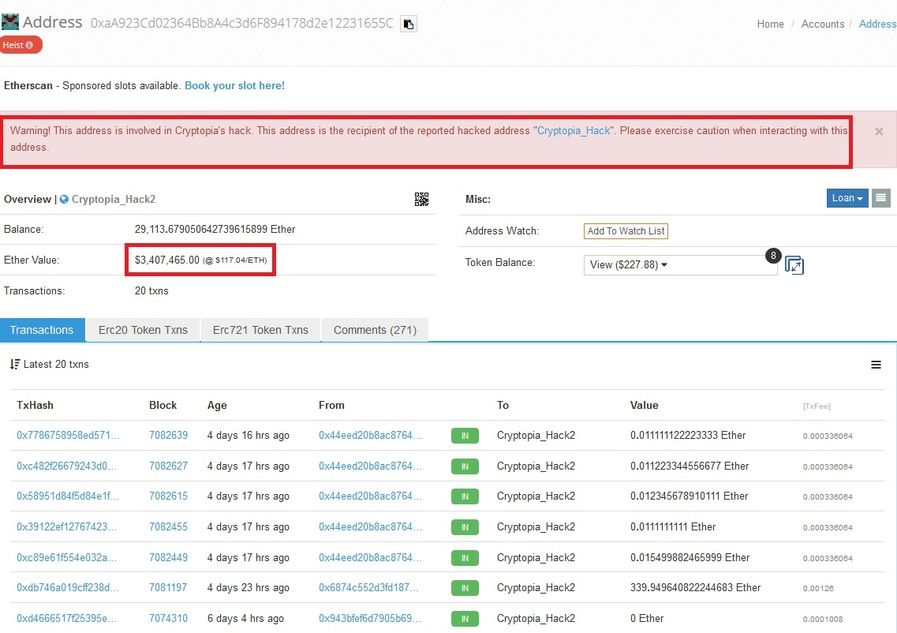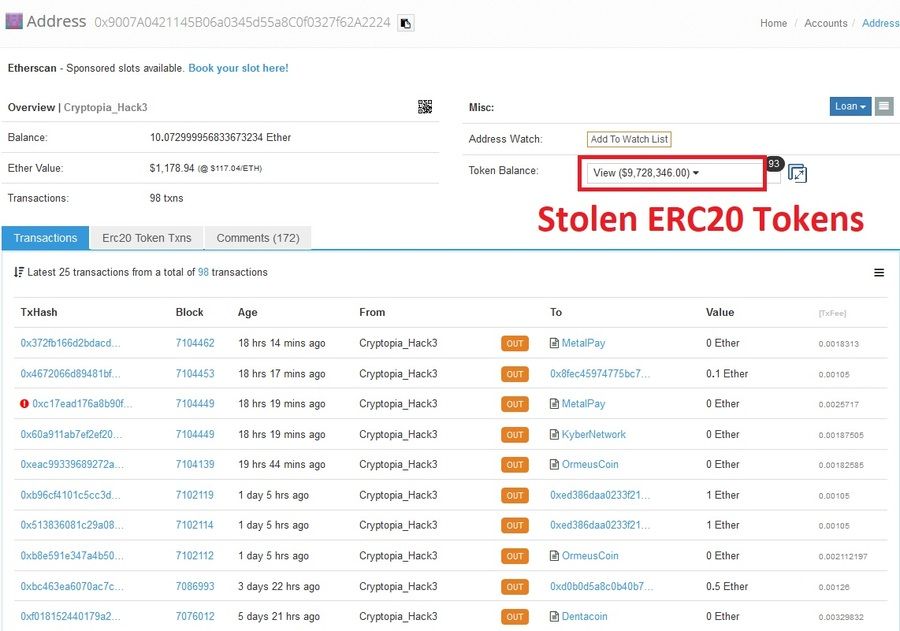 Anyone with information which could assist the investigation can contact police by email at crypto@police.govt.nz.
Follow us on 

Facebook

 , 

Twitter

 and 

Telegram