Highlights:
For over weeks, Digitex remains in a bearish trend. The Dollar-Bitcoin pairings maintain a synonymous movement. Both markets would likely reverse in the same direction.
Key levels:
Resistance levels: $0.04, $0.05, $0.06
Support levels: $0.025, $0.015, $0.005
DGTX-USD Market
Considering the market condition, Digitex's trading activity has been quite inactive. In fact, the volatility is low. However, the market is positioned in a downtrend. This reflects the selling dominance as the price keeps falling. As buyers struggle to defend their positions, sellers keep dropping red candles to retain price lower.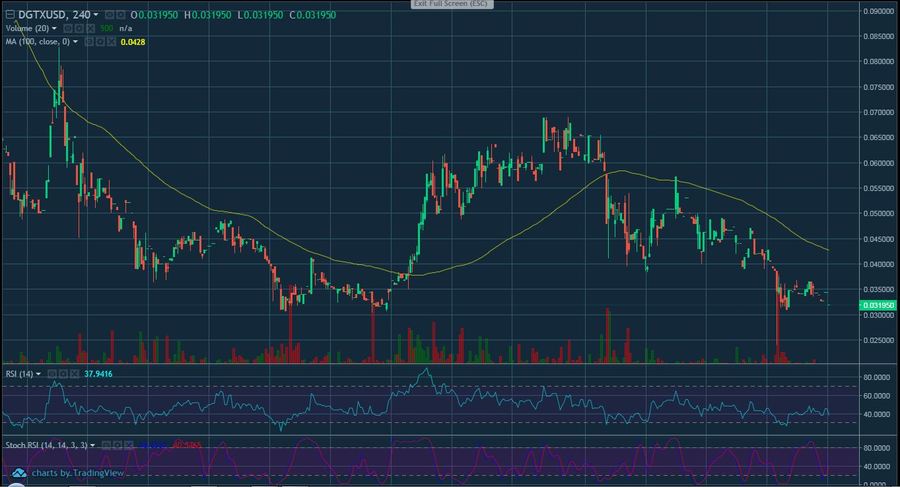 As the 4 hours RSI appears, the price action is trending down since mid-December 2018 till now. Lying at the oversold might take price to $0.025 support level. But on the Stochastic RSI, The pressure is rising from the bull sides. Reaching $0.04 resistance level lies in the demand force.
Breaking the Medium-term 100 days moving average (yellow line) upward could result in a trend reversal. By then, $0.05 and $0.06 resistance level would be revisited.
DGTX-BTC Market
Obviously, on the structural outlook, this pair is descending as confirmed by the 100 days moving average; trending above the candlesticks. For four days, Digitex is on consolidation. At this stage, a change in trend is signaled as the market decides in the next direction. It could be upward or downward.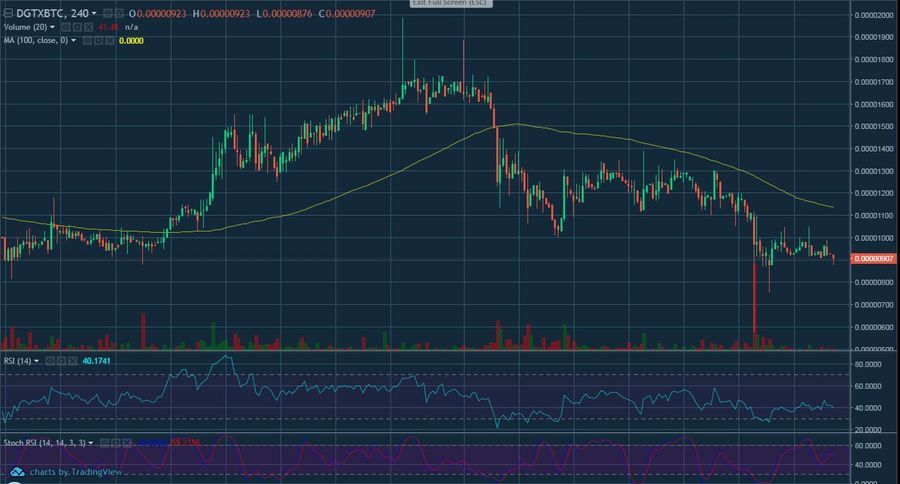 Despite the decline, the Stochastic RSI swings up and down; showing demand and supply forces in the trade. Though selling pressure is much dominant than buying. At the moment, price heads downward. The RSI waving at 40% indicates an ongoing squeeze, waiting for the next trend.
The choppy market is set to follow by a break. An incline move will target 1300 SAT resistance and a decline is expected at 600 SAT support.
Key Facts About Digitex:
1. There are no trading fees of any kind on the Digitex Futures Exchange.
2. Digitex uses its own cryptocurrency, called the DGTX token, as the native currency of the Digitex Futures Exchange.
3. Digitex eliminates transaction fees on trades and covers operational costs by creating and selling a small number of new DGTX tokens each year.
4. Bitcoin, Ethereum and Litecoin futures markets on Digitex will be open 24 hours a day, 7 days a week.
5. The demo of the Digitex Bitcoin Futures Exchange was introduced during the Malta Blockchain Summit 2018.
6. The Early Access Waitlist has around 800,000 people signed up waiting to access the exchange.
7. Increasing demand has forced Digitex to launch its OTC Trading Desk.


---
Please note: Cryptovibes.com is not a financial advisor. Do your own research before investing in any financial asset. We are not responsible for your investing results.
Follow us on 

Facebook

 , 

Twitter

 and 

Telegram