The Annual World Economic Forum 2019 (WEF 2019), which will be held on January 22-25 in Davos-Kloster, Switzerland, is the foremost gathering of top leaders from politics, business, civil society, and academia to shape the global, industry and regional agendas in the context of Globalization 4.0 and the Fourth Industrial Revolution.
As the International Organization for Public-Private Cooperation, the World Economic Forum will focus its convening power, community engagement, insight generation and platform technology to shape a new framework for global cooperation.
Cryptocurrencies and Blockchain Mentioned in-line with the Future of the Economy
According to the official agenda, a global dialogue on the future of the economy will be held. The dialogue will review principles for economic and social decision-making that need to be redefined to better reflect the structural changes inherent in the Fourth Industrial Revolution.
Along with a global dialogue on financial and monetary systems attendees will jointly shape monetary and financial systems by not only leveraging new technologies, such as cryptocurrencies and blockchain but also making the systems more resilient for achieving sustainable growth and long-term societal well-being.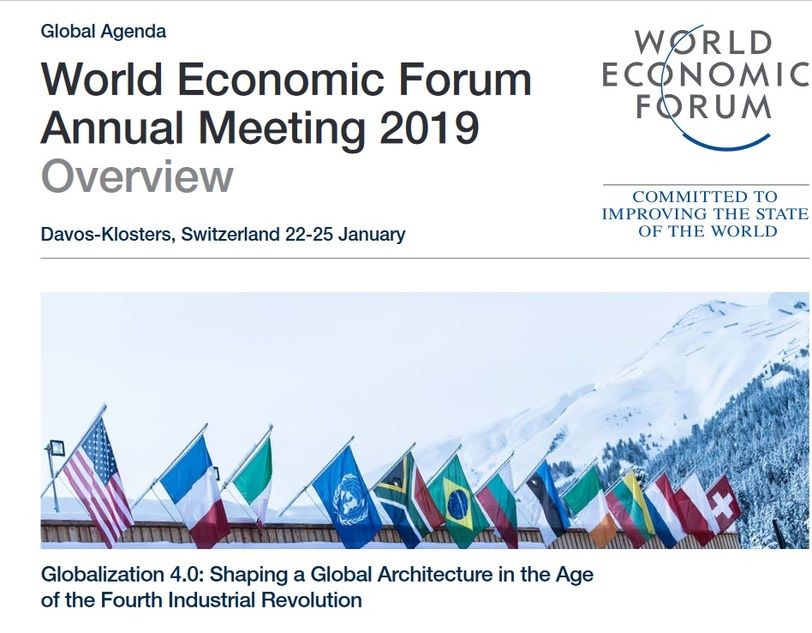 Congress of Influential People
The Annual World Economic Forum 2019 will be attended by a significant amount of influential persons: Chief executive officers and chairs, more than 250 political leaders from the G20 and other countries, members of the Forum's Global Future Councils, Expert Network and Global University Leaders, Technology Pioneers, the Global Shapers Community, the Forum of Young Global Leaders and the Schwab Foundation for Social Entrepreneurship, communities representing a new generation of innovators and entrepreneurs and more.
Crypto Community Shouldn't Stay Silent?
The redditor AliRastgar has left WEF 2019 related message and we want to share it with the crypto community. Just think about it:
World leaders will gather in Davos for the World Economic Forum annual meetings. There are some important points about this year's meetings which were mentioned in the overview of the meetings.

It points out that we need institutional reform due to recent technological change. It then mentions cryptocurrencies and Blockchain too. It's clear what world leaders' views will be about these topics. For world leaders, Bitcoin and other Blockchain-based projects they have no control over are not part of the play. For them, they are not the future. They will discuss how the future should look like.

The worst strategy will be to stay silent, to make no reaction. "Institutional reform" is not something we hear every day. World leaders shouldn't be the only ones who discuss what it means and how it should work.
To conclude, today Bitcoin (BTC) hit over 3% gain and is now traded at around $3,700 USD. Possibly, our Bitcoin making a sharp move scenario might be headed to the positive side.


Follow us on 

Facebook

 , 

Twitter

 and 

Telegram