Dave Rubin, the host, and founder of the Rubin Report, who currently has almost 1 million subscribers on Youtube, left Patreon and began to develop an alternative payments solution.
Recently, he shared his Bitcoin address in a statement saying that recent censorships affecting Patreon are the reasons why he chose to leave the brand. He said that the move was inspired by the fact that crypto and decentralization will play a significant role in the shaping of the future global financial systems.
This is why @jordanbpeterson and I are leaving Patreon and working on an alternative. It's becoming clearer and clearer to me that crypto and decentralization will have to play a significant role. https://t.co/N7tcPuHUwO

— Dave Rubin (@RubinReport) January 10, 2019
He confirmed that decentralization in finance is crucial in this era where commentators and content creators are sustaining their platforms using digital payments. Recently, Dr. Jordan Peterson who is also leaving Patreon like Rubin announced that he gets almost $80,000 per month on Patreon as compensation for all his work.
Patreon banned accounts of many content creators without prior notice or explanation of the action. That prompted Rubin to leave the platform abandoning a stable stream of income to develop an alternative that he unveiled on January 15. It is now confirmed after recent speculations that the new mode of payment involves cryptocurrencies.
We've had a great run, Patreon, but I gotta let you go. Will be deleting my account during livestream this afternoon.

Beyond thanks to all of you who have moved your support over to https://t.co/eF5D3GOSCW. This is just the first of several big steps over the next few months… pic.twitter.com/tgOtiXeQln

— Dave Rubin (@RubinReport) January 15, 2019
In the past month, Rubin emphasized that payment processors like Visa, Mastercard, PayPal, and Patreon should never censor the accounts that they service based on regional or political bias. He noted that in the case that an alternative is developed by depending on the existing centralized payment processors and settlement systems, it would suffer the same fate as Patreon.
Crypto is the Ruler
Dave Rubin said that it is time for someone to take a stand and it is clear that anti-censorship money in crypto seems like the only solution to the censorship spreading through most of the payment processors. The traditional centralized financial companies seem to have boosted the cryptocurrency ecosystem by prompting influential content creators and persons to see the importance of decentralized money.
The censorship motive by the payment processors based on political bias remains vague. But, it may increase the adoption of cryptocurrencies in the long-term. Rubin decided to close down his Patreon account during a live stream on Tuesday afternoon.
He commended Dr. Peterson for also deleting his Patreon account and he said that the move is just the beginning of standing against censorship due to political bias.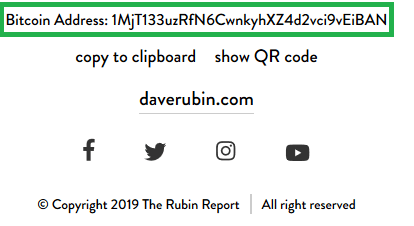 Follow us on 

Facebook

 , 

Twitter

 and 

Telegram