The Ethereum Constantinople network upgrade is set to happen between January 14-18th once block number #7080000 is mined.
The Constantinople Network Upgrade activates at Block #7080000. According to Etherscan.io there's 1 day 20 hrs 8 mins 30 secs left till activation. The current average block time is around 15 seconds and today we are in a block number #7069385 out of #7080000, so there are 10 615 blocks to go.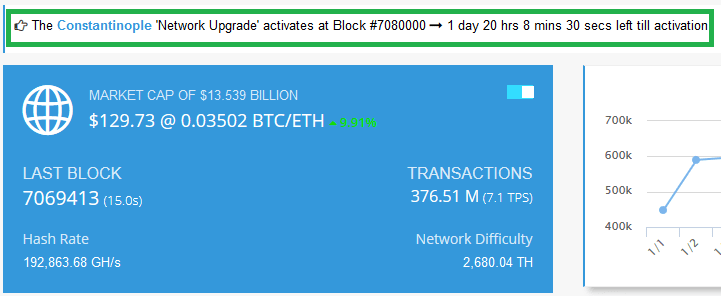 Coinbase to Pause Trading of ETH
The company released the official statement saying that sending and receiving ETH will be paused during the Ethereum Constantinople upgrade:
"Upon commencement of the upgrade, for security and technical purposes, we will temporarily pause sending and receiving ETH across all of our trading platforms until the upgrade completes and we confirm security of the network. The network upgrade will not interfere with buying, selling or trading of ETH on Coinbase Pro, Coinbase.com or mobile apps."
The creator of Ethereum, Vitalik Buterin, clarified to the community that Constantinople is not a hard fork, it is a "network upgrade", as there will be no split that leaves 2 or more viable chains.
IMO the Ethereum community should consider adopting @zcashco's terminology of calling things like Constantinople "network upgrades" and reserve "fork" for splits that leave 2+ viable chains. Too many people asking me lately where they can dump their non-Constantinople coins…

— Vitalik Non-giver of Ether (@VitalikButerin) January 10, 2019
Find all questions answered in the official Constantinople announcement released by Ethereum dev team a few days ago:
Follow us on 

Facebook

 , 

Twitter

 and 

Telegram