Recently, aXpire's CEO Gary Markham, who is also anointed chairman of the Cayman Islands Blockchain Foundation, was featured on i24 news to discuss the state of the crypto-assets and blockchain.
Natural Cycle
During the interview, Gary Markham shared his outlook regarding cryptocurrency as a bubble and indicated that we have seen these bear markets before and it is all part of the natural cycle for a new technology.
The CEO expressed that the cycles of Bitcoin are similar to gold futures, if you look historically at those, ironically, very similar pattern happens to the crypto trading markets.
Here it is, we did the comparison: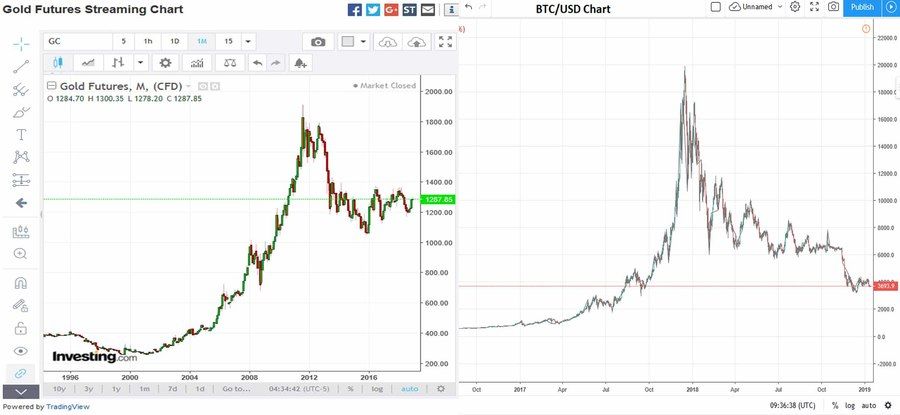 The main issue is that crypto markets are highly influenced by technology, bots, whales, and influencers that have a major impact not for a specific asset, but on the entire industry as a whole what makes crypto markets highly speculative. He explained:
"I think cryptocurrency trading is going to be here to stay because cryptocurrencies are going to be here to stay, I think there will be a big shakeout amongst different cryptocurrencies. Some will become defective currencies. Some will be for, for example, banking. Some will be for infrastructure. Some will be used for different types of technologies for a different parts of it."
After the host asked Gary if Bitcoin will keep driving the lead of crypto-assets he expressed that:
"I'm not predicting that its not going to be the leader."
Endorses Blockchain
According to Markham, cryptocurrency and Bitcoin phenomenon, is, of course, blockchain. Technology has been so revolutionary so far, that it will be developed further and applied in many various spaces like quantum computing, tickets, health care, financial transactions, logistics and much more. Blockchain will help eliminate the third-party which means you will be able to reduce the costs of doing.
If you want to invest in Blockchain, the aXpire's CEO suggest taking advice from those that are already in the space rather than reading online content and make sure to invest only a small amount to begin with.
For the record, aXpire's flagship product, Resolvr, is currently in use by a $24 billion dollar AUM hedge fund. The company also has its native aXpire token (AXPR).


Follow us on 

Facebook

 , 

Twitter

 and 

Telegram