An investment management firm Wilshire Phoenix Funds, LLC, which is also a sponsor of the United States Bitcoin and Treasury Investment Trust (the "Trust") announced today that the Trust has filed a registration statement on Form S-1 with the Securities and Exchange Commission (SEC) relating to the proposed initial public offering of its common shares.
The number of common shares to be offered and the price range for the proposed offering have not yet been determined. In connection with the offering, the Trust intends to apply to list its common stock on a U.S. stock exchange. An electronic version of the registration statement can be accessed through the SEC's website.
Purpose
According to the official document, the purpose of the Trust is to seek to provide investors with exposure to Bitcoin in a manner that is more efficient, convenient and less volatile than purchasing stand-alone Bitcoin. Furthermore, the Trust will have no assets other than (a) bitcoin, (b) short-term duration United States Treasury Bills and/or (c) U.S. dollars, in proportions that seek to closely replicate the exposure of a custom index to Bitcoin.
The information available in filed Form S-1 underlines:
"Historically, Bitcoin has been extremely volatile, which, for most investors and/or financial institutions may make it a difficult investment.  In addition, an investment in stand-alone Bitcoin currently has no intrinsic value, which may make it challenging for investors and/or financial institutions to hold. In contrast, based on the assets that the Trust will hold, an investment in the Trust will provide intrinsic value."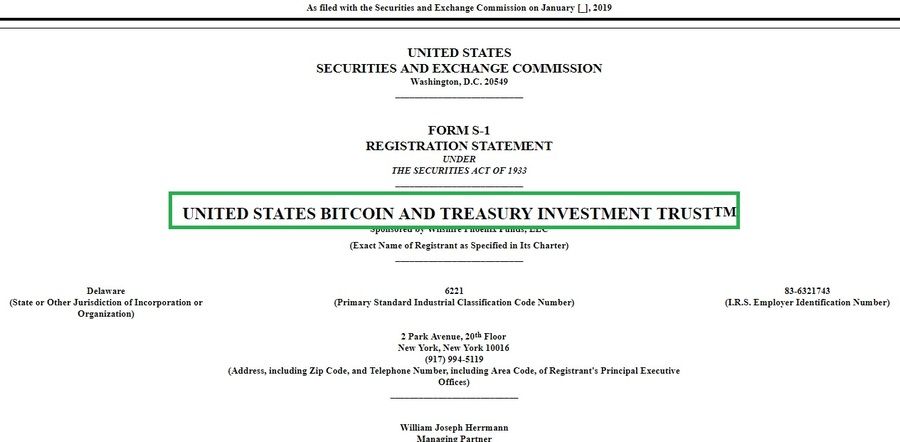 The document also explains:
"While the Shares are not intended to, nor is their purpose to, replicate a direct investment in Bitcoin, they seek to provide investors with exposure to Bitcoin with substantially lower volatility than a direct investment in Bitcoin and without the uncertain and often complex requirements relating to acquiring and/or holding Bitcoin."
According to Wilshire Phoenix Funds, LLC, The registration statement relating to these securities has been filed with the SEC but has not yet been declared effective.


Follow us on 

Facebook

 , 

Twitter

 and 

Telegram