Today the European Securities and Markets Authority (ESMA) published its forty nine pages guidelines to the EU institutions including Council, Commission, and Parliament on crypto assets and initial coin offerings. The guidelines and Advice by ESMA elaborated on the existing European Union rules applicable to digital assets that qualify as financial instruments.
Moreover, the published advice states ESMA's position on all gaps and prevailing issues in the current European Union financial regulatory infrastructure for consideration by EU policymakers. ESMA has joined hands with National Competent Authorities (NCAs) on reviewing various business models of digital assets, their potential benefits and risks that they may bring to the market.
The Authority is also analysing how digital assets fit within the current regulatory infrastructure. Based on this research that includes a survey of NCAs (National Competent Authorities) throughout 2018, ESMA has discovered several concerns present in the current financial regulatory framework with regards to crypto assets.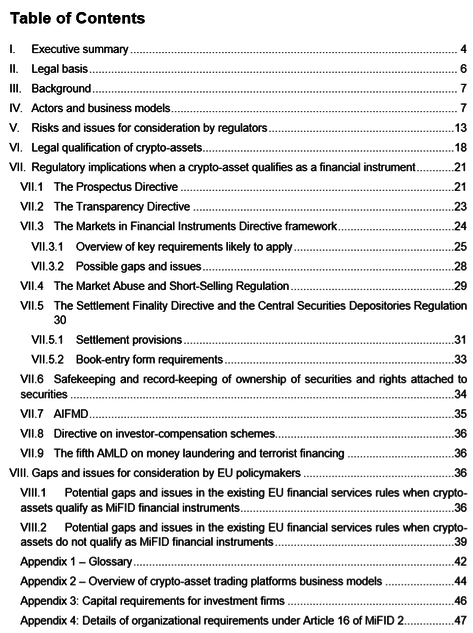 The Categories
The existing gaps discovered from the research form two categories:
In the instances where these digital assets are not regarded as financial instruments, the lack of applicable financial rules makes investors vulnerable to many risks. At the least, ESMA thinks that Anti Money Laundering (AML) requirements should be imposed on all crypto-assets and activities that involve crypto-assets. Additionally, there should exist proper risk disclosure systems to enlight the consumers about all potential risks before they commit to any crypto-assets market.

On the other hand, for all crypto-assets that qualify to be categorized as financial instruments under MiFID, some parts need potential interpretation or re-consideration of precise requirements to permit an effective application of the current regulations.
Steven Maijoor, the Chair of ESMA confirmed that many crypto assets fall outside the existing regulatory framework. That creates huge risks to investors who have minimum and sometimes no protection whenever they are investing in these crypto-assets. He added that any existing gaps should be addressed at the European level to create a uniform playground with adequate investor protection throughout the EU.
The Future
This research by ESMA on crypto-assets shows various issues that fall beyond their responsibility. The guidelines and advice that they give will enable the involved EU Institutions to consider probable strategies in which the highlighted gaps and issues may be effectively addressed and taken up for further analysis. ESMA will carry on monitoring market developments actively around the crypto-assets sphere while simultaneously cooperating with global regulators and NCAs.
Follow us on 

Facebook

 , 

Twitter

 and 

Telegram