The cryptocurrency market suffered from the bear markets of 2018 after enjoying tremendous growth in 2017. However, 2019 has started with some recovery although the markets remain quite volatile. But the only coin surging consistently in the uncertainty is Tron (TRX). The coin observed the growth of 6.34% on Monday and is currently up 12.89% for the previous 24 hours according to Coinmarketcap.
The growth of over 33% in the Last 7 days
Currently, at the time of writing, TRX is hovering around $0.026334 with a market cap of $1.755 billion. The 24-hour trade volume stands at $315,565,794. In the past seven days, the crypto has enjoyed an overall growth of over 33%. The altcoin was traded frequently on Bit-Z exchange with TRX/BTC pair with an approximate volume of $42 million.
Binance published a trading volume of almost $20 million mainly with the TRX/USDT pair. The TRX prices previously struggled to break above 2.5 cents which were the main resistance. However, traders gathered enough momentum that broke through the resistance.
1-Hour Chart
In the one-hour charts, the coin has revealed a massive uptrend from $0.0200 to $0.0237, which has continued until the current levels of $0.026343. No considerable downtrend has been observed so far. The coin broke the previous resistance levels at $0.0244 and $0.025 in succession. Since the coin is still moving upwards, the nearest marked resistance is pegged at around $0.0311 and $0.0405.
The nearest strong support has formed around $0.0238. The MACD line is above the signal line indicating the dawn of a bullish market. The Awesome Oscillator predicts a bullish market is gaining momentum while the Relative Strength Index shows that the buying and the selling pressures are almost the same. However, the marker is moving gradually towards the overbought region.
1-Day Chart
In the one-day charts, TRX started the year 2019 on a bullish momentum. The uptrend started from around $0.0216 to the current levels of $0.02603. The next resistance is pegged around $0.0311 while its support has formed at $0.0191. The Parabolic SAR shows a bullish market with clear markers aligning under the candles.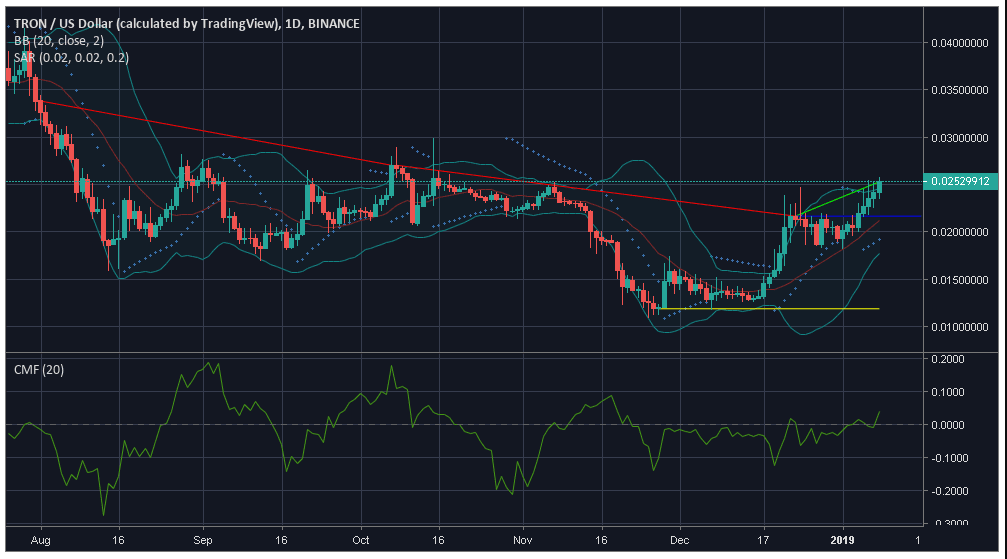 The Bollinger Bands seem to be developing a converging trend flow. The market is experiencing high volatility while the moving average line has slipped under the sticks indicating a bearish market. However, the Chaikin Money flow points in the direction of a bullish trend since its marker are above zero.
According to the MACD, Chaikin Money Flow, Awesome Oscillator, and Parabolic SAR indicators, the market is summed up as bullish. But, Bollinger Bands predict a bearish market is underway.
---
Please note: Cryptovibes.com is not a financial advisor. Do your own research before investing in any financial asset. We are not responsible for your investing results.
Follow us on 

Facebook

 , 

Twitter

 and 

Telegram