The potential bitcoin's chart formation indicates a large, potentially gigantic move to the upside despite the fact we are in a 13-month bear trend, but right now, what bitcoin chart is forming is a very unique set of circumstances including still-ongoing the major breakout of the year.
What we see is a potential ascending triangle which is considered as a bullish indicator. If you are unfamiliar with what an ascending triangle is – its a potentially bullish pattern formation when you have an ascending triangle which has a flat line of resistance across the top and upward sloping support along the bottom created by a series of high or low.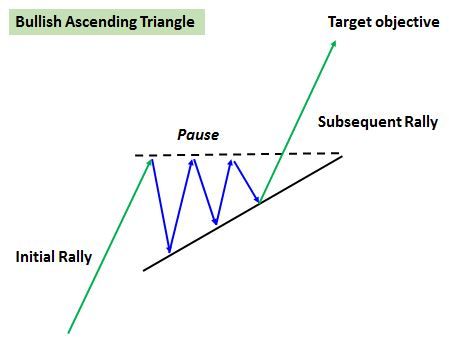 www.accendomarkets.com image
Historically, these are more bullish patterns, but technical analysis is never perfect and these patterns do also break to the downside in certain circumstances. Right now why we can't discredit the fact that this could break to the downside is still because of the downward-sloping trading volume which is clearly visible, but what we also cannot discredit either- is that bitcoin right now is respecting multiple lines of support.
In order to keep this ascending triangle valid, with a potential break to the upside bitcoin right now is going to need to test up to about the $3940 level. It is going to need to break the $3850 level and get up to $3940 and then consolidate and find support above.
The chart dictates that right now it would not surprise to see bitcoin test up to the $3900 then bounce back down to this level of support at about $3850 and then we could look for a breakout and a retest of the previous high at about $4200.
Bullish Pattern
Here we have the tentative ascending triangle, respecting the Fibonacci levels.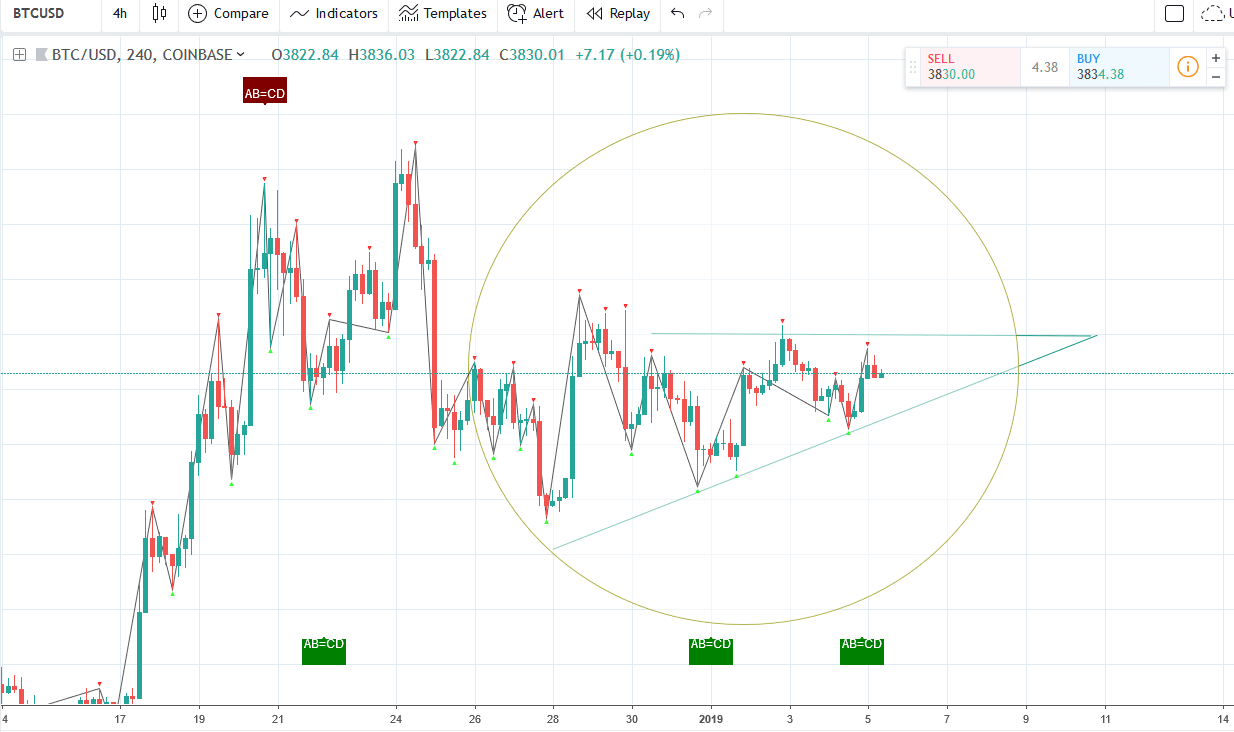 Ascending triangle, January 5, 2019. Bitcoin chart. Tradingview.com data.
The upward-sloping support and bearish pieces from $3890 are not nearly as strong as it was before. Historically, these do tend to break to the upside, but its that low volume that is leading to play this a little bit on the side of safe, where you can't rule out a potential break to the downside. This could be the second bullish pattern to break to the upside that we've seen in months.
This is been long bear market and right now it is been very high risk to be playing among inside this market, as most of these patterns have just failed, miserably as we are still in a series of lower high, although at some point we would like to see a higher high and once we see the higher high come – that'ss when people can begin to truly speculate a bullish reversal for the trend as a whole.
There is a significant evidence show potential moves further to the upside, but creating a higher high for the first time in 13 months would be something that would allow speculation to re-enter this market for the bulls. If we get a break to the upside to $4200 level – this would be an extreme level of interest for bulls.
If we break to the upside and we stick in a higher high for the first time in 13 months and then go on to create an even higher high over the $4400 level, things may get very interesting here for bitcoin and the entire cryptocurrency space as a whole in the near future.[/responsivevoice]
---
Please note: Cryptovibes.com is not a financial advisor. Do your own research before investing in any financial asset. We are not responsible for your investing results. Article prepared by a full-time trader Crypto Kirby insights.
Follow us on 

Facebook

 , 

Twitter

 and 

Telegram