While cryptocurrencies are trying to turn bullish after the huge sell-off during the last few months EOS still looks more stable than the rest of top market cap coins in a matter of growing number of users who actively use their accounts.
The data from Coinmetrics suggest, that the number of active EOS addresses grew steadily since the launch of the EOS mainnet back in July 2018. The increase is a whopping 1250% since the launch of the mainnet and keeps growing.
What Bear Market?
Around 4 500 addresses were live during the launch of EOS mainnet on July 15, 2018. Now, January 2, 2019, the number of active EOS addresses is more than 61 000. It is over 13 times more and all this was achieved during the huge decline of cryptocurrencies – amidst the hurting bear market.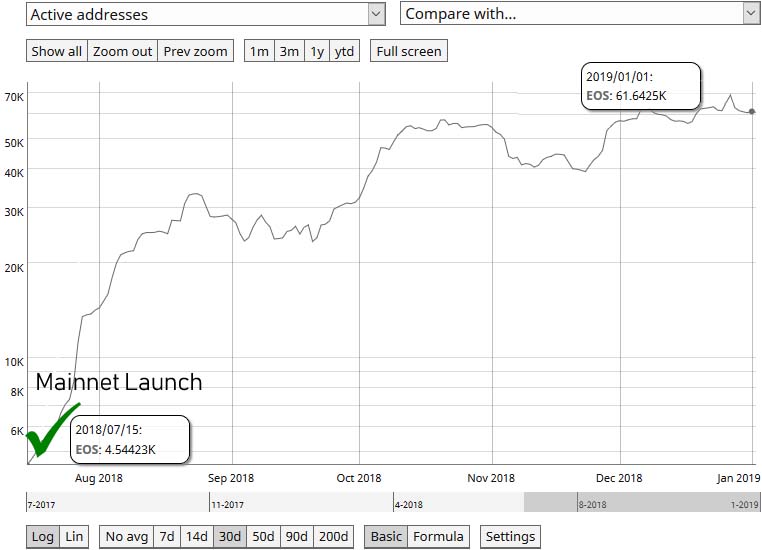 Compared to Other Top Market Cap Assets
To get a more clear visualization on how active addresses have changed within the same period of time we have checked how EOS stands itself compared to other top market cap coins – Ethereum, Bitcoin Cash, Litecoin and Ethereum Classic.
The chart indicates, that Ethereum, Litecoin, and Ethereum Classic active addresses are quite stable and hasn't changed much. Bitcoin Cash active addresses are declining and the only EOS keep increasing in numbers of active addresses steadily. This confirms that EOS does a good job as it keeps attracting new users to its platform.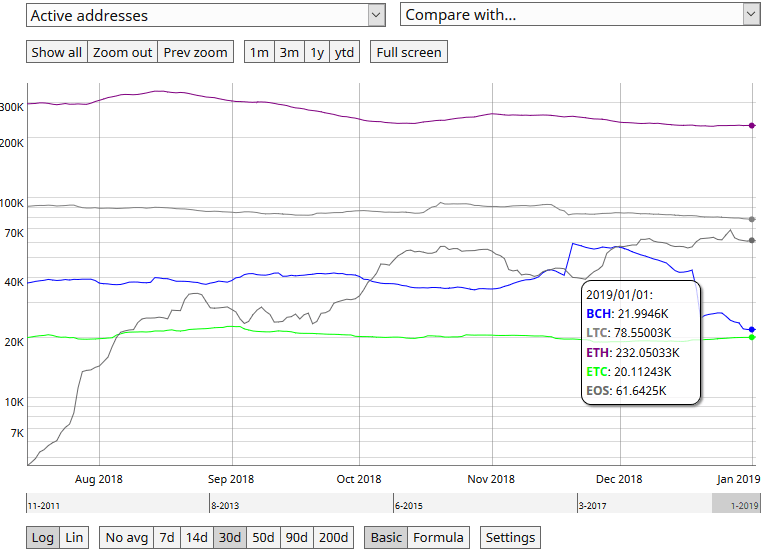 Worlds Most Used Blockchain
More on top, EOS is still worlds most used blockchain and doesn't let any other asset to come even close, as data provided by blocktivity.info show that EOS performs around 40 489 549 operations within its blockchain in 7 days average which is seven times more than second place – WAX, with 5 345 273 operations.
What makes it look even more huge is that 79.6% of all operations on blockchains are performed on EOS only.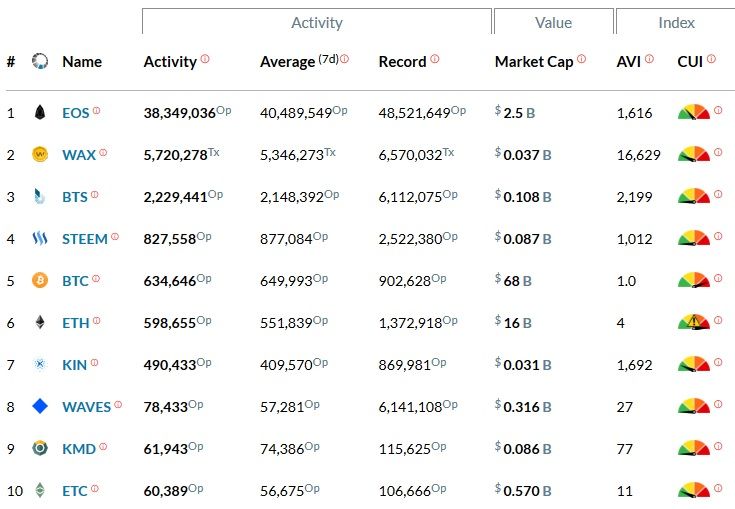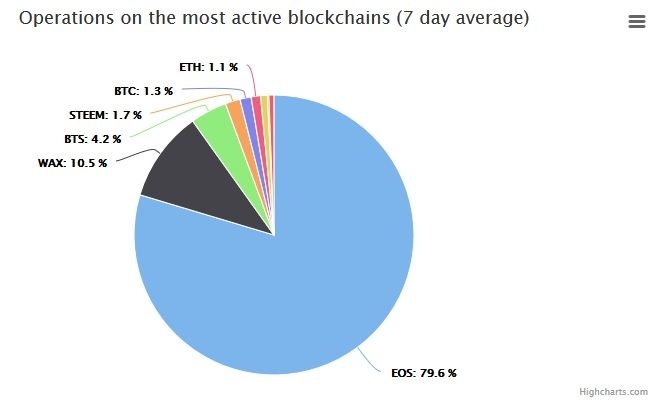 While various FUD and HYPE campaigns are responsible for wrongly valued capital in the cryptocurrency space, one way can prove the real value asset is delivering – the number of real operations within blockchains. It shows which projects are actually being used by people and it also reflects reality. Looks like EOS is on a right path.
According to Coinsrates.live EOS (EOS) current price is $2.740 with a marketcap of $2.81 B. Its price is 2.63% up in last 24 hours.



---
Please note: Cryptovibes.com is not a financial advisor. Do your own research before investing in any financial asset. We are not responsible for your investing results.
Follow us on 

Facebook

 , 

Twitter

 and 

Telegram