Since the majority of our readers are millennials who value freedom and travel a lot, we have prepared a list of countries where bitcoin is illegal in order to avoid misunderstandings while enjoying your travel.
Publicly available data (last updated yesterday) on the coin.dance shows that there are currently 10 countries where you should not talk about bitcoin and 9 countries where usage of bitcoin is restricted.
We remind you that the changes to the financial ecosystem in mentioned countries are not fast enough to update, so this list cannot be 100% accurate but at a current stage, it might really be useful to know.
Countries Where Bitcoin is Illegal
Afghanistan;
Algeria;
Bangladesh;
Bolivia;
Pakistan;
Qatar;
The Republic of Macedonia;
Saudi Arabia;
Vanuatu;
Vietnam.
Countries Where Bitcoin is Restricted
American Samoa;
China;
Ecuador;
Egypt;
India;
Indonesia;
Morocco;
Nepal;
Zambia.
Interactive Data
The "Bitcoin Legality by Country" map suggests that currently, Bitcoin is unrestricted in 110 of 251 listed countries/regions, 9 countries restricts how bitcoin can be used, 10 countries forbids using bitcoin and the rest 122 countries does not provide publicly their position on bitcoin.
Furthermore, if you clearly know things and can contribute to the correct list by providing the legal info from "no information" countries, then go here and add the needed info.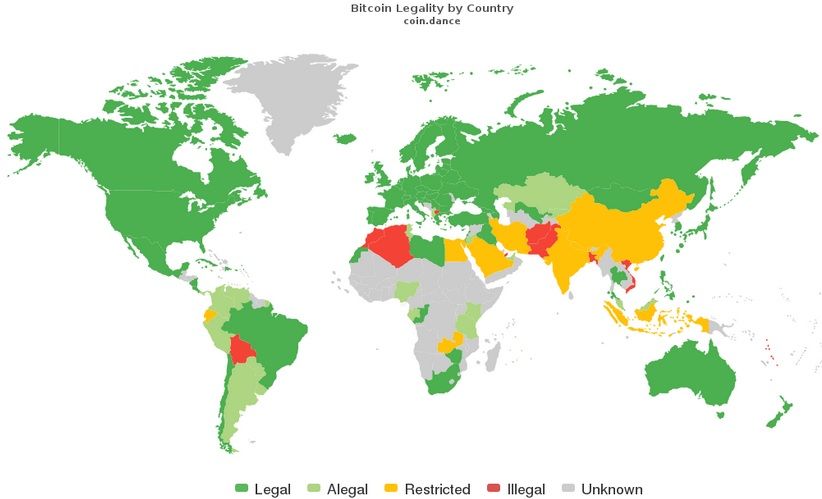 Follow us on 

Facebook

 , 

Twitter

 and 

Telegram