Since the beginning of 2018, the crypto market has remained bearish. So far, nine months of this year have closed on a market loss. The recent plunge in mid-November resulted in the crypto-world tumbling further downwards. A history of the Bitcoin plunges suggests that it may be a normal correction in the markets preparing for bullish sentiments in the near future.
Although the markets are imploding, it is evident that the whales are acquiring more of the offloaded tokens at lower prices. For instance, data originating from TokenAnalyst shows that several actively traded addresses have accumulated large balances that have propelled them to the top of the crypto hodlers. However, not everybody seems to agree with the normal corrections allegations.
Market Manipulation? Thoughts of FOREX Trader

Extensive research suggests that retailers are leaving the markets in their masses leaving the whales to play in the murky waters.
One FOREX trader posted an interesting opinion on one of the subreddit crypto platforms although the post was deleted later on. The post stated that market manipulators may be responsible for the market plunges. His thoughts are available at the bottom of the article.
Recently, governments, financial institutions, and central banks are striving to introduce stablecoins in the market claiming that they want to stabilize the extremely volatile space.
The market manipulators have one goal in mind. They want to crush the markets to reach unimaginable lows. When these levels are reached, they will purchase all the available tokens for pennies.
Pandora's Box
They acknowledge that crypto is just like Pandora's Box. Once it is opened, it can never be closed. They also know that they missed out on the boom experienced between 2012 and 2016 and believe that there is only one option left for them to gain control of the potentially highly profitable market. That option is creating a fake market crash.
They will then purchase the tokens from the worried retailers for pennies on the dollar. So far they seem to be winning the battle since recent reports show that more and more retailers are engaging in panic sell-offs as the markets plummet. The trader believes that the whales' 'end game' may be fast approaching.
Recently, the markets have declined further and further triggering massive sell-offs that also cause market prices to dwindle further. After a majority of the retailers exit the murky waters, the market manipulators will buy these coins and let the markets lose further.
After gaining control of the markets, the big players will then initiate strategies to trigger reversals in summer/autumn in 2019. By 2021, the crypto markets will become bullish again with the big players on top of it as they desire.
The Post on Reddit and Inspiration
This post engaged the people according to the comment section. Currently, the post is deleted. We invite you to read it and just think about it.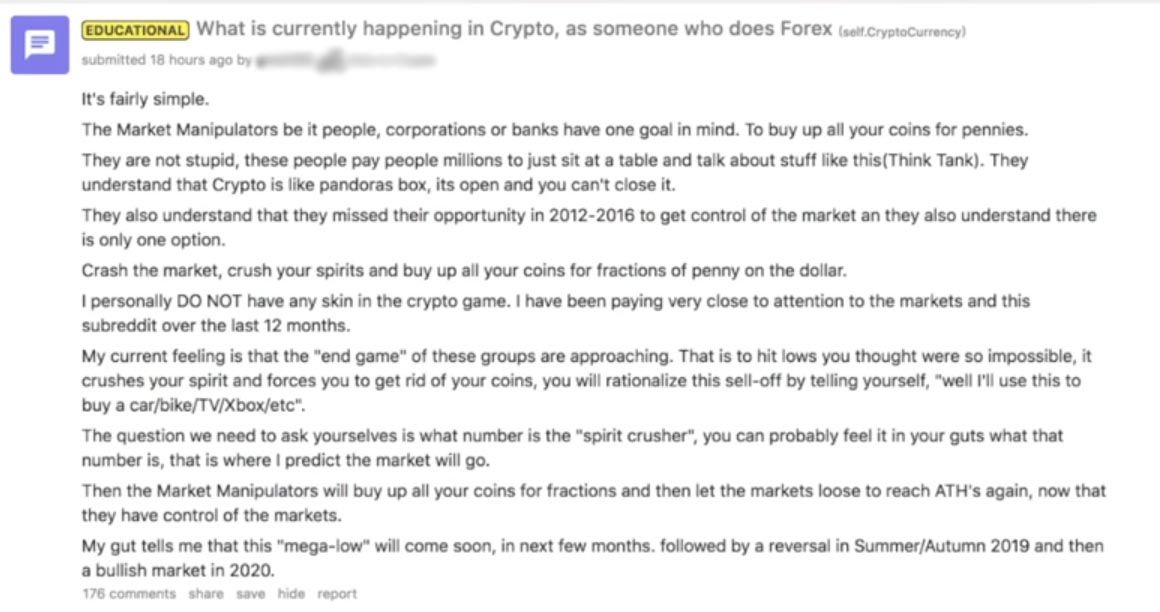 ---
Please note: This article is just a personal opinion of the Author.
Follow us on 

Facebook

 , 

Twitter

 and 

Telegram