Four blockchain global leaders EMURGO (drives the adoption of Cardano), Fetch.AI, NEM and Ripple have joined hands to develop an association to represent blockchain originating organizations in Europe.
'Blockchain for Europe' is recognized as the first plausible trial to unify the blockchain industry at the European level. The policy debate is split with irregular information.
Many analysts outside the blockchain space are constantly challenging the consensus within it. The association's primary agenda is to foster an understanding of the true nature and potential of blockchain technology and distributed ledger (DLT) among European Union member states and institutions.
The association also aims at guaranteeing that the upcoming regulations boost and promote innovation in Europe.
All members are companies and organizations whose business models operate on the DLT and blockchain technology. They share a common goal of making Europe a global blockchain technology leader. They want to assist Europe to develop smart regulations that do not choke blockchain but instead shape the global agenda for the technology.
The association hosted an overly successful Blockchain for Europe Summit on November 27 in conjunction with the four biggest European Parliament groups.
Stakeholders from all over the world converged at this summit. They discussed various issues including identity, trade, governance, financial market infrastructure, healthcare, cryptocurrencies/tokens, and transport.
Moreover, this debate displayed the potential benefits for blockchain originating companies and regulators when they engage transparently and directly.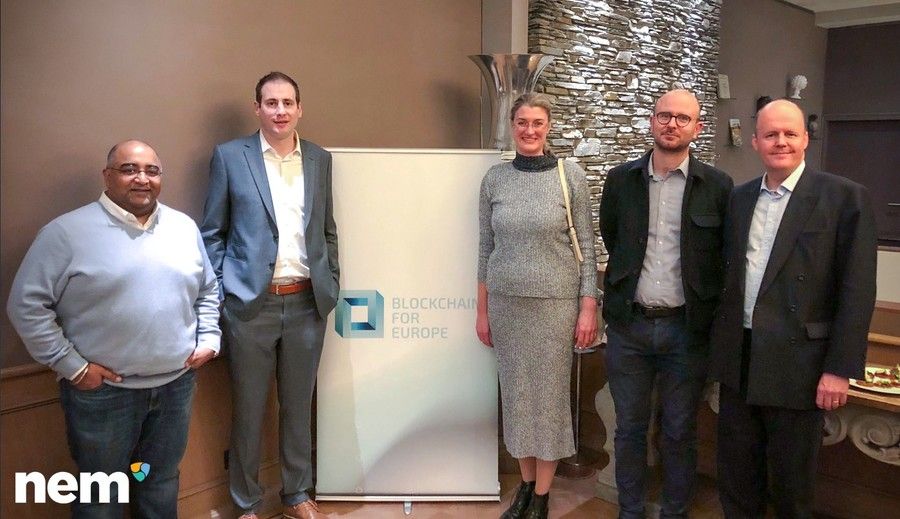 The Head of Regulatory Relations, Europe, Ripple, Dan Morgan expressed his delight in overseeing Ripple become a founding member of the Blockchain for Europe association. He stated that it is a crucial period for policymakers to develop the right regulatory infrastructure to benefit blockchain technology and other digital assets.
The President Europe and co-founder, NEM Foundation, Kristof Van de Reck, was also thrilled to be among the founding members of the association. He noted that there is a lack of unbiased information particularly in the open and decentralized application of the technology.
The cooperation is set to offer insights that are not customized to the agenda of particular stakeholders or organizations.
The CTO and co-founder, Fetch.AI, Toby Simpson, believes that an integration of technologies like decentralized ledgers, AI, and machine learning gives the world a chance to enjoy technology that works more efficiently for the benefit of everybody.
The CIO, EMURGO, Manmeet Singh, said that EMURGO is keen to work with the European institutions in developing regulations that will enable blockchain technology to thrive globally. Singh believes that under the stewardship of EU governance, their third generation blockchain Cardano will achieve global success.
'Blockchain for Europe' aims at conversing with policymakers, academia, and relevant industry players to help make Europe a future global leader in blockchain technology.
Follow us on 

Facebook

 , 

Twitter

 and 

Telegram