Trust wallet, a secure mobile Ethereum wallet that supports Ethereum and ERC20, ERC223 tokens announced ICON (ICX) blockchain is supported on its wallet.
Trust Wallet provides a fully security audited system to send, receive and store digital assets giving users complete control over personal private keys that are only stored on their devices.
According to the report, users will now have full access to ICX coin after importing their existing ICON wallet into Trust – Ethereum Wallet. Both iOS and Android devices are supported.
We're excited to announce our newest crypto-asset addition @helloiconworld. Starting today you can securely store, send and receive your $ICX from the convenience of your mobile Trust Wallet!https://t.co/PxGg8jNbW1

— Trust – Ethereum Wallet (@TrustWalletApp) November 25, 2018
What makes Trust – Ethereum Wallet so popular?
Trust Wallet is currently downloaded more than 100 000 times and with over 2 200 reviews with a rating of 4,5 out of 5 stars which is a respectful number for this kind of app.
An app has a direct access to Trust Browser which is a full-fledged Web3 browser that allows you to interact with decentralized applications (DApp). Furthermore, users are even able to participate in any ERC20 or ERC223 based ICO or airdrop.
Currently, without ICON Trust Wallet also supports Ethereum (ETH), Ethereum Classic (ETC), Callisto (CLO) and over 30,000 supported ERC20 tokens, including EOS, OmiseGO, Qtum, Kyber Network, EOS, Bat, TenXPay and Augur.
An app gives access to any cold storage wallet like Trezor, Ledger, KeepKey and even lets you monitor a real-time value of your digital portfolio and individual assets in your native currency.
Download for Android Download for iOS
Latest news about ICON (ICX)
ICX team seems to be delivering a huge effort in making project highly visible as lately ICON has partnered with Seoul School of Science to foster next-gen Blockchain specialists. The council member then said,
"Cultivating blockchain experts through education is a prerequisite for blockchain mass adoption. ICON will foster students' abilities in designing blockchain and crypto economy models with customized lectures to pioneer new businesses based on ICON's platform."
After a number of great achievements in Q2 ICX seem to be on the right path to keep delivering value.
Key ICON (ICX) Performance in the Second Quarter of 2018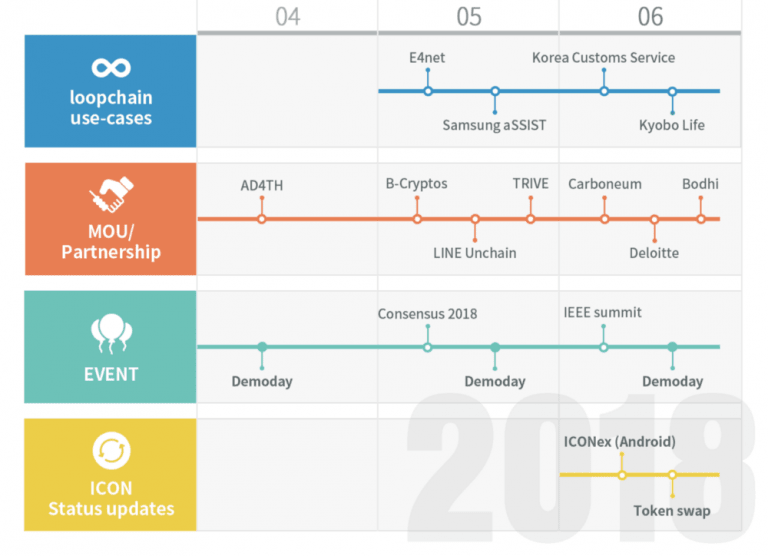 ICON (ICX) current price is $0.2491 with a market cap of $117.82 M. Its price is 10.55% up in the last 24 hours. A coin is on the 42nd place by total market capitalization and has a biggest volumes on Binance exchange in ICX/BTC and ICX/USDT trading pairs.
According to ICON whitepaper
"The ICON Project aims to build a decentralized network that allows independent blockchains with different governances to transact with one another without intermediaries. Anyone can create a new blockchain project and join the network. A new blockchain project is free to connect with existing projects and create new unique worlds, or blockchain multiverse. ICON itself can be viewed as both a living organism and an ecosystem."
Follow us on Facebook , Twitter and Telegram
---