It has been a year of significant ups and downs for bitcoin[crypto coins="BTC" type="text" show="percent"], which is the leading cryptocurrency. Though the price of the digital coin crossed $6,000 mark before November 13, 2017, it slipped back to the same levels. However, the virtual asset started recording a significant gain of more than ten percent to cross $6,500 levels at one point in time. At the start of 2017, the price was below $1,000.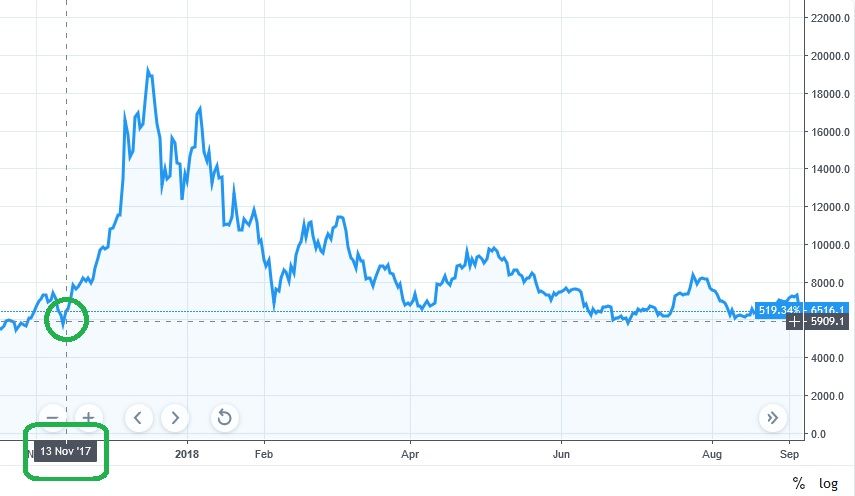 No Stopping
However, it there was no stopping for bitcoin[crypto coins="BTC" type="text" show="percent"] after the Bull Run started on November 13, 2017, as the market cap increased around $10 billion on the same day. The bullish trend stretched until close to the end of the year. During the period, there were also positive catalysts such as CME Group declaring bitcoin futures contracts while countries like Japan has started to legalize the digital currency as a means of payment thus boosting its demand.
There was a plan for an upgrade from bitcoin[crypto coins="BTC" type="text" show="percent"] that was known as SegWit2x in November 2017 with the objective of increasing the speed of the transactions on the network. However, it did not have enough support for the upgrade driving developers to abandon their intended execution. This resulted in the heavy selling of the virtual asset before November 13 last year. Also, bitcoin cash[crypto coins="BCH" type="text" show="percent"] was forked before the Bull Run.
ETF Rejection
Some favorable catalysts have enabled bitcoin[crypto coins="BTC" type="text" show="percent"] price to reach close to $20,000 around Christmas 2017. However, the virtual asset failed to hold on to that price and instead drew the attention of regulators since there was unimaginable return within a short period of time. In effect, within a period of about 45 days, bitcoin price witnessed more than 200 percent gain causing enough headaches to regulators, who were eager to protect investors' interests.
Following the significant surge in price, regulators around the world have started to look into the digital coin sector even as cybercriminals have turned their attention towards the emerging asset class. This has made them tighten their screws on the virtual currency market and started announcing fresh measures.
As a result, the price of the leading crypto coin started to fall and led to the current level of around $6,500. Now, the virtual asset is waiting for SEC's approval for bitcoin-based ETF to drive its price upward. In the absence of it, there would be a lack of forwarding movement. Similarly, if the SEC keeps rejecting ETFs, there is a chance of further erosion of price.