Bank of America has been adding a stack of patents that are directly or indirectly associated with cryptocurrency and blockchain technology. The latest is the patent for storage methods for private keys. This only suggested that the company is gearing itself for the future growth of the emerging technology or the asset class.
Secure Means
Bank of America finds that there are insufficient tools to protect private keys and pointed out several devices that offer security breach evidence, be it physical or otherwise. However, those devices are not offering any real-time response to any breaches like misappropriation of private cryptography key. Therefore, the company felt the need for a secure means for not only storing but protecting private cryptography keys.
The financial service provider's patent said,
"The desired storage means should reduce the risk of misappropriation of keys due to the keys being stored internally within a computing node that is frequently or, in some instances, continuously accessible via a public communication network, such as the Internet."
The stacking of patents only suggested that the banking firms are waiting for clarities from the regulators so that they could join the sector.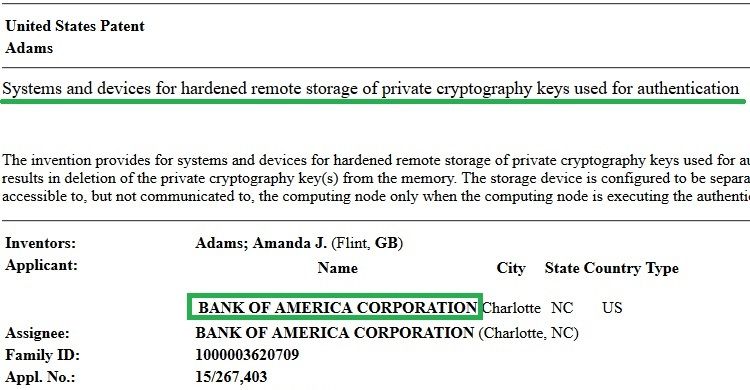 Skeptical
Bank of America, which admits that cryptocurrencies are a threat to it's business has been seeking a number of patents in the last couple of months in respect to data storage, external validation, and others. What was intriguing is that while these banking firms are demonstrating their skepticisms towards cryptocurrency, they are also working out plans on using the distributed ledger technology (DLT). Other major financial service providers also have similar opinions and tactics towards the emerging sector.
One of the most important comments came from Bank of America's CTO Catherine Bessant in June. The executive indicated that it was a routine matter for getting patent with a view to protecting its interests in case the technology becomes mainstream. She was quoted her saying that there were less than 50 patents in the DLT pace and told media that the company was yet to see big opportunities. At the same time, the company wants to be prepared for any opportunities.